To be honest, I do not like wearing acrylic nails at all; it feels too unnatural to me. I prefer to wear my own nails and just paint them; however, the paint usually chips off quickly. So, when there is a special occasion or if I'm going on vacation, I like to get acrylic on my nails so they'll look good and last long.
But going to a salon is not worth it to me, especially when I'll pop those suckers off as soon as I can. So I learned how to do acrylic nails on my own (and cheaper!).
For less than $10, you can look like a million bucks! This method is very simple and doesn't require much skill to do it. If you're trying to budget and not sacrifice what you like, doing your own nails at home is a great way to lower your monthly spending.
This post may contain affiliate links as a way to support the costs of this website (at no additional cost to you); however, I won't recommend products I don't believe in. View my full disclosure at the bottom of the page.
How Much Do Acrylic Nails Cost?
On average, you can get a manicure with acrylic nails for around $30 or more. The cost will be more depending on what designs and additions that you ask for.
There are places you can get your nails done for much cheaper; however, you'll want to be careful of the hygiene and cleanliness of the salon that you're going to. Using dirty tools can lead to bacterial nail infections, and nobody wants that!
What Do You Need To Do Acrylic Nails At Home?
You'll need a few things to get started; these items should cost about $7. I used a Kiss acrylic nail set from Walmart, but I've also found it cheaper on Amazon. Everything else I used was bought for $1 at the dollar store. I always have acetone and a nail kit on hand, but buying them will cost an extra $3.
Note: I have used the dollar tree fake nails before as well, but they are thinner and break easy. I would only use them if they'll be the exact length of your nail to have more support.
These are the the items you'll need:
How To Do Acrylic Nails At Home
Now that you have the right materials, let's get started!
Step 1: Find The Correct Nail Sizes
The artificial nails come in a variety of sizes so that you can find the best fit; they have little numbers on them ranging from 0 (the largest) to 13 (the smallest).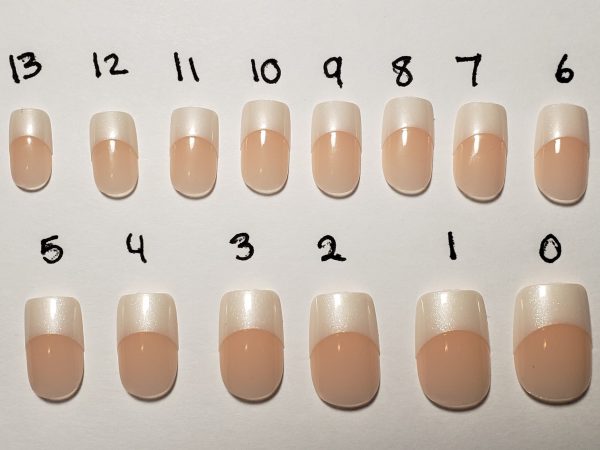 To make it easier, lay out all the nails in order by size. Then, try them on and see which nails fit best. Make sure that the fake nails fit comfortably over your real ones and file the edges (if necessary) for an accurate fit.
Step 2: Acrylic Nail Designs
Once you have the sizes you'll use picked out, it's time to decorate! I did this before putting them on my hand to make the process more simple and look better. I'm right handed so painting my left hand would be easy, but doing the right hand will look like a toddler did it!
I did different designs using the nail art polish, rhinestones, and chains. Here's a video showing the process:
Step 3: Nail Preparation
Now that you have your fabulous nails designed, it's time to prep your own nails before applying them.
Trim and file your nails (They should be shorter than the artificial ones.)
Push back your cuticles
Shave your nail surface a bit (A rough surface will help the artificial nails adhere better.)
Clean your nails with the acetone (Removes oils and dirt that makes nails harder to stick.)
Step 4: Application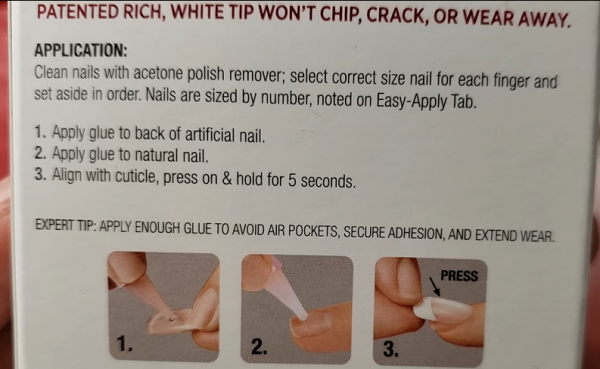 For application, follow the Kiss acrylic nail kit instructions on the back of package.
This will have to be done quickly so that that glue does not dry up. First, apply the included glue to the back of the artificial nail and then your real nail. Then, align with your cuticle and press on for 5 seconds (or longer).
I like to press them on with my nail tips in case any extra glue spreads and causes my finger to stick, it'll minimize that damage to my design. I also use more glue that necessary to make sure that every edge is glued down and there are no air pockets. Loose nails will allow water to get under your nails and lead to a nail fungus and mold.
Step 5: Finish
And now you're done! Those are all the steps on how to do acrylic nails on your own. Now you can feel proud of the job you've done yourself while sticking to a budget.
How To Get Acrylic Nails Off
Though I said earlier that I like to "pop those suckers off as soon as I can", you should NOT do that. The improper removal of acrylic nails can damage your natural ones. You could rip off layers of your nails, leaving them thin and weak.
To remove fake nails, here's what I do:
Clip the nails down short to my real nails.
File down the top layer of the artificial nails to make removal easier.
Soak the nails in acetone until they become soft.
Wipe off softened acrylic.
Repeat 3-4 if necessary.
File off any remaining small pieces.
Found this guide useful? Pin me for future reference. Also, let me know in the comments how jazzing up an acrylic nails kit worked for you!