You know I talk the talk, but do I walk the walk as well? I've written a lot about budgeting, saving money, and spending less; but how can you blindly take my advice? I can't just ask you to trust in what I say without seeing it with your own eyes. But I am definitely team #FrugalLife and I can show you how I live on a $2500 a month budget. Specifically, the total is $2476.68!
Of all places, we figured out how to live cheaply in San Diego, CA! We moved recently, but I wanted to show our budget from SD since it's one of the most expensive cities to reside in America.
Our expenses now are a bit more than they used to be. We live in an area that isn't the best, so we pay more for safety and peace of mind on the housing front. But, I've also discovered new ways to save on other costs and I'll share how to do that as well.
I know that a $2500 per month budget might not be realistic for everyone's situation, but I hope my experiences will serve as a real example of what is possible. (This doesn't take into account our actual income and savings)
These posts might be helpful on your journey to learning how to live on a budget:
This post may contain affiliate links as a way to support the costs of this website (at no additional cost to you); however, I won't recommend products I don't believe in. View my full disclosure at the bottom of the page.
Rent: $1,000
By searching on Craigslist, we found a great place to rent in San Diego's east county. The apartment was a small one-bedroom, but it was comfortable and in a nice area. The only downside was that we lived about 20 minutes from my husband's work, which can be about an hour's commute during rush hour; but that is something that's still usual for the area.
Electricity and Gas: $55
We paid from $48-$62 on gas and electricity, so we'll say a $55 monthly average. Our apartment did not have an AC unit, and we used gas for the stove and heater. To keep cool in the summer, it was easy to just open the windows and use fans; plus eating popsicles!
This is my favorite fan and my BPA-free popsicle tray.
Car Payment: $258
We bought a new but used car before moving from the east coast to the west coast. It's still not something I'm comfortable with, I prefer to buy what I can afford without borrowing any money. However, I knew we'd be doing a lot of driving around in our lives. We've driven clear across the country twice now, with several road trips as well.
We also only have one car, which has saved us so much money!
Car Insurance: $128
Our car insurance is coupled with about $12 of the renter's insurance. We didn't know this at the time, but raising the deductible lowers your monthly payment. Since moving, our insurance went up to around $180. After raising the deductible and correcting the miles we use in a year (low thanks to my husband being on deployment half of every year), it is now $125 with USAA.
When I had a fully paid-off car, I only spent about $450 for 6 months with Progressive.
Cellphone: $150
I'm not really big on new technology, so I usually only buy 2-year-old used phones for $200 at the most. The popular phones are usually $600 to over $1000, so even if they only last me a year, I still save money. However, this bill amount was due to paying installments on 2 new phones!
Without that, we pay $81.70 with T-Mobile ($91.70 without auto-pay). This same plan would be $121.70 without a military discount, but $141.70 for four people. We love it because you get free text and data aboard in different countries (great for deployments and traveling). The $1.70 added to it is for Netflix.
Internet/ Tv Package: $100
We only bought an internet plan with a tv package to watch sports. I've tried to cancel the television part during off-seasons to save money, but it would have been more!
Right now, we have a 30Mbps plan for $40 and it works fine even with gaming. We also bought our own modem and router rather than paying monthly to borrow one.
We've been using Hulu Live during sports seasons, but the price keeps going up! We're canceling and looking into other ways such as this antenna on Amazon; it has 4 stars with over 3 thousand reviews.
Related: Save money and cut the cord with these cable TV alternatives.
Dental: $11.68
My husband's health insurance and dental are free through the military. I get free health insurance as well, but I pay $11.68 to add dental.
I used to pay about the same with Humana, but it probably covered less. Side note: You can add vision insurance for about $11.50/month ($138/year) but I wouldn't do that. You can usually get an eye exam for around $60 and I bought my prescription glasses online for $15. (Read more about that in the link below)
Related: 10 Things I Stopped Buying To Save Money
Life Insurance: $34
It's smart to have, but sad to think about.
Groceries: $300
Fresh produce is cheaper in San Diego, and that's good because I cook a lot. I could have also spent even less, but I buy mostly organic foods (especially for the Dirty Dozen).
My favorite stores in San Diego are:
Costco: Bulk items that won't spoil quickly. Ex: Oats, frozen foods, peanut butter, condiments.
Sprouts Farmers Market: My favorite store! I loved the bulk bins because you only have to buy exactly what you need; you can buy a single carrot you need for a recipe instead of wasting money on a whole package that will spoil. They also have bulk spices which was great for trying new recipes where you don't need a whole jar. There were many times I'd buy 20 cents worth of spice.
99 Cents Only Stores: Some things were more than 99 cents, but they still had great deals. They also seem to be bringing in more and more organic things, such as one cereal that was 99 cents compared to over $3 at Sprouts.
After moving, I still budget the same amount for groceries, just exactly what I buy has changed.
Related: View my $200/ month healthy budget grocery list for two!
Gas: $160
Our car is great on gas, but California has one of the highest gas prices! Work was also 20 minutes away and up to an hour with traffic.
We now get gas for around $1.50 less per gallon and have a much shorter commute, so our budget is $60 per month.
Laundry: $10
Our apartment complex had cheap coin machines to do our laundry.
Haircut: $40
The military requires regular grooming to stay in regulation.
Misc.: $150
This is our budget for household goods like toiletries, laundry detergent, etc. We don't use all of this, so the extra money can also be saved for occasional purchases like new clothes (bought at discount stores), gifts, etc. We really don't keep track that much, but just try to keep the spending to a minimum.
Going Out: $80
We do a majority of our cooking at home instead of going to restaurants. We're also homebodies, so we don't go out that much and spend less than this. But when we do, there are so many free things to do in San Diego. There are many places to go hiking, walking on the boardwalk, beach, or Balboa Park, and free events!
The military also has many different free or low-cost events every month. There's a free movie theater and a super cheap bowling alley, and I've gotten low-cost tickets and transportation to theme parks.
$2500 A Month Budget
And that is how to live on $2500 a month or less! It's a good example of making a $40,000-a-year salary work. Even if you can't replicate this budget, I hope it'll give you some ideas for where and how you can cut back on spending.
As I've shown in the different categories, I could have actually spent over $200 less; this is money that can be applied to savings.
No matter how much we make, we still try to live frugally and stick to this budget. Saving any extra money is how we afforded to take two low-cost vacations in one year to Paris and Italy!
After moving yet again, see how we budget for $5000 a month near Seattle, WA. This is a good budget for a 60k salary.
More Reading: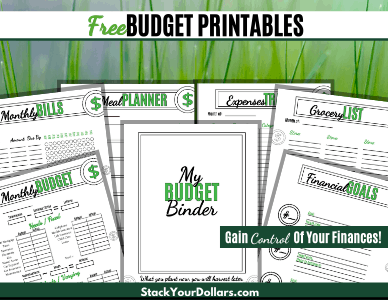 For help planning your finance, here are some Free Budget Printables and Savings Challenges.
Sample Budget For 2500 A Month
A breakdown of our frugal budget: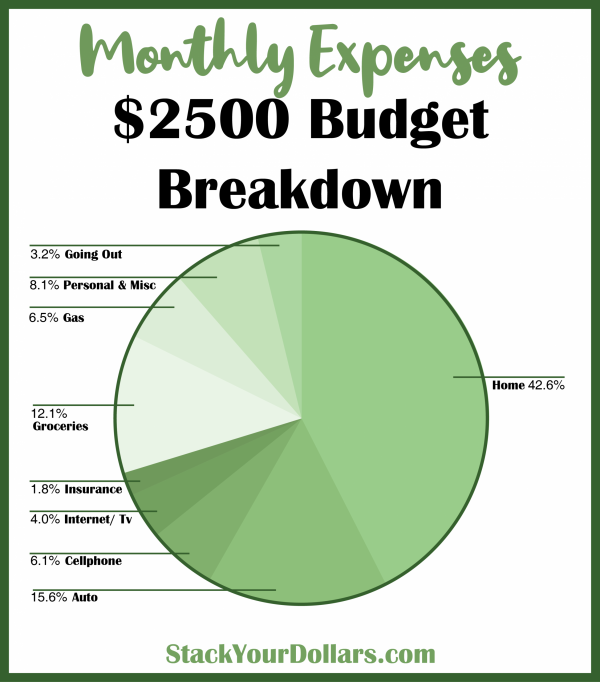 How To Stay On Track
To stick to this budget, we have multiple bank accounts; I explain this in my post on how to create a budget. The amounts for Rent, Utilities, Car Payment & Insurance, Cellphone, Internet & Tv, Dental, and Life Insurance all go into a bills account. We separate this because they are (mostly) fixed amounts that we have to pay and don't want to mistakenly go over. All of these go on auto-pay (but we still make sure to double-check the bills each month!).
The other amounts all go into a second account which we also use for our other daily purchases. We try to stick to our budgets for each category, but they are all variable amounts that we can adjust if necessary. Example: If we spend an extra $60 on a miscellaneous item, we won't go out that month.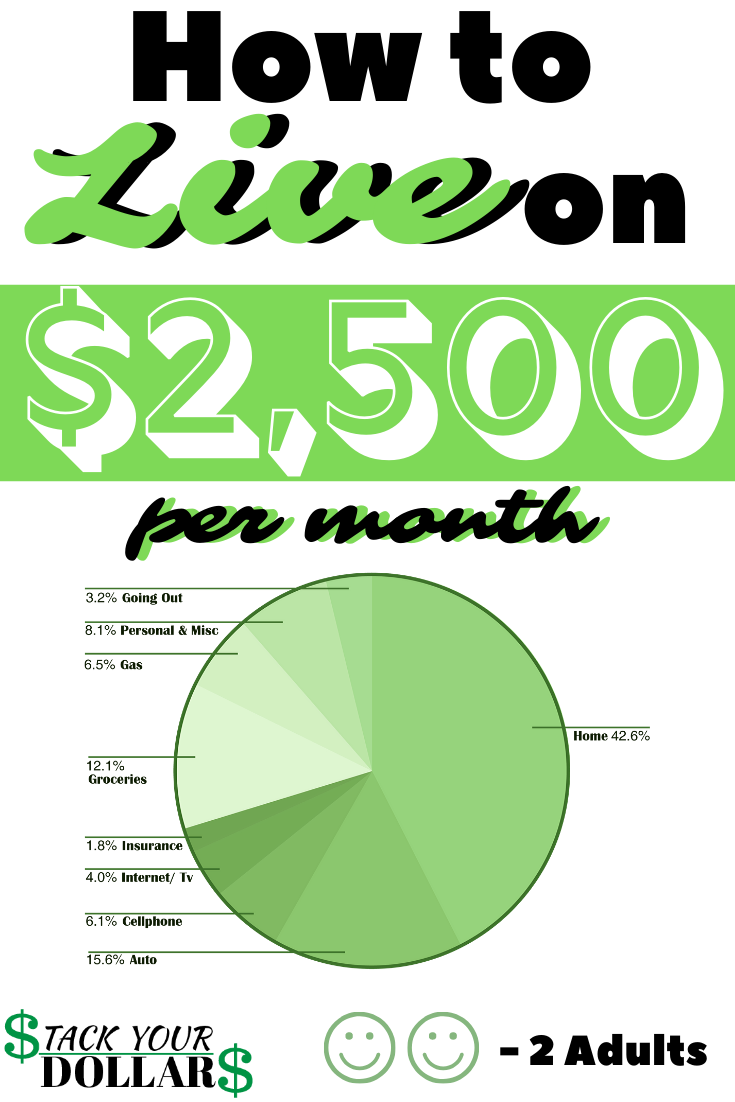 Are you currently living on or trying to live on a $2500 per month budget? Feel free to share your experience, tips, or any questions below.