Saving money while in the military can be a challenge, but these military wives are ready to help with key advice.
Whether you're new to the military life or have been in it for a while, there are many financial challenges that you might face. There's the unexpected PCSing, unpaid government travel cards, and much more!
But let's be honest, with the service member away, it's usually up to us military spouses to handle all the finances and sort through the MANY abbreviated terms.
You're not alone in this though, we're a big community and we've all got your back!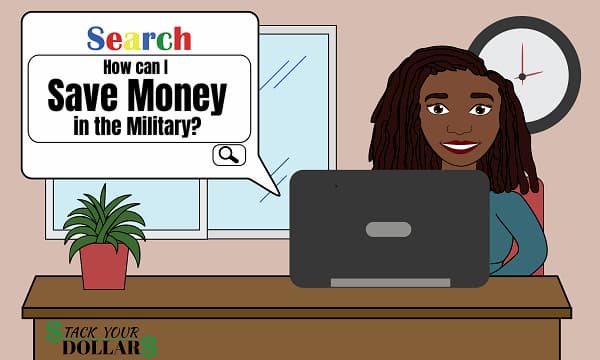 How To Budget In The Military
I've asked a few military wives for the best military financial tip they can give, and this is what they had to say:
1. We've had so many friends get into so much debt without budgeting. A budget is everything. Also, don't play the keeping up with the Joneses game. – Rachel
2. Save 10% of all paychecks!!! Save it for accidents and expensive surprises! – Anon
3. ALWAYS check your LES, and if you think they might be overpaying you, DO NOT SPEND IT. – Katie
4. Don't ever move into housing because when it comes to rent, they [take advantage] you. – Shellie
Most military housing takes the full BAH allotted. This means that an E-1 receiving $1,000 and an officer getting $2,500 will pay the same amount for the same size housing.
5. When your SO is deployed, use the extra pay to pay off your bills with the highest interest rating. – Shantinna
This advice relates to using the Debt Avalanche method of paying off debt.
6. Have a Power of Attorney updated or just have it in general so you can make financial decisions without your spouse. I have seen many people get into predicaments that require the spouse and they are deployed. And make sure it is specific for certain occasions that may arise. – Kristen
7. If you receive COLA, always put that COLA into savings (if you can afford to). – Alexandria
If you don't know what BAH, LES, COLA, or any other military financial term means. This post about military pay dates and more can help!
8. Look for farmers markets and bodegas as well for inexpensive food and produce – Anon
9. Look on Facebook and thrift stores for items needed in the house. In military towns, there is almost always someone getting rid of a gently used item you may want/need – Anon
10. For deployment purposes, set up a separate checking account for your spouse and put money into it throughout the year. For us, we know my husband ship has some trips planned so we will be putting parts of our tax return into an account for him. But anyway, this way they have money for ports and are not using credit cards or spending too much of their regular check. – Jessika
I also mention setting an allowance in the ways to save money while on deployment!
11. Make food at home. Look at the total cost of something to determine if you can afford it not whether or not you can afford a monthly payment. Don't lease a cell phone. Get out of debt and stay out of debt. – Nicole
12. If you're going to buy a home at your duty station, do it at the very beginning! You will get the most out of it. And if/when you leave… RENT IT OUT! Real estate is a great way to build credit and also set yourself up for future income. People are constantly coming to military cities and it is very likely you will always be able to find/have a tenant. HOWEVER, if you're looking to just rent for now, only rent the amount of space you absolutely need. Our first apartment was 1200/mo by Camp Lejeune and there were so many that were the same size but 3/4 the price. RESEARCH RESEARCH RESEARCH! – Courtney
13. If you're going to get a credit card, get one that you can use to earn miles on to fly. A good way to build credit and save money towards traveling is to get one of these cards, use it to pay bills, and then IMMEDIATELY pay off the balance with your regular checking account. You pay bills (like normal, just with an added step), gain good credit, AND you're able to use those miles to go home on leave/on a nice vacation. – Courtney
This is great advice if you travel with a specific airline; however, I prefer to get cash-back on my grocery credit card.
14. Spend your money like cash. If you don't have it don't put it on a credit card. – Australia
Paying off your credit card every month is a great way to stay out of debt, avoid interest fees, and increase your credit score!
15. Do not fall prey to door to door salesman! They are only out to get your money, they see a uniform and automatically assume you'll be an easy target. – Jamie
16. Make a monthly budget and stick with it, if you want something bigger save up and wait until a holiday sale or even black Friday, it'll be more worth it in the end. – Jamie
Finding it hard to live on a budget? Well here are my budgeting tips for beginners.
17. When you're looking into renting or buying do your research!! Talk to people who live in the area about safety, proximity to grocery stores and shopping, and parking conditions. – Jamie
18. For the love of God, do not register your animal as an emotional support animal online, if you really do need an emotional support animal go through the proper channels and see a doctor. Online sites are scams and most places can still deny your pet if it's not legit. – Jamie
19. If you do have credit cards, it doesn't hurt to try for SCRA benefits for those credit cards. – Brittany
Those who are eligible for the military SCRA benefit can get back thousands in interest fees.
20. Share a car or only have 1 car payment. – Nichole
21. Start a savings and pay into it like a bill every month or paycheck, however you decide. We started doing it and in 3 years have saved over 20k. – Brittany
22. Don't join an MLM, lol. It's been proven time and time again that 99% of sellers lose money. – Kay
23. Don't buy a car with a 29.99% interest rate. You'll end up paying thousands or maybe tens of thousands more than it's worth. Buy a used car until you are financially stable. You don't need a fancy-ass car, just get something that'll get you from point A to point B without breaking down, preferably paid in cash. – Kay
Buying cars with high interest rates are one of the top 5 financial mistakes made by military members!
24. Don't try to keep up with the Joneses. Most of the time, the Joneses are in debt. – Jennifer
25. Stop eating out! We always think it's a good idea and regret it later. – Racheal
26. Don't be afraid to live in town! If you have ONE baby or ZERO babies in your home, military housing often means overpaying. We never lived in base housing until our kid started getting older and needing space to run around and spread out. – Whitney
27. Meal plan and PACK LUNCHES. Budget for the occasional eating out with coworkers and plaque funds (going-away gifts), etc. Also, use the envelope system. Save money and INVEST! – Laura
Also on my list of 40 frugal living tips to save money and lower your monthly expenses!
28. If you can find non-military housing that's cheap go with that over military housing. Then you can save what's leftover of your BAH. – Hannah
29. Don't worry about buying the most expensive furniture, resale sites, and buy nothing pages are your best friend, and 50% of your stuff is going to get damaged in the move anyways. You can upgrade later, for now, get the basics, and as you have money upgrade a piece here or there. – Brittany
30. Stick with one credit card and always make it a point to save what you don't spend. – Adriana
If you are financially responsible, multiple credit cards can actually help with your credit score. It all depends on how you use it and keeping a good credit utilization rate. Learn more here.
31. Find a hobby that is cheap or that helps save you money! Gardening/ trying new recipes, for example. It will help you have fun with your spouse/ children. -Emma
32. Exercise and eat the best you can (healthy) within budget made at home from meal planning. Don't pick up expensive habits like drinking and smoking! – Emma
Budget meals that can feed at least 6 people for under $10.
33. Shop at the commissary, and buy used stuff from base thrift stores or marketplace. – Susan
34. You don't need flashy things because you see others with it (they are probably in bad debt). Also, couponing helps so much! – Brandi
35. Do ANYTHING to get out of debt/stay out of debt. Take advantage of deployments to get out of debt and pay off bills or save for a future pcs, child, etc. – Nicole
36. First Command Bank is a great resource for consolidating debt and getting on firmer fiscal ground. They cater to the military and are free to us. – Diane
37. Only one car payment at any time, if you can. Anytime my husband wants to upgrade a car I say "ok, pay off your car first, or pay off my car first (the family car)." When we shared a car I used all of my income to pay off debts, including the car, his income paid bills. We settled our debt and put money in savings to buy a house. Also, now that I stay at home it's been less stressful anytime a government shutdown looms to only have one car payment. – Eilis
Living on one income is one of the best pieces of advice that I can give to military families (all families actually!). It allows you to save money, pay off debt, and reduces the stress of unemployment when PCSing.
38. Utilize the free programs for military that bases and the surrounding areas offer! – Dessirae
Military Financial Resources
Military families have free access to a multitude of financial resources. The sad thing is… many don't know it! Here are a few that you should know about.
Military OneSource: A Department of Defense-funded program that provides help with free financial counseling and financial management classes, tax services, spouse employment help, relocation and deployment tools, and more!
Fleet And Family Support Program (FFSP): U.S. Navy program prepares service members and their families for the military lifestyle. They offer personal finance advice and classes, family counseling, transition assistance, life skills workshops, and more.
Operation Homefront: Financial assistance programs that help military families with shortfalls such as paying for rent/mortgage, utilities, groceries, and provides rent-free transitional homes for wounded service members. They also have programs that provide holiday meals and toys, school supplies, baby showers, and more!
Operation Once in a Lifetime: Free financial and morale support to service-members, veterans, and their families in the form of a "Make-A-Wish" program, care packages, school supplies, emergency assistance, tuition help, etc.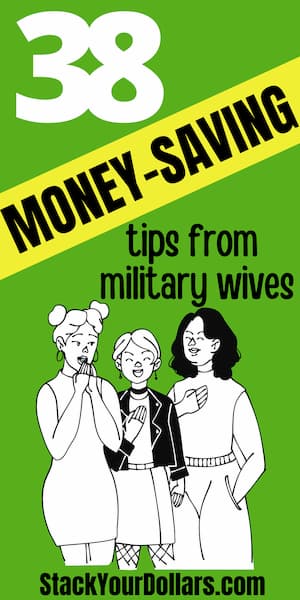 Do you have any tips for military money management? Share them below!