The holidays are coming up and I'm already feeling the stress. I want to spread the cheer and give a gift to everyone, but that can get expensive! Luckily, you can find something for everyone on your list with these cheap but thoughtful Christmas gifts.
Best of all, most of these gifts are under $10!
Personalized gifts are much more meaningful to me than expensive ones. I have a costly Christmas gift sitting in a drawer collecting dust, but one of my most prized gifts is an affordable photo album filled with memorabilia.
These sweet gestures can be inexpensive without looking "cheap". And if you keep the person you're buying for in mind when selecting a gift, you'll be able to find something that they'll love and want to use.
Do you lack crafty hands? Well, check out my other gift guide with ideas that cost under $50 (and as low as $5!).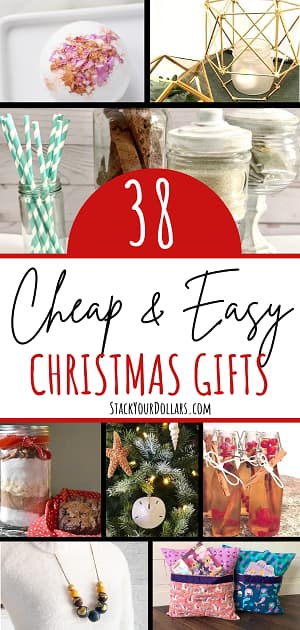 This post may contain affiliate links as a way to support the costs of this website (at no additional cost to you); however, I won't recommend products I don't believe in. View my full disclosure at the bottom of the page.
Cheap Christmas Gifts
I went shopping at the dollar store to show you how easily a DIY Christmas basket can be put together. All of these supplies cost under $15!
You can simply put together a basket such as this and then add one or more of the 38 DIY Christmas gifts below.
Related: Great ideas on how to have a wonderful Christmas with no money.
Instead of the sparkling cider, make the Christmas gin at #36. Or, make the peppermint oreo bark at #5 instead of adding the candy jar. There are endless possibilities to customize for different people!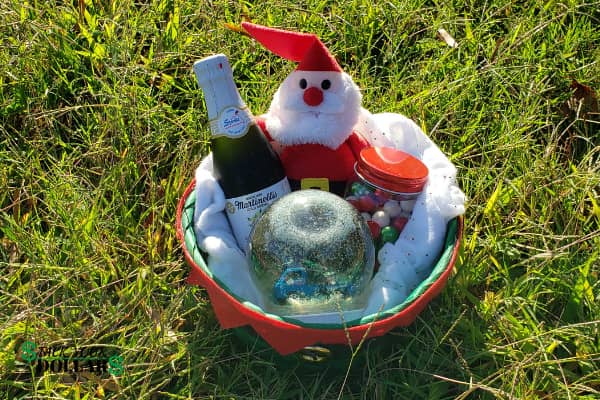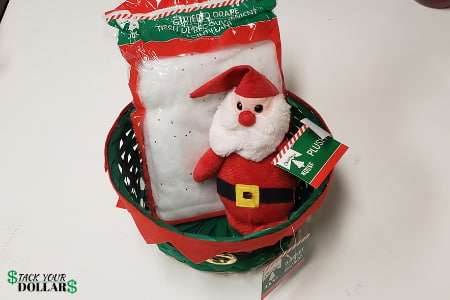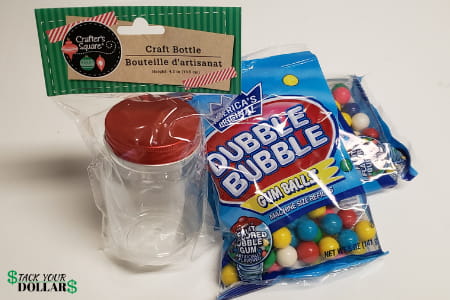 Pick out all of the red, green, and white gumballs for the bottle then enjoy eating the rest.
Use the hot glue gun to glue the tree to the bed of the truck.
Wrap a string around the tree so it looks tied down.
Glue the truck onto the snow globe base.
Put some trees behind the truck.
This step creates a mess! Add glue to the base and drop the faux snow onto it so there will be "snow on the ground". The glue might burn you if you press it on.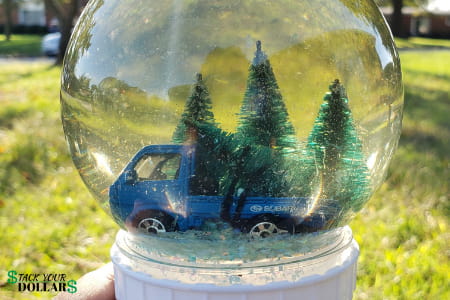 Note: The metal of the mini trees started to rust. Use non-metal decorations made of plastic or ceramic.
Thoughtful Christmas Gifts
These are the perfect DIY gifts to add to any gift basket. Some of these are "dirt" cheap Christmas presents that look expensive.
Does the person you're gifting like chocolate? books? Jewelry? Alcohol? There's something for everyone!
TIP: There's another cool DIY basket at #38.
1. DIY Geometric Candle Holder
Source: Our Kind of Crazy
This candle holder craft is so inexpensive but fabulous! Just look at it! The gold spray paint really makes the regular old wooden skewers just POP. I would personally love them as a gift, and they would look great alongside my DIY paper flowers.
2. Rose Gold with Rose Petal Bath Bombs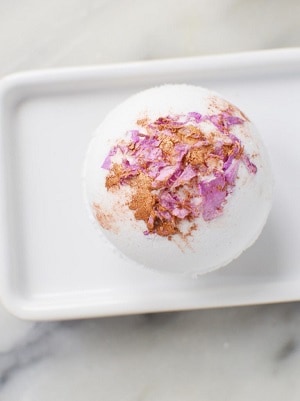 Source: Adventures of a Military Family of 8
A soak in the tub is the epitome of relaxation. Help your loved one de-stress with these beautiful Rose petal bath bombs.
3. Reading Pillow
Source: Happiest Camper
I don't know about you, but I love to read. I've been a frequent flier at the library since I was young. If you know some bookworms in your life, this would be the perfect gift. What's better than getting comfortable and reading a good book?
4. Buffalo Check DIY Tile Coasters
Source: Crayons & Cravings
Isn't this tile coaster so cute? They're such a cute little cheap gift that anyone would love. And if the checkered pattern isn't your style, just use a different scrapbook paper. You can also use wrapping paper, magazine clippings, wallpaper, etc. Find something that would match the decor or personality of the person you'd like to gift it to.
5. Peppermint Oreo Bark
Source: The Gingerbread House
Calling all chocolate mint lovers! Off the top of my head, I can name a few people who would love this tasty treat. I would pair this homemade treat with a cute mug and hot chocolate as a gift.
6. DIY Cookie Decorating Kit
Source: But First, Joy
Mhmm… Don't you love the smell of fresh-baked cookies? This meaningful gift is a great family activity for friends with kids, people who love to bake, or those who just like cookies!
7. DIY Comic Book Coasters
Source: Drugstore Divas
These coasters are a great gift idea if you have any old comic books or graphic novels to use. The heroes save the day, while they save your table from water stains!
8. Christmas Tree Handprint Apron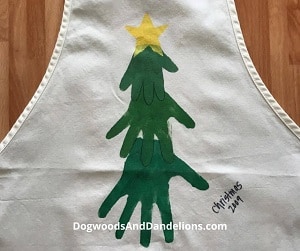 Source: Dogwoods & Dandelions
This cheap Christmas gift would be so meaningful to parents and grandparents. Help the kids make custom aprons that they can proudly wear around the kitchen.
9. Mop Doll Air Freshener Cover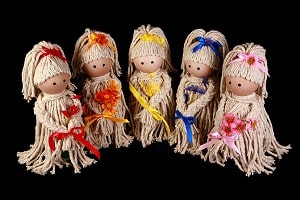 Source: Celebration Generation
What a unique gift idea! This inexpensive present is only about $5 in supplies and takes an hour to make. It looks cute AND smells good.
10. You Are Loved Blocks
Source: Artsy-Fartsy Mama
This cute woodblock craft costs about $10 or less in supplies to give a constant reminder to someone that they are loved. You can also paint a different message on it for them to decorate their home or desk with.
11. DIY Air Fresheners
Source: Feathers In The Woods
This gelatin and essential oil air freshener is so simple to make. It's an adorable and cheap gift that would make the perfect addition to a gift basket.
12. Felt Flower Magnets
Source: ChaoticallyYours
I have a large collection of magnets on my fridge and this little flower would be cute to add as well. It's an affordable gift that only takes about ten minutes to make and you can pair it with other inexpensive trinkets.
13. Painted Wood Bead Necklace
Source: Sustain My Craft Habit
If you know someone who loves jewelry, this wood bead necklace makes the perfect gift. Paint it with their favorite colors for a thoughtful Christmas gift.
14. DIY Brownie Mason Jar Gift With Free Printable Gift Tag
Source: Saving You Dinero
Brownies and milk? Yum! Give someone a delicious treat with this mason jar brownie. It comes with a printable gift card for the instructions to bake it.
15. Rosemary, Orange & Thyme Flavored Herb Salt
Source: The Rising Spoon
Seasoning mixes are a great gift for those who love to cook and the ones who need a little help in the kitchen as well. This blend of spices is gluten-free, dairy-free, Whole30 friendly, low-carb & vegan.
16. Farmhouse DIY Projects
Source: A Hundred Affections
Farmhouse decor is very popular right now. If you know someone who loves that style, these crafts would make great gifts. The supplies are bought at the dollar store and make an affordable gift. It would match well with the farmhouse coasters at #31.
17. Homemade Bookmarks
Source: Lanham Creations
Personalized bookmarks are a quick, easy, and cheap craft. You can make them with a meaningful saying and pair them with a nice book for a gift.
18. Personalized Name Crayons
Source: Upcycle My Stuff
Whoa! This DIY gift is so cool and creative, that I find myself trying to find a reason to make it. If you have discarded crayons laying around, this craft will only cost the price of the alphabet baking tray. The instructions are so simple and quick to do. They'd make a great cheap gift and are perfect for an elementary school teacher.
19. Mini Quilt-as-you-go Keychain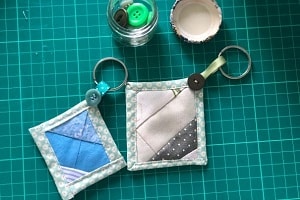 Source: Scrap Fabric Love
Key chains make a nice stocking stuffer gift. You can personalize it for the gift receiver with fabric styles or colors that they'll love.
20. DIY Bottle Opener
Source: Making Manzanita
Aimed for the men in your life, this bottle opener would make a nice Christmas or Father's day gift. Don't forget to add their favorite drinks as well!
21. DIY Marbled Nail Polish Mugs
Source: Strength and Sunshine
I love the pattern that the nail polish creates on these mugs, don't you? It looks like some people also apply the same method to decorate clear glass ornaments.
22. DIY Bathtub Tray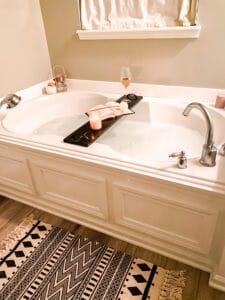 Source: Kind Kristine
A bath tray would make a meaningful gift for a friend who needs to relax. You can add it to a gift basket with some bath bombs or a good book.
23. Homemade Lemon Soap
Source: The Inspiration Edit
Who doesn't love the smell of lemons? This soap-making tutorial is simple and makes a great gift.
24. DIY Tea Bags
Source: Pretty Delightful
Do you know someone who loves tea? Maybe they would appreciate some flavored blends in these DIY tea bags.
25. Animal Lid Mason Jars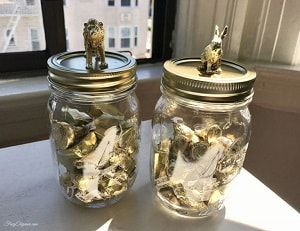 Source: FrugElegance
This mason jar gift idea is cheap but looks fancy. It would make a nice gift filled with thoughtfully selected treats.
26. Literary Prescription
Source: If Only April
This is a very thoughtful way to gift books. Books help you learn and grow, so a handpicked one can be a very meaningful gift.
27. Peppermint Bark Soap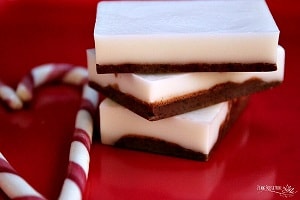 Source: Pink Fortitude
Earlier in the post, we had peppermint oreo bark treats, now here is peppermint bark soap. They would make a great pair as a gift. This soap has no lye or dyes and is all-natural. You can make it with goat milk soap or shea butter soap for a vegan option.
28. DIY Succulent Planter
Source: Diary of a Debutante
Perfect for the person who loves plants, or as a gift for a new neighbor. This planter can be decorated with a variety of sayings. Aloe makes a great gift because they are cute, have medicinal properties, and are low-cost.
29. DIY Marbled Resin Coasters
Source: Homebody Hall
Acrylic pour painting is all the rage right now. It's an easy way for anyone to start dabbling in art and create beautiful artwork. They make a cheap and beautiful gift that is also useful.
30. DIY Photo Canvas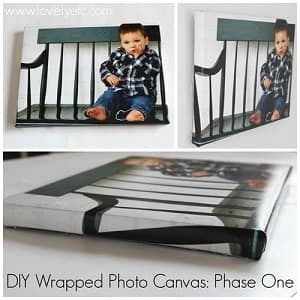 Source: Lovely Etc
Photo canvases are beautiful but pricey; this tutorial will show you how you can create your own for about $10. They would make nice presents for grandparents!
31. DIY Farmhouse Coasters
Source: A Home To Grow Old In
More coaster ideas! These chalkboard ones use marble or stone tiles that you can buy cheaply at a hardware store or online.
32. Galaxy Melted Crayon Ornaments
Source: Two Kids and a Coupon
With a few simple supplies, you can create these inexpensive galaxy ornaments. They make cheap Christmas gifts that you can give to family, friends, or coworkers.
33. Beach Christmas Ornaments
Source: Coastal Wandering
This unique Christmas gift is perfect for beach lovers. The supplies can be bought cheaply and are easy to make. You can also paint and decorate the ornaments!
34. Glitter Upcycled Puzzle Piece Earrings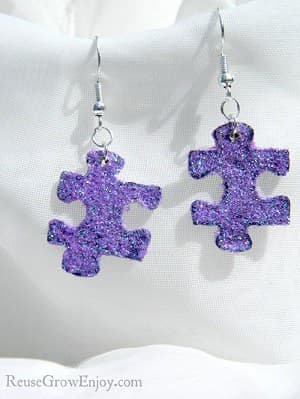 Source: Reuse Grow Enjoy
Did you watch the Magic School Bus? These are definitely Ms. Frizzle-type earrings that are a cute gift for a unique person.
35. Paper Orchid
Source: Sunflower Summer Co
Some people have green thumbs and others can't seem to keep plants alive. Flowers are still beautiful to have though, and these paper orchids are great to decorate with if you don't want to keep throwing out dying plants. Give them as a gift to someone who loves flowers but isn't able to keep them thriving.
36. Christmas Gin
Source: The Wallet Moth
Give everyone a thoughtful and tasty gift with this Christmas gin. It would look nice in a gift bag with some other treats and trinkets.
37. Gourmet Orange Chocolate Fudge
Source: A Hedgehog in the Kitchen
I know a lot of people love orange chocolate, but I never did have a taste for it. However, this gift is great for people who love chocolate. You can place it in a favor gift bag, or the animal lid mason jar from above.
38. DIY Boho Basket
Source: Gawky2chalky
Can you believe this basket cost under $4 to make? Use this cheap basket and combine some of the small gift ideas in this post to make a thoughtful gift for anyone on your Christmas list.