You want to get meaningful gifts that show your friends, family, and coworkers that you care, but it can be hard without putting a strain on your budget. These cheap and unique gifts under $50 will help you find something for everyone on your list while keeping the cost minimal.
I've included a wide selection from 50-dollar gift ideas down to cool presents for less than $5.
What is even better about shopping online is that you don't have to leave the comfort of your home and join those impossibly long lines.
And if you have Amazon Prime, you can take advantage of the free and fast shipping. If you're a late shopper like my family is, this really comes in handy. Enjoy these unique gifts under $50 on Amazon: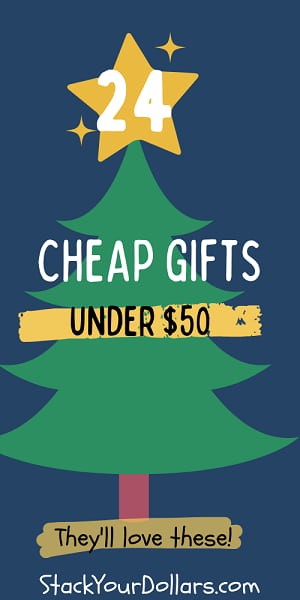 This post may contain affiliate links as a way to support the costs of this website (at no additional cost to you); however, I won't recommend products I don't believe in. View my full disclosure at the bottom of the page.
The Best Gifts Under $50
Fire 7 Tablet (7″ display, 16 GB)
While you can do a variety of things on this Fire tablet, like playing games and watching movies, it is my go-to device for reading books.
It's easy to borrow books from my local library and download them onto the tablet. I've gone through 100+ books this year using it and the Libby app on my phone.
That is why I can say I think it would be a great gift for book lovers and readers.
Chortau Front and Rear Dash Cam
This dash cam is on my gift list this year. After moving to a place with more car crashes and smaller roads, I've been afraid of meeting in an accident.
If anything happened, I would want to make sure that it is recorded to show who's at fault. Looking at the reviews for this camera, the images are pretty clear and wide.
I love that it comes with a front and back camera, and it will also monitor your car in case someone hits it while parked.
Crock-Pot 7-Quart Slow Cooker
I know the Instapot is all the rage right now, but I love my regular old Crockpot. As I am currently writing this, I have some soup being cooked.
I don't need to use any of the fancy settings on an Instapot, so this crock-pot is perfect for me (and much cheaper). 
I've seen in the reviews that a lot of people talk about the glass lid exploding, but it has never happened to me. I got it as a gift 5 years ago and only lock the lid when carrying it somewhere.
Anker PowerCore 20100mAh Portable Charger
The exact brand I have is not sold anymore, but the RAVPower (22000mAh) portable charger was one of the best and most useful Christmas gifts I've ever received. With portable chargers like this, you can quickly charge 2 devices at a time. The large capacity of battery power also allows you to fully charge some devices multiple times. Yet it is so small, it can fit in a pocket or purse easily when traveling.
It is a little weighty, but just about a pound. If you're looking for awesome gifts under $50 on Amazon, this is it!
It's also a great item to add to your survival list for an emergency kit!
Amazon Basics Ultra-Soft Micromink Sherpa Blanket
I've given away several of these sherpa throw blankets and everyone loves them. They are so soft and comfortable, they would make the perfect gift.
If you have a membership at Costco, I've also seen them there for $10-30!
Gifts Under $50 for Her
24 Handmade Bath Bombs
For the lady who loves to or needs to relax, these bath bombs will spice up bath time. This unique gift comes with 24 bath bombs that many reviewers say "smell amazing".
At about $1 each, this is a really unique and cheap gift. They also come packaged in cute gift boxes in sets of 6.
Milky Chic Special Women's Gift Box
This cute gift box is a bit over $50, but there is currently a coupon that brings it down a bit.
It comes with funny socks and a sleep mask, a sugar scrub, a bath salt soak, a donut-shaped bath bomb, a makeup bag, a notebook, and lip balm.
I will say, however, that you can also put together your own gift basket like this at a store and it'll probably be cheaper. But, it is a good option if you'd just like to order something.
Read More: Take a look at these cheap but thoughtful Christmas gifts that you can inexpensively create yourself!
Unique Gifts Under $50 for Him
The Wine Savant World Decanter – With 2 Globe Glasses
If you know someone who loves to have a drink, consider this unique gift for under $50!
How classy would they feel pouring liquor out of a globe with a ship inside? Especially if they are also a travel enthusiast, this gift would be perfect.
There are also other cool shapes available like this diamond-shaped decanter; Fancy!
11-in-1 Survival Gear Kits
For the man who likes to be prepared for everything, here is the perfect gift.
Whether he's expecting the zombie apocalypse to happen any day now or just wants to be prepared for any emergency, this can help him get ready.
This 11-piece survival kit can be taken on camping trips or stored in the car. 
Corporate Gifts Under $50
Sorbus 3-Tier Bamboo Shelf Organizer
Great for the worker with a million things to do, this gift will help them keep all their things organized.
Chocolate Caramel and Crunch Grand Gift Basket
If all else fails and you cannot think of anything, fancy chocolate is always a great go-to gift. This basket has two of my favorite snacks, caramel popcorn, and chocolate-covered pretzels. 
Cheap Gifts Under $20
Leado 32oz 1Liter Motivational Tracking Water Bottle
Sometimes it's hard to remember to drink your water. If you know someone like that, this gift will come in handy.
It'll help them track their hourly water intake and how much they should have drank by every hour of the day.
There are a variety of bottles with other sayings like, "I wish this was wine."
Kasa Smart WiFi Plug by TP-Link
"Hey Alexa, turn on the light!."
This smart plug is a great gift for someone who is busy and always on the go. It allows you to control your devices at home from anywhere you have an internet connection.
You can schedule things to turn on and off, which is also great for security while traveling
I bought the Amazon Smart Plug at a great sale, but now it is over $20.
XLEADER SoundAngel (2 Gen) 5W Louder Bluetooth Speaker with Waterproof Case
With over 12,000 reviews and 4.4 stars, this cheap gift is great for music lovers.
Reviews say it has a clear sound and great battery life for a cheap speaker.
It also comes with an aux cord if you don't want to use it wireless AND you can just insert a micro SD card as well.
Speak Out Game (with 10 Mouthpieces)
I gave this hilarious game to family members for Christmas one year, then we sat around and played it.
It was fun for both adults and kids alike. Just be prepared for a whole bunch of slobber and have some napkins prepared on the side.
Cheap Gifts Under $15
VIPERTEK Mini Stun Gun – Rechargeable with LED Flashlight
This mini stun gun packs a punch! Even after turning it off, it can still give you a nice shock until the electricity wears away.
I've had this little thing for five years and it's still going strong. Just easily flip out the prongs, and plug it in to recharge.
It also has a built-in flashlight and comes in a little carrying pouch. After getting one for myself, I've also gotten one for several loved ones. It's the perfect way to show you care about their safety.
My husband wouldn't let me test it on him, but other reviewers have confirmed its power!
(Also available in a variety of colors.)
TheraFlow Large Dual Foot Massager Roller
This foot massager is also on my wish list. People who suffer from foot pain have left reviews mentioning how much it helped.
It also looks like it might be small enough to carry with me while traveling, or I could get this smaller version for less. It would have certainly come in handy after those long days of walking around Paris.
UPDATE: I received one and it feels so good!
Ecolution Original Microwave Micro-Pop Popcorn Popper
This would be a unique gift for those like my mother who like to make their own healthy popcorn at home. It requires no butter or oil to use, but it still has the ability to use butter if you want to.
Funny Coffee Mug "You are Awesome" 15 Ounce
Remind someone how awesome you think they are with this funny gift. You'll hopefully get a good laugh or a few chuckles when they open this present.
The only problem is that the reviews say it doesn't hold 15 ounces as advertised, but only about 12, and that's if it's filled to the brim.
Cheap Gifts Under $10
Burt's Bees Essential Gift Set
Pamper someone you know with this Burt's Bee gift set. I love the products by this brand because they use all-natural ingredients and are good for hydrating. 
KitchenTour Clean Dirty Magnet for Dishwasher
This unique gift is great for the one who is tired of everyone putting dirty dishes in the clean ones! Simply stick this magnet to the dishwasher, and slide it to show the appropriate status.
Round Key Ring "Always Remember" Keychain: Silver
This little keychain is great for sending words of inspiration. These wise words come from Christopher Robin in the Winnie the Pooh series.
Cheap Gifts Under $5
Most presents for less than $5 on Amazon are little things like, key chains, notebooks, socks, and small jewelry.
At this budget for a gift, I would more likely go to the dollar store. There you could buy maybe a nice mug and put multiple small items like candy or hot chocolate inside.
However, these are a few that I like online :
Dobby Socks "Dobby Is Free" Novelty Socks
There's a variety of socks available that would make a cheap and unique gift for under $5. I love the Harry Potter series so these ones would be perfect for me (hint hint).
Getting this bracelet and necklace set would also be very nice.
SipWell Stainless Steel Drinking Straws, Set of 4
For the eco-friendly person, this gift will help them do their part in helping the Earth and reducing pollution.
There is a more expensive version I have that also comes with plastic tips. This helps to not feel the cold or heat of whatever I'm drinking.
These are the best gifts on Amazon that I can think of. I hope they will give you a great idea of what to give someone special while helping you stick within your budget.
RELATED: