If you've found yourself in need of a job, here are some legitimate work from home jobs hiring now. If you're willing to work at a physical location as well, I've also included some companies hiring right now across the U.S. and hopefully near you.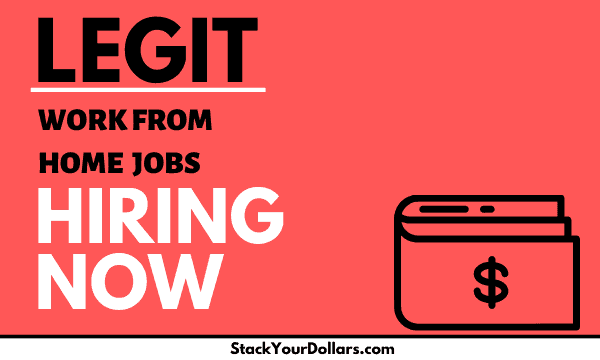 Though I will try to keep it updated, the information in this post may no longer apply.
Legitimate Work From Home Jobs Hiring Now In 2023
The following things are usually required for work at home jobs, but may not apply based on your position. Some companies may also provide them for you.
Hardwired and high-speed internet connection
Landline
Headset
A computer with specific technical requirements
A quiet place to work
Related Reading: These companies may not be hiring at the moment, but here's a long, long list of Over 100 Companies That Allow Remote Work.
Immediate Hire Work from Home Jobs
These jobs are currently hiring employees. As far as I can tell, they have no startup fees.
A majority of these are for call center positions where you will be doing customer service or technical support.
Related Reading: If you are a minor looking to start working, here are a few jobs that hire at 15.
Transcom
Hiring for:
You must live and work in: AL, AR, FL, GA, ID, IN, IA, KS, KY, LA, MO, MS, NE, NH, NC, ND, OH, OK, SC, SD, TN, TX, UT, VA, WI, WV
TTEC
Work as a Customer Service Representative and provide great customer support. For this position, you have to be a high school graduate (or equivalent) and have 6 or more months of customer service experience.
Look at all TTEC positions here.
Foundever
The pay depends on the client they're hiring for. I've seen people report wages of $15+/hr. 
Sutherland
Multiple customer support positions open as:
Customer Care Support
Airbnb Customer Service Advisor
Client Representative
and various other positions
Apply for Sutherland positions here. As you search, click "USA" for country and "WAH" for Work Type.
KellyConnect
There are various positions usually open such as:
Chat Technical Support Representative
Data Entry Specialist
Pay rates show $20 per hour and up
View the KellyConnect's job listing to see current positions.
High-Paying Work from Home Jobs
These jobs pay well, but may not currently be available or the hours are limited.
Amazon
One job to look out for is the Work from Home Customer Service Associate and the Technical Support Associate. Once a job announcement gets posted, the application quota gets filled pretty quickly. 
These positions reportedly pay over $15 per hour. View current job availability with Amazon here.
VIPKid
As a coach, mentor, tutor or teacher, help Chinese children to learn English. You do not have to have prior teaching experience, but you must have a bachelor's degree.
You can set your own hours and the pay ranges from $14-22/hr. Apply for VIPKid here.
HAWO
This company hires teachers in the USA and Canada to teach Chinese students English. You must have a Bachelor's degree or are currently enrolled as an education major. You also need to have prior teacher or tutoring experience for this role.
The pay is $18 – $22/hr. Apply for HAWO here.
Apple
As an Apple Pay At Home Advisor, you will provide technical support for customers using Apple pay. It requires a minimum of 2 years professional technical troubleshooting expertise or shown advanced technical ability.
For Apple, click here to apply and search "At Home Advisor".
Top 10 Legitimate Work At Home Companies
According to FlexJobs Top 100 Remote Work list, these are a few of the jobs to look out for due to the usual volume of their listings.
Physical Locations Hiring Now Near You
Many companies are always looking to fill positions immediately. The top places that will be hiring currently are:
Grocery stores
Package delivery companies
Food delivery services
Hospitals and Healthcare companies
CVS
CVS is typically hiring to fill fulltime and part time positions. These positions include: Retail Store Associates, Warehouse Distribution Workers, Customer Service Representatives, Pharmacy Technicians, and Corporate Professionals.
Visit the CVS website for more information.
7-Eleven
7-Eleven is a convenience store with locations all over the world hiring for positions to be filled.
View 7-Eleven job listings for more information. 
Ace Hardware
There are currently over 500 job listings for Ace Hardware across stores in the U.S.
Apply for positions at Ace Hardware here.
Dollar Tree and Dollar General
Discount stores like Dollar General and Dollar Tree are always hiring employees for their store and distribution centers. 
Click for more information on Dollar Tree or Dollar General.
Amazon
Online shopping is getting more popular than ever. With that, Amazon has full and part-time positions in the U.S. with most starting at $19/hour.
View Amazon job listings for more information.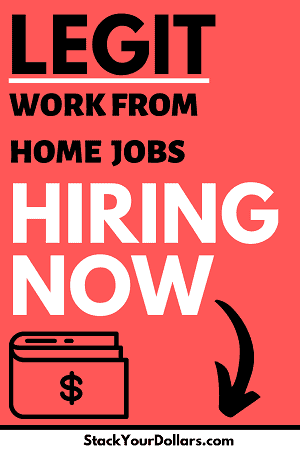 Good luck! I hope you'll be able to find a job quickly with this list of legitimate work from home jobs hiring now.