Are you looking for a job? Seeking employment as a teenager is a great way to gain independence, experience, and become more responsible. Despite how much you may want to work, it can be hard to find a good job as a teenager. That's why I've put together this list of jobs that hire at 15 years old.
The Fair Labor Standards Act (FLSA) sets the minimum age for employment at 14 years old. It also limits the number of work hours and sets safety requirements for minors under the age of 16. In addition, state laws may have different requirements with the laws that looks out most for the best interest of the minor superseding.
Due to this, you may look up a company and see that they only hire at 16 year old. However, they may actually hiring starting at 14 years old in your location with specific restrictions.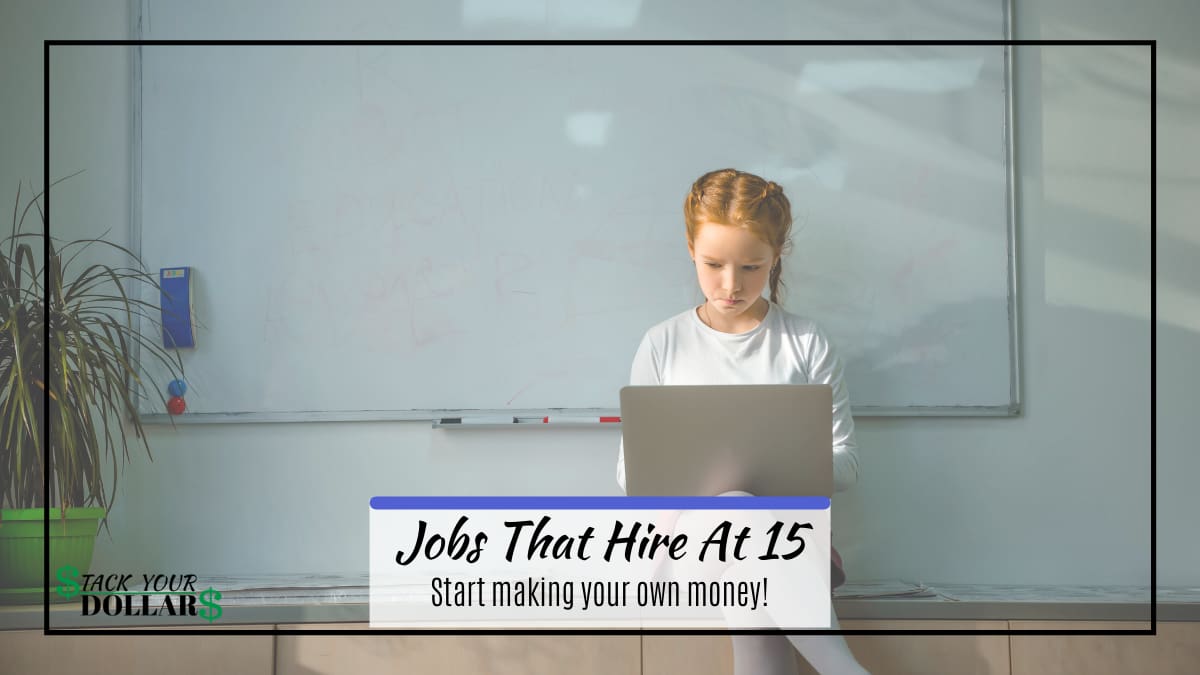 Jobs That Hire 15-Year-Olds
As said before, many of these jobs have a minimum hiring age of 16 and will hire at 14 depending on location and the specific place's policies. If you are looking for work at 15, checking out these companies in your local area is a good place to start. It can't hurt to go in to the location and ask! Plus, it may be a positive thing to show interest and dedication by inquiring in-person.
Note: The positions available to apply for at your age may be limited.
Related Reading: Once you start making money, you'll need a bank account to keep it in. Here are the minimum deposit required for opening a bank account at various banks.
1. Albertsons
Albertsons Companies is one of the largest food and drug retailers in the United States They have about 2,253 stores in over 35 states and D.C.
2. Baskin Robbins
A popular ice cream and cake specialty shop with around 5,636 locations all over the world.
3. Ben and Jerry's
A company that sells ice cream, frozen yogurt, and sorbet with locations in the U.S. and internationally.
4. Bojangles
A fast-food restaurant known for its chicken and biscuits. They have locations across 14 states (Alabama, Arkansas, Florida, Georgia, Illinois, Kentucky, Maryland, Mississippi, North Carolina, Pennsylvania, South Carolina, Tennessee, Virginia, and West Virginia) and D.C.
5. Boston Market
A restaurant that specializes in rotisserie chicken with a variety of sides. They have 346 locations across 28 states, Puerto Rico, and Germany.
6. Burger King
A popular hamburger fast-food restaurant with about 17,796 locations across over 100 countries.
7. Carl's Jr
Carl's Jr started as a west coast hamburger restaurant that now has over 676 restaurants across the world. They are owned by the same company as Hardee's.
8. Chick-Fil-A
A popular chicken restaurant with more than 2,400 restaurants in 47 states and D.C.
9. Culver's
A fast-food restaurant known for its Butterburgers and frozen custard. There are currently at least 808 restaurants open in 25 states (mostly in the midwest).
10. Dairy Queen
Also known as DQ, Dairy Queen is a soft-serve ice cream and fast-food restaurant. They have over 4,455 in the U.S. and 6,800 across the globe.
11. Dan's Foods
Dan's Fresh Market is a grocery store with two locations in Utah.
12. Del Taco
An American-style Mexican fast-food restaurant with over 596 locations mainly in the western and southern U.S.
13. Dunkin Donuts
The popular coffee and donut chain with over 12,871 restaurants.
14. Fareway
Fareway store is a grocery company with locations in the Midwest. At the minimum age of 14, you can be hired to work in the grocery department. Other departments require you to be 18 and up.
15. Fresh Market
A European-style food market with 159 locations in 22 states.
16. Hardee's
An American fast-food restaurant with 3,152 outlets in 40 states and 10 foreign countries.
17. Kroger
Kroger is the largest supermarket in the U.S. with about 2,800 stores in 35 states operated under their own name or under two dozen subsidiaries (including Ralphs, Food 4 Less, and Vitacost).
18. LHM Megaplex Theatres
A chain of movie theaters with 16 locations in Utah and Nevada.
19. Library
Public libraries in various counties will hire as young as 14 for positions such as Student Library Page. I love this option because I used to be one as well!
20. Macey's Associated Food Stores
A grocery store chain with 18 locations throughout Utah. They are owned by Associated Food Stores who have 38 stores with 5 different brands (Macey's, Fresh Market, Dan's, and Dick's Market).
21. McDonald's
The popular hamburger fast-food chain with over 38,695 restaurants in over 119 countries. According to their website, the minimum age to get hired is 16. However, various other sources report that the minimum age to work at McDonald's is 14 and depends on the location.
22. Pizza Hut
The world's largest pizza chain with 18,703 restaurants worldwide.
23. Publix
An American supermarket chain with locations over 1,281 locations throughout the Southeastern United States.
24. Red Lion Inn & Suites
Red Lion Inn & Suites is a part of Red Lion Hotels Corporation with eight brands and 900+ locations across the US and Canada. At 15 years old, you can work as a dining room runner.
25. Rita's Italian Ice
A restaurant chain that mainly sells Italian ice, frozen custard, and specialty creations. They have about 540 locations in the Mid-Atlantic U.S.
26. Safeway
An American supermarket company with about 904 stores in the Western United States. It is a subsidiary of Albertsons.
27. Six Flags
A popular amusement park with 27 locations across North America (Canada, Mexico, and the United States). Limited positions hire under 16 and starting at 14.
28. SunLife Organics
A juice bar with 9 locations in California, 1 in Austin, Texas, and another newly opened in Miami, Florida.
29. Taco Bell
A Mexican-inspired American restaurant that has about 7,072 restaurants.
30. Touchmark
Touchmark communities is a company that provides lifestyle options for adults 55 years and older. They have locations in Canada (Alberta) and the U.S. (Arizona, Idaho, Montana, North Dakota, Oklahoma, Oregon, South Dakota, Texas, Washington, & Wisconsin).
The company hires dining room servers at a minimum age of 14-16 depending on location.
31. Vons
A subsidiary of Albertsons with around 325 supermarket locations in Southern California and Nevada.
32. Wendy's
The popular "square burger" fast-food restaurant with over 6,711 locations.
33. YMCA
The Y is a nonprofit committed to helping communities across the world. There are currently more than 2,600 YMCAs in the United States.
34. Zaxby's
An American chain known for chicken wings and chicken fingers. They have more than 600 locations in the Southern United States.
Other Employment Opportunities
In addition to regular places that hire at 15, here are a few more ways to make money as a teenager:
Babysitting
Pet Sitting
Dog walking
Gardening/ Mowing Lawns
Tutoring
Newspaper delivery
FAQ
Can I get a job at 15?
Yes, various places that hire at 15.
Can you work at Wendy's at 15?
Yes, some locations hire minors at age 15 for select positions.
How old do you have to be to work at Dollar Tree?
You must be 16 years old to work at Dollar Tree.
Does Arby's hire at 15?
No, the minimum age to work at Arby's is 16.
Can 15-year-olds work at Walmart?
No, you must be a minimum of 16 years old to work at Walmart and Sam's Club.