As the technology in our world grows, there are more and more convenient ways to do everyday tasks. You can start your car without a key, turn the lights on in your home with your voice, and check your bank account details online. Of all these conveniences, I believe knowing how to check your bank account balance online without going to the bank is the most important.
It's very important to know your bank account balance and available balance, especially if you plan to purchase something; however, it isn't always easy to go to the bank when you need to, especially after hours. It's also important to check for errors in your account to detect fraudulent charges right away.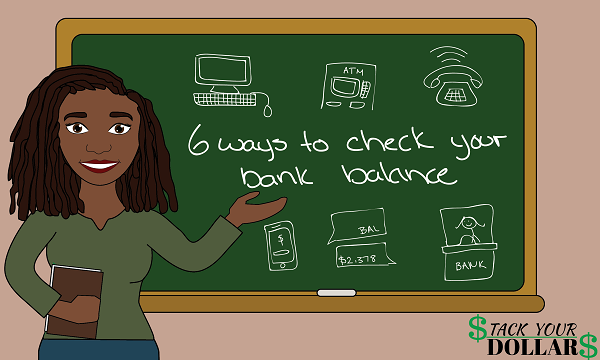 For instance, there was a time I lost my wallet. My one thought was that I had to check my account balance NOW! With the ease of being able to check it on the spot, I was able to freeze my cards before any money could be stolen.
Though all options are not as convenient, here are 6 ways to check your bank balance:
1. Online
It's easy to check your bank account online from anywhere you have internet access. It can also make your life easier with bill pay options, transferring money, and more.
How to check my bank account balance online?
If you already have an account set up, just input your username and password, then click to log in.
If it's your first time on the website, you'll have to click to enroll in online banking. For this, you typically will need:
An ATM/ Debit card number, Credit card number, Account Number, or Loan Number
Your Social security number or Tax ID number
An email address and/ or Mobile phone number
Be careful when putting in the bank website's URL, misspelling the web address can lead you to a scam website. If your bank's website is "mybank.com", but you type "mybank.cm", it could lead you to a website that looks the same but is set up to steal your information.
Always double-check your URL and be wary of clicking any links to the website. I like to search the bank in Google to be sure I have the correct URL. 
2. Mobile
There's an app for almost everything these days, and banks are no exception. Mobile apps allow you many of the same conveniences online such as checking your accounts and transferring money, but it also allows you to easily deposit a check by taking a picture of it (at most banks).
How do I check my balance on my phone?
You can check your account balance on a mobile app by downloading it from your Android or Apple app store.
Then, log in or set up an account for online banking the same as you would on a computer.
3. Phone
If you prefer to speak to someone, you can also call your bank to find out your account balance. This option is usually limited to certain hours when their customer service department is open; however, they might also have an automated system that is available 24/7.
How to check your bank account balance on the phone?
You can find the phone number for your bank by looking it up online on the bank's website, calling the number on the back of your debit/credit card, or the number on your paper statement.
In order to receive your account balance on the phone, you will have to verify your identity with:
An ATM/ Debit card number, Credit card number, Account Number
Your Social security number or part of it (like the last four digits)
Your Pin (Only at some banks and may be numbers or a word)
4. SMS: Text Banking
If your bank offers it, receiving your bank account balance through text messages is fast and you don't even have to log in. Some banks also allow you to check your recent transactions, transfer money between accounts, and set up low-balance alerts.
How do I check my balance via text?
In order to set up text banking on your phone, you may have to activate it using your online bank account first.
Once set up, you'll be able to check your bank account by texting their number (usually 5 digits) or sending a specific text command for the balance (such as "BAL").
Checking your bank account balance via text messaging is usually free unless your mobile provider charges you for texts.
5. ATM
Another slightly convenient way to check your account balance is at an ATM. I say slightly because it requires getting out of the house, but it can be done at any hour of the day with an available ATM machine. You can also withdraw money from your checking account or savings account this way.
How do I check my balance at the ATM?
To check your ATM balance, simply insert your bank card into an ATM and enter your pin. Then, follow the instructions on the screen to continue.
If you are withdrawing or depositing money as well, you can get the account balance printed on the receipt.

Be aware that you can get charged a fee just for checking your balance! In order to avoid any fees, it's best to use an ATM specific to your bank, or one that is in their "network".
6. Teller
You can't do it in your pajamas (shouldn't at least), or in the middle of the night, but going into the bank is still an option for checking your bank account balance. If you need to ask questions or get other services as well, it may also be preferable to talk to someone face-to-face.
Note: You will need to check your bank balance with your account number or a debit card.
How do you check your account balance in person?
Checking your bank account in person is easy, but time-consuming. When you get to the physical bank, you may have to first wait in line. Once you are at the teller, you will need a variety of information such as:
A debit card or account number
Pin
Photo identification
Account Balance and Available Balance
As you check your account, be aware of the difference between the current account and the available balance in your checking account.
Account Balance: This is the total amount of money that is in your account.
Available Balance: This amount will typically be lower than your account balance. It reflects pending transactions, holds (due to a hotel or car reservation), or uncleared deposits. You can use your available balance, as long as you don't exceed the limit.
Pending transactions are already deducted from the available balance though the transaction may take a few days to fully process.
Read More: All About My Bank Account: FAQ
If you deposit a $1,000 check, the pending deposit will show in your account balance, but some or all of it may not be in your available balance until it clears with the bank. Therefore, you can not spend the money in your current balance unless the available balance is the same.
Conclusion
These were so simple, right? Now that you know how to check your bank account balance online plus other ways, be sure to do it often! It's the best way to detect anyone trying to steal your money or any account errors before it goes too far!
View the Check Your Bank Account Balance Web Story.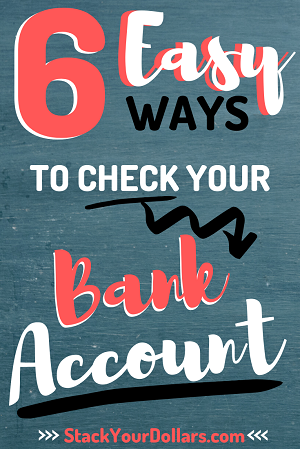 More Reading: How Does A Credit Card Work? A Simple Guide