An account number is a unique identifier used to represent a specific bank account at a financial institution. It is typically between 10 digits long and up to 12 digits in the U.S.
Along with the routing number, your bank account number specifies exactly which account money should be set from or into. This is why it's very important to know where to find your bank account number.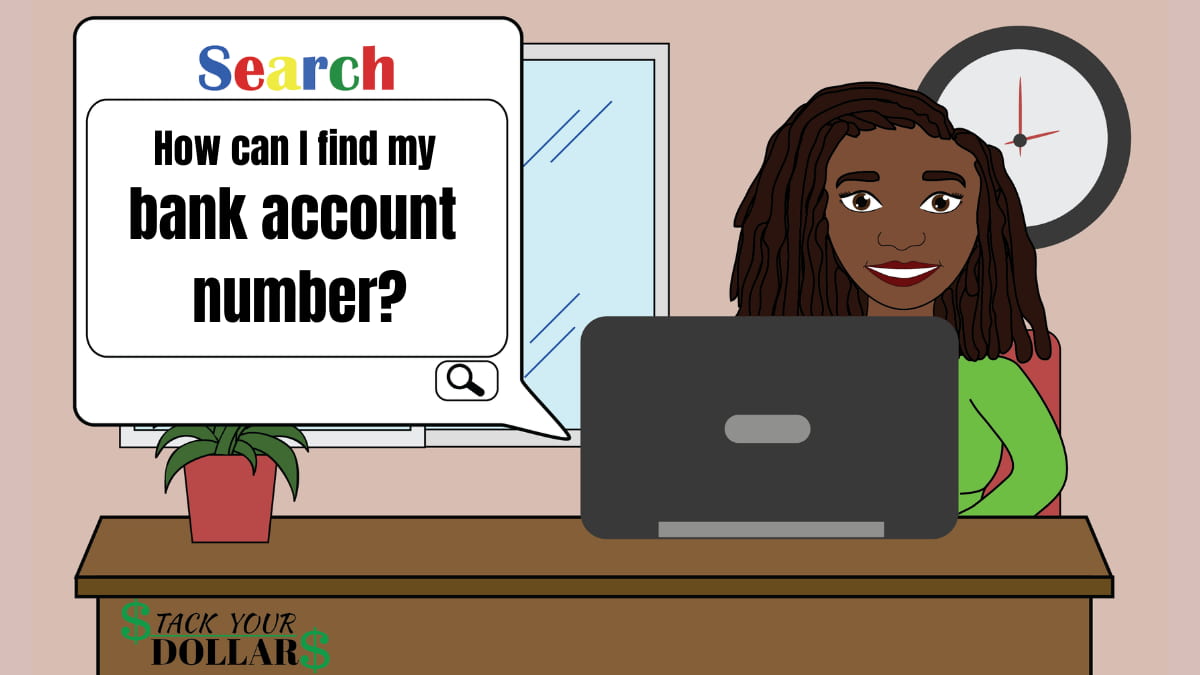 Where to find your account number
There are a few different ways that you can find your bank account number:
1. Your account number on a check
If you have a checkbook, that is one place where your bank account number is shown. The entire bottom row of numbers on a check are full of information. The account number is the 2nd set of numbers. The 1st set will be your routing number, and the 3rd is the check number.
If you don't have a checkbook, you could also find it among the initial documents from setting up a bank account. I typically get a voided check which has all the same information and can be used to set up direct deposit.
More Reading: Learn about the different parts of a check.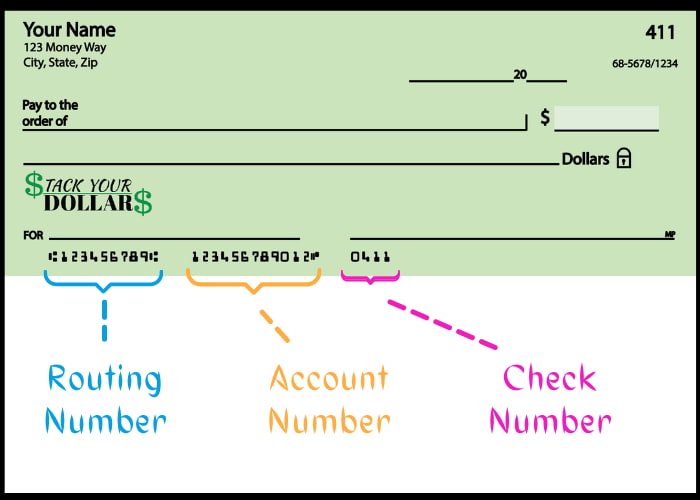 2. In your online account
If that's not available, you can still find your account number without a check by going online. Along with other account details, you can typically find your bank account number in your bank's online portal account.
Exactly where it will be found differs from bank to bank, but you will have to set up an online account first if you have not done so already. On my bank's website, I can see the last 4 digits of all accounts once logged in. To see the full number, you have to select the account then click the eye icon to view more.
3. On your bank statement
Your account number is usually also shown on digital and physical bank statements that you receive every month. It will usually be found in the top corner.
If you don't receive physical statements in the mail (or cannot find one), all you have to do is log into your online portal to search for your bank account number. Typically, there will be options in the top menu where you may navigate to statements and download that last few months.
More Reading: Learn more information about your bank account.
Bank Routing Number
Your bank routing number is another thing that is important to know where to locate. You can find the routing number on the check or on your bank's website. Your bank may have only one routing such as Navy Federal or multiple like Wells Fargo. You can find a list of all the numbers on the website, or log in to your account to see your specific one.
Here is a list of a few banks' routing numbers:
Security of Your Bank Account Number
You may also be wondering what happens if someone knows your bank account number. It is a big cause for concern because they can commit fraud with it.
Someone can steal your money with your bank account number and routing number. Though routing numbers are public information and can easily be found, it's important to safeguard your bank account number.
Never give your account details to someone you don't trust, even if they promise to send you money. The only time I give my account information is when I receive a position at a credible business and set up direct deposit. There are many other safe ways to transfer money such as Zelle, Paypal, etc. It may be helpful to look at these common frauds and scams to know what to avoid.
It is best to stay vigilant and review your account transactions routinely. The sooner fraud is detected, the easier it will be dealt with. For my account, I also set up alerts to notify me when money is spent or deposited. If available, this is a great way to keep track of your account.