The routing number for Navy Federal Credit Union members is very easy to find because there is only one!
Unlike other financial institutions, there is only one number that is used for all NF locations.
Routing Number For Navy Fed
As of 2019, Navy Federal is a credit union with over 8.85 million members. Headquartered in Vienna, Virginia, it is the largest natural-person credit union and serves military members, along with their families.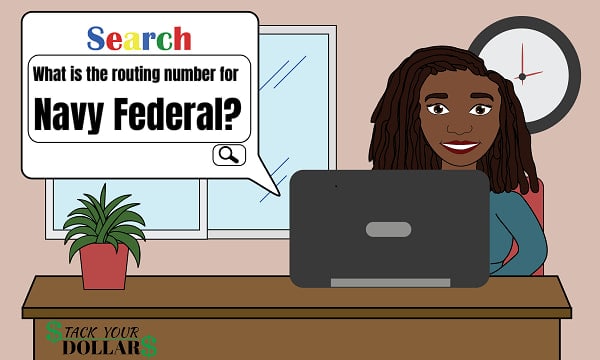 If you are a member of Navy Fed, you might need there routing number at some point for:
Sending Money
Making Wire transfer
Setting up direct deposit
Well, this is the number that you will need:
Navy Federal Routing Number: 256074974
Wire Transfers
Financial institutions will often use a separate routing number in order to process wire transfers; however, Navy Fed does not.
256074974 is the same Navy Federal Credit Union routing number used for both domestic and international wire transfers.
At other banks and credit unions, a Swift code is typically used for international transactions.
What is a routing number?
A routing number, also called the Routing Transit Numbers, or ABA routing transit number (ABA RTN), is a nine-digit code that indicates the financial institution you are a member of. They are unique to each bank and allow the accurate transferring of money between financial institutions.
For example, the first four digits are determined by the location of the bank and the Federal Reserve used to process customer's payments. The "25" in the routing number corresponds to the Federal Reserve Bank in Richmond, Virginia. The next four digits are unique to the financial institution, and the 9th digit is the checksum (number used to verify data).
What this all means, is that it is important to use the correct routing number, or your money can end up going to the wrong place. Check with your financial institution before engaging in any important transactions.
Large banks can have multiple routing numbers for each area they operate out of. Other banks that are smaller, or online-only, may have just one number for all members, such as NF.
Where can I find my bank's routing number?
There are several places to find your navy federal routing number, such as:
The first set of numbers on the bottom left corner of your check
On your monthly statement
Calling customer service at your bank. (The Navy Federal number is 1-888-842-6328.)
Looking on the bank's website
On your financial institution's mobile app.
The Federal Reserve Banks' E-Payments Routing Directory

The routing number is located #10 on the above check.
Click here, to learn more about the different parts of a check or to learn how to find your bank account number.
Using the Navy Federal App
To find your routing number on the Navy Federal App, follow these directions:
Sign on
Click the magnifying glass icon at the top right for the search option
Click "Our Routing Number"
Another way to find both your routing number and account number the app is to:
Sign on
Click an account in the list of them
Click on "Show more details" under the available balance
There you'll see the NFCU routing number and can click on "Show" to see the full account number
Routing Numbers for other Financial Institutions:
FAQ
How many digits is a Navy Federal account number?
The Navy Fed account number is 10 digits long while the routing number is 9 digits.
Is the access number and account number the same?
Your Navy Federal access number is not the same as an account number. It is a unique member identifier assigned when creating your accounts. You can use this number to log in online and view all of your accounts.
Can civilians join Navy Federal Credit Union?
Civilians can join Navy Federal Credit Union if they are a immediate family member (grandparents, parents, spouses, siblings, grandchildren, children) or household member of an eligible Navy Fed member. As a non-military member, that person must sponsor your membership by providing their last name, Access Number (or social and DOB), and affiliation (e.g., sibling, parent) for you to sign up.
How do I sign up for a Navy Federal account?
Apply for a membership easily by signing up online, by phone (1-888-842-6328), or by visiting a branch.