It's common for people to seek out a way to bring in more money while working a full-time job; and military members are no exception. The extra money can help you make ends meet, save more, or quickly pay off debt. This list of great side hustles for active duty military will hopefully help you reach your financial goals. Keep reading to learn how to make extra money in the military!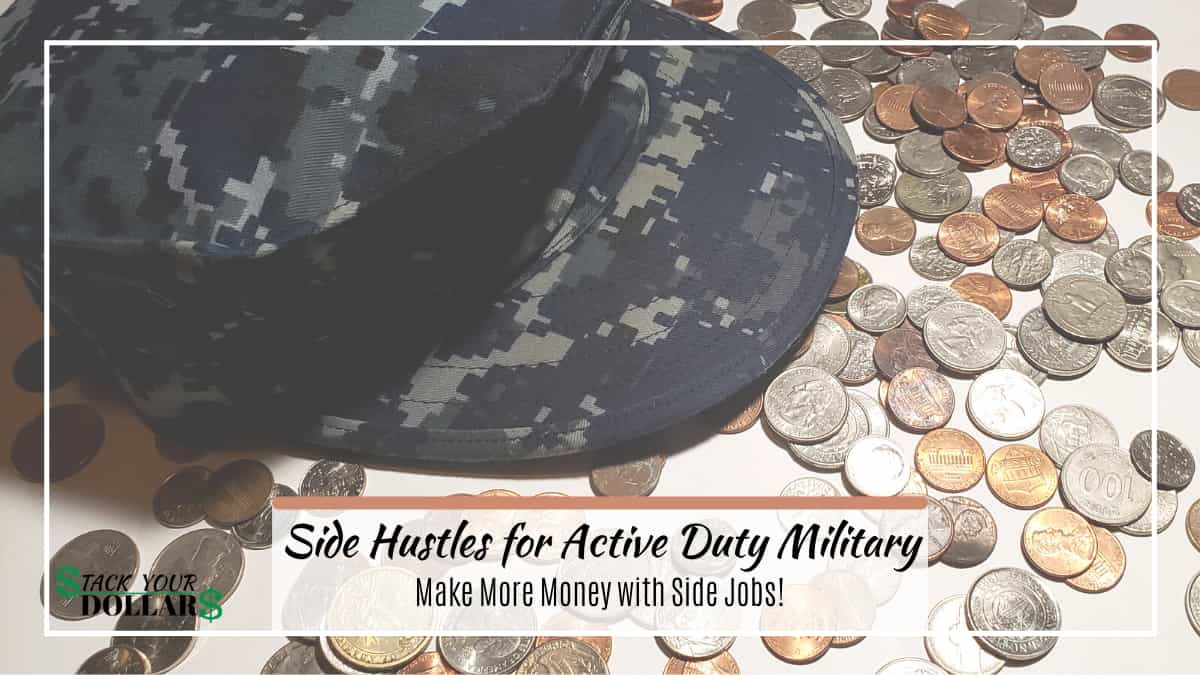 If you have debt, the SCRA benefit could save you thousands of dollars. No kidding!
Remember that with anything you decide to do: the mission comes first. One of the standards for ethical conduct in public service states that, "Employees shall not engage in outside employment or activities, including seeking or negotiating for employment, that conflict with official Government duties and responsibilities."
This post may contain affiliate links as a way to support the costs of this website (at no additional cost to you); however, I won't recommend products I don't believe in. View my full disclosure at the bottom of the page.
The Best Side Businesses For Military Members
Since we move around a lot and far from our home towns, the military is a tight-knit community. As such, military families usually prefer to put their trust and money in military-owned businesses as opposed to civilian ones.
This (and more) is why starting a small business is a good side hustle for military members and their families. You are your own boss, and you get to control the hours that you work. Depending on what you do, it's also easy to take it with you from duty station to duty station and make money.
Take a look at these 7 Military Spouse-Owned Businesses!
So if you're wondering how to make extra money in the military, think about what you can do to serve your community. What are you good at that others would want to pay for?
While you have your thinking hat on, these are some of the best side businesses for military members:
1. Use Your Military Training
Make use of whatever skills you have learned through the military to make money on the side.
Example: One sailor I know got sent to locksmith school to change locks and open safes. After also paying for an extra class on auto locksmithing, they can easily run a profitable business on base since others would have a hard time getting on.
You can use this skill translator to match your rate to civilian jobs.
2. Become a Mechanic
It's hard to find a reliable mechanic that you can trust to do a good job at reasonable prices. As someone in the military life, it is even harder when you're always moving around and can't keep those relationships you build.
Because of this, military families usually look for someone that's recommended in the community. Get out and advertise your services, and this could be you!
Also look into other repair jobs like: plumbing, and other handyman work (might be needed by military spouses whose husbands are deployed!)
3. Sell Food
People love to eat good food. If you can cook, you can capitalize on that.
In particular, single military members and those living on base would be a great customer-base to market to; they usually love a chance to eat home-cooked food.
Service members who have to stand watch or have duty are also more likely to buy meals.
4. Start Baby-Sitting
Without their families and friends nearby, it's harder for military families to find someone to trust with their children. Especially if you live in military housing, there are usually people looking online for neighbors to watch their kids for a few hours.
Check Facebook to find a group for your local housing community. You can also use babysitting services like Care.com, Sittercity.com, etc.
5. Creative Work
Customized work make great side jobs for military families. You can make extra money by providing goods and services such as the following:
Homecoming signs: Signs to welcome home military members from deployment
Sewing: Sew on patches and make other alterations to uniforms.
Photography: Sell your services to do homecoming photography, family pictures, etc.
Woodworking: Customized items such as challenge coin holders sell really well!
Custom Challenge Coins: Speaking of challenge coins, I recently found out that some people create custom Navy challenge coins to sell. These coins go for at least $20 and can be designed how you like. The ones that people usually collect reflect something cool about the area they're stationed in or a popular trend at the time (ex. Tv show, game, etc.). So… Navy, or Army Challenge coins might be a cool hustle if you have some creative ideas!
6. Rentals
With the VA loan, it's usually pretty easy to buy a home. What's better than no down payment? A mortgage can also be much cheaper than renting a home.
Some military families buy homes at their duty stations and then rent it out when they move. While it is a little risky managing a home from however many miles away you get placed, it is an easy way to make extra money every month.
You could also choose to rent out a room while you're living in the home as well!
The Best Part-Time Jobs For Active Duty Military Members (Due to Base Access)
(These part-time jobs are great near a base because civilians in the same field would not be able to have access.)
There are many military-friendly companies that would make great second jobs for active-duty military members. They are willing to be flexible enough for you to work there during your off-duty time.
However, you might have to request permission from your commanding officer (or other higher-ups) before taking a job.
Please note that the USERRA (Uniformed Services Employment and Reemployment Rights Act) protects you from discrimination. Under it, your reemployment rights are also protected after leaving for service; it allows you to keep health insurance coverage, and more!
These are the best part-time jobs for active military that I know of:
7. Uber/ Lyft
If you're located far inside a base, it isn't convenient to walk to the security gate for a ride. That's why rideshare drivers with base access would be great!
8. Food Delivery: Pizza, UberEats, etc.
There's a limited amount of places that can deliver on base. So wouldn't it be great if you could?
9. Grocery Delivery
There's many different companies to work with such as Instacart, Shipt, and Postmates. Especially now, many people are getting their groceries delivered. That's why this is a great option!
Military-Friendly Employers
While many jobs will be flexible with military members, these are some of the side hustles for military members that I know of someone having:
10. Starbucks
Starbucks is known for hiring with flexible schedules; many military spouses also get jobs there.
They've pledged to hire 25,000 more military members and their families by 2025, by hiring 5,000 each year.
11. Club Bouncer
Clubs are usually looking to hire bouncers that have a background in security such as military and law enforcement.
12. Domino's
13. Papa John's
Joel Cooney is one example of someone who worked part-time for Papa Johns while serving in the Marine Corps. He is now a Franchise Business Director and has been with them for about 20 years.
14. Wal-Mart
Make Extra Money On Deployment
When you're out in the middle of nowheresville, you don't have easy access to the things you want and need. But you, my friend, are a great entrepreneur, so you're going to build your business and make money by supplying these goods and services.
Pssst! You can also SAVE a bunch of money on deployment.
15. Barber/ Hairstylist
It's a fact of life, hair eventually grows too long and you have to cut and take care of it; especially to be in regs. While there is a rate that does this (RS for Navy), not everyone trusts that they'll do a good job (I'm sorry if that's you!).
But if you are skilled at styling hair, some people would rather pay you than get it for free to make sure they look good.
16. Supply & Demand
On deployment, people sometimes run out of the items they like. If they're in an isolated area, they might not even be able to buy it anywhere, or the exchange might run out as well!
But this is an opportunity to make money. If you are the only one who can supply these items, you can demand the prices you want (be reasonable though).
These are some items that tend to run out during deployment that people will buy:
Cigarettes
Dip
Snacks
Ramen noodles
Vaping juice (I know vaping is not allowed on Naval ships anymore, but I only see a public health alert for the Army.)
Gatorade/ Gatorade powder
Mass gainer supplements
Workout supplements
Energy Drinks: Red Bull, Monster
17. Sell Unused Belongings
If you need some extra money, try to sell items that you're not using anymore to other military members. For the Navy, on an aircraft carrier specifically, I know there is a section in the email where you can list items like on Craigslist.
If you don't have access to something like this, just let others know and spread the info by word of mouth or on Facebook.
If you've outgrown any of your uniforms, that's one hot item people are always looking to buy cheaper!
18. Cover Duty Assignments
This can also be done when not on deployment, but it's more in demand during.
Suppose that you're on deployment and just pulled into port, but oh no, you have duty that day. How much would you pay to get off the ship and not be stuck working?
If it doesn't matter to you, you can offer to cover those days people don't want to work (and get paid for it!).
And More Ways to Make Extra Money While in the Military!
The military side hustles mentioned in this article were selected because I think they are especially profitable for them; however, I have also written about other side jobs that would apply to everyone.
For more ideas on how to make money in the military, take a look at my post, "Side Hustle Ideas".
They include ideas such as:
19. Blogging
In this post on making money by blogging, I teach you how bloggers make money and the (kind of) simple steps to get started.
With my blog, I'm currently making a passive part-time income while also holding a full-time job.
20. Ibotta
The use of this app earns you money back on the groceries that you buy.
21. TaskRabbit
Sign up and get paid to do tasks (like putting together furniture) and errands (shipping packages) for money.
Frequently Asked Questions
Can you have a side job in the military?
Yes, military members are allowed to have a side job; however, you might need to receive the proper authorization from your chain of command first. Since the mission comes first, other jobs that interfere with that won't be allowed.
Can you get rich from the military?
Serving in the military will not make you rich; however, you can take advantage of the many benefits and programs to help you get there. If you manage your money and make investments, you may be able to do it.
Can you make 6 figures in the military?
You can definitely make over 6 figures as a military member, but it will take a lot of work and time to rank up and have years of service under your belt. You can reach this amount of money faster by having other business ventures.
Do you have any other ideas side hustles for active duty military members? Share them below!