Going on deployment is never easy for a military member or the loved ones left behind. Being sent thousands of miles away from friends and family can bring additional stress to an already stressful occupation, especially with limited communication. However, one potential benefit is saving money on deployment and setting yourself up for financial freedom.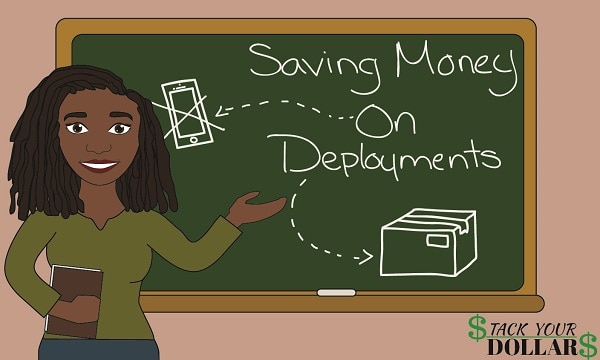 Between cutting back on expenses and the extra pay that some members get, it's possible to pay off debt, save money, and invest in your future.
This post may contain affiliate links as a way to support the costs of this website (at no additional cost to you); however, I won't recommend products I don't believe in. View my full disclosure at the bottom of the page.
How Much Money Do You Make When Deployed?
When you're deployed, you don't usually make much more money.
My husband only received the FSA pay of $250 while deployed. They also took back the BAS of $369.39 per month since he was eating on the ship, so we actually lost $119.39/month.
However, others have received more money depending on their deployment area.
PRO TIP: You can also make money on deployment by selling things. Take a look at these military side hustles for ideas.
Deployment Money Incentives
Family Separation Allowance (FSA): $250 per month payable when separated from dependents at the permanent duty station for at least 30 days.
Combat Zone Tax Exclusion (CZTE): This allows you to exclude certain pay from taxable income when serving in a combat zone.
SGLI Reimbursement: Those who serve in Operation Enduring Freedom (OEF) or Operation Iraqi Freedom (OIF) are eligible to be reimbursed for the monthly SGLI payments of $27.
Hardship Duty Pay (HDP): $50 -$150 when in areas overseas where the living conditions are well below the average in the U.S.
Assignment Incentive Pay (AIP): Additional pay is given to service members for unusual assignment circumstances, such as extending tours in combat areas. This has a cap of $3000 per month.
Hazardous Duty Incentive Pay (HDIP): Incentive pay is given to those performing flight duty as air crewmembers (up to $250) and non-air crewmembers (usually $150).
Hostile Fire/Imminent Danger Pay (HFP/IDP): $7.50 per day up to $225 a month when in life-threatening areas.
How to Save Money On Deployment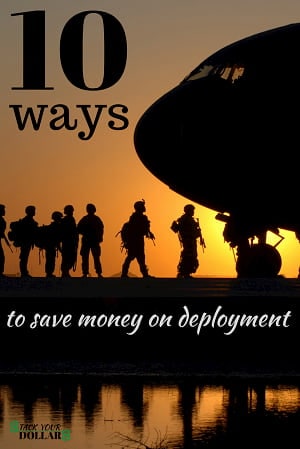 1. Suspend Your Phone Service
Phone companies allow service members going on deployment to suspend their phone lines until they get back. When my husband went on deployment, we would suspend his phone during the time to save money.
At port calls, it was easy to communicate using Wi-Fi and calling over the many apps available for free usage. At the end of the deployment, I called the phone company to have his line reactivated a couple of days before arriving.
Some companies might charge a maintenance fee to keep you phone number. You might also still have to continue any installments on your device.
2. Shut Off Utilities
If you're leaving a home unoccupied, it would be beneficial to call and ask the utility companies to suspend your services until your return.
If not, you can plug out everything to lower usage. However, you might also want to consider the security of your home. You'll want to make sure that it doesn't look vacant and become a target for burglars.
Maybe use something like this programmable light switch timer and have someone check up on your place.
If you have a family staying beyond, this is not an option but the bills can still be reduced. I also always cut off cable when my husband leaves.
3. Break Your Lease
When it comes to saving money on deployment, saving rent is the According to the SCRA act under residential terminations (50 U.S.C. § 3955.), you are able to break your lease if your deployment is at least 90 days.
Many spouses of service members have also chosen this option and moved home to live with their parents or get a cheap apartment while saving thousands of dollars.

Also, consider the potential savings vs moving and storage costs when calculating the benefits.
4. Reduce Your Car Insurance
If you have a car that won't be in use while away, consider calling your insurance company to have your bill lowered.
You may not want to completely cancel your car insurance in case anything happens while you're away. However, you may be able to lower your bill for the period it will not be in use.
You can also look through your insurance policy for benefits that won't be needed while deployed.
5. Buy Snacks in Bulk
One budget killer that you don't notice at first is vending machines! The cost of getting a drink and a snack here and there seems small, but it surely adds up!
After realizing how much money was spent a the end of deployment on just vending machines, we decided it was time to make a change. Before every deployment since then, we would stock up on snacks at the store.
With Amazon Prime, you can also buy from some places and have it delivered for free.
6. Travel Credit Card
If you're going to be making purchases while overseas, look into a good credit card that does not have foreign transaction fees. These fees add about an extra 3% to your bill.
Also, be aware of currency conversion fees. Even if the credit card company does not charge the foreign transaction fee, the credit card processing company (i.e. Visa, MasterCard) might charge an International Service Assessment (ISA) fee that will be passed on to you.
Contact your credit card company to see what this charge would be and compare it to another if it is over 1%. Some companies will also cover the cost.
7. Lower Your Interest Rate
Some credit card companies offer a 0% interest rate when deployed. This is one sure way to save money when paying down debt. Call the company you are with to see what benefits they provide.
Thanks to the SCRA benefit, you can also receive a lowered interest rate when you're not deployed. You can potentially get back thousand in interest paid.
8. Set An Allowance
When it comes to the Navy, I know that many sailors go a bit wild once they finally reach a port and can get off the ship. I have heard of stories of many blowing all of their money in a single day, even with bills that needed to be paid back home.
To avoid this stress on our marriage, my husband and I simply decided on an allowance. I separated it and the money for bills into different accounts so there wouldn't be a way for him to spend too much.
Read More: Money And Marriage: 25 Finance Topics Before Tying The Knot
This is something you can do even without a partner. Set up a recurring transfer to put your money into a savings account so you won't be tempted to spend it.
Related Reading: Military Family Budget Worksheet
9. Make Low-Cost Care Packages
I know it's tempting to go "all-out" when decorating a care package for your service member. This can easily get you off the goal of saving money on a deployment.
To save money on care packages, I would get my decorations and snacks from dollar stores. With a little craftiness, my boxes still looked great and made my husband happy. I also used the packaging tape there to cover the whole package and protect it.
You can pick up or order large flat rate boxes at the post office and they currently (11/2021) only cost $21.15 to send. If personalizing is not a big thing for you, ordering a care package such as the following on Amazon would also be cheaper.
10. Invest Your Money
The Savings Deposit Program (SDP) allows military members in designated combat zones to build their savings. You are allowed to invest up to $10,000 on deployment and earn 10% on it. You are not allowed to withdraw money from the account until leaving the combat zone, unless during an approved emergency situation.
Frequently Asked Questions
How much money can I save on deployment?
Depending on what expenditures you cut back on, there is the possibility of saving thousands of dollars. One family has said that they saved over $20,000 during a deployment.
Do you still get Bah while deployed?
If you are currently receiving BAH, yes, you would still receive it when deployed.
Do soldiers need money when deployed?
No. When deployed, the military covers all necessities such as food and housing.
Do deployed soldiers have access to their bank accounts?
Yes. Deployed military members can access their bank accounts as long as they have access to the internet. You might also see them on social media or shopping online.
Do soldiers have to pay to come home?
The military covers the cost of being sent to and coming back from a deployed location. There are instances that you might have to cover travel such as coming home for an emergency situation.
Do you have any tips for saving money on deployment? Share them below. And save this post for the next deployment you go through.