How many of you have sent out seemingly hundreds of applications without any response? It's no wonder that financial issues is the top stressor among military families surveyed. To bridge that financial gap, many people have created military spouse-owned businesses to generate more income.
One of the hardest things about being a military spouse is maintaining a career. Due to frequent moves, scarcity of jobs, and the cost of childcare, many military spouses are unemployed and even underemployed.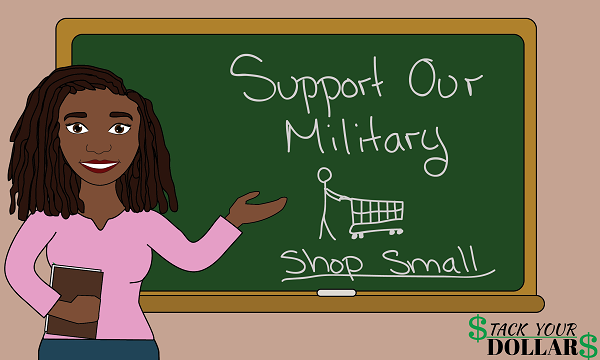 Creating a small business is one of the best side hustles (I believe) that you can have because of the many advantages. There are generally low start up costs in addition to having freedom from a boss and the flexibility do it along with a regular full-time position. It's a great option from mothers looking for to work from home or for anyone wanting the make more money.
Check out these side hustle and business ideas for military spouses and active duty military members.
Starting your own business is as simple as figuring out what people need (or want), and finding a way to meet that. With enough passion and drive, you can make money! The following savvy businesswomen (and businessman) did just that across a variety of categories! I asked these milsos all about their business ventures, and here's what they had to say:
Arts & Crafts
K&L Wood and Vinyl
My business is K&L Wood and Vinyl. I make custom pieces such as wooden home decor items, signs, shirts, tumblers, decals, keychains and more. – Katie Hughes
What made you want to start it?
My husband and I moved about a year ago and I needed to keep myself busy but still have flexibility regarding the hours I worked, therefore a regular part time job was not ideal. I've always been crafty my entire life so I decided to put my skills to good use. I started off making vinyl decals for cars and selling them to neighbors, but I quickly started branching out and doing a little bit of everything that I could with making decals.
How has it benefited you throughout PCSing?
Clientele would be available wherever my husband and I PCS to next, whether it would be local or through shipping. I also have amazing customers that repeatedly support me and my business, regardless of where my husband and I are located.
How much do you earn from it per month?
I earn more now than when I did working for minimum wage part-time at my previous job. Since my business is not even a year old yet, I'm thankful to be making as much as I do so far. As I grow and invest more into it, I hope to be able to fully support my family with my income.
Do you have any tips for others?
If you have a calling in your heart to start up your own business, absolutely go for it! Starting up can be difficult but everyone starts somewhere. Set your goals and make a plan of how you're going to reach them. When you receive customer feedback, it really motivates you to do more.
Laced Kreationz
My side hustle turned main hustle is crafting & custom apparel. I service everyone from newborn to 6x.
What made you want to start it?
I always admired the pretty glittered cups & monogrammed apparel. Once I realized how easy Cricut had made their newest cutting machines, I had to have one. I started off slowly & as I tried new things, I seemed to be great at recreating/ customizing designs. It was my children's school schedules that ultimately transitioned my side hustle into my new primary source of income.
How has it benefited you throughout PCSing?
So I haven't experienced PCSing yet. I can imagine my customers would be disappointed that they would no longer be able to pick up locally, however, if they rock with me then I'm sure distance won't kill out business relationship.
How much do you earn from it per month?
Right now I'm earning a PT income (thank goodness for my husband) he holds things down financially for now.
Do you have any tips for others?
For someone wanting to start a business, GO FOR IT! Don't test the waters, jump right in. I feel like you will be more determined to win if you're fully invested.
Cosmetics
Jhané Cosmetics
I've created my organic cosmetic line called Jhané Cosmetics where I promote that "Healthy is Beauty". I want people to understand what chemicals they are using on their skin. A lot of times the beauty industry tries to hide chemicals that are not great for your skin. Jhané Cosmetics is an honest makeup brand that tells you specifically the ingredients of every product. – Bianca Williams
What made you want to start it?
As a military spouse (of 5 years now), I am constantly relocating and every time I relocate I have to go through the long daunting process of job hunting which is always stressful. I realized I have plenty of talents that I can manifest. What made me want to start Jhané Cosmetics is taking my power back and being able to manifest by using my talents instead of always waiting on someone to hire me. By having my own mobile business, I can pick up and take my business anywhere with no effects or dilemmas.
How has it benefited you throughout PCSing?
Having my own business helped me by being able to make my income and not having to worry about it when I relocate since my business is mobile. I've gained more confidence knowing that I can use my skills and talents and be my girl boss without waiting for a company to hire me. Also, PCSing has created network opportunities for my business by sharing my business in new areas.
How much do you earn from it per month?
Believe it or not, since I sell cosmetics, I make a lot with being a vendor at different events. I would love to make more through my website but, I am still working on that.
Do you have any tips for others?
Do not wait for a job to tell you that you're worth it! You can find ways and have the capability to manifest things in your favor! All you have to do is believe in yourself and keep working hard! Never give up and it is never too late to start working on your dreams/goals!!! I have faith in you!
Food Service
Khani's Catering
My husband and I own a catering business – Khani's Catering based out of Suffolk, VA. We offer full catering services as well as private chef services, and drop off services (for events in need of amazing food but maybe not the full catering experience). We serve all of the 757 and also travel for catering events. – Mily & Kham Pottswilliams
What made you want to start it?
My husband always had a love for food and cooking. His family is originally from Trinidad and I was born in Haiti but we were both raised in the good ol' state of Georgia! In 2012 my husband joined the Navy where He was assigned a cook position (go figure)! In his time in the navy, He fined tuned his skills even further and was honored to cook for admirals, chiefs, and even the Vice President of the United States.
My husband and I always love to challenge each other and cook alongside the other, infusing our island and southern soul food flavors together to create amazing dishes. We have traveled and lived in different parts of the world but our current home base is in Suffolk, Virginia! We decided to spread our love of food and talent and formed Khani's catering.
How has it benefited you throughout PCSing?
This is the first duty station we have established our company; however, we have seen other families in Japan capitalize from selling different meals. Overseas billets are amazing opportunities to travel the world but let's be honest – we all miss food from back home! At least I do. With this business, I am able to bring this with me no matter where we are stationed and still do what I love (which is cooking).
How much do you earn from it per month?
With catering, it depends. Currently, I would say this provides part time income. However this will eventually replace and double our full time income based on our growth.
Do you have any tips for others?
Find something you can do that can travel with you! There's nothing wrong with a 9-5 but with the constant and sudden order changes in the military, trying to find a job is not easy for most. There are ways you can capitalize off of your natural talents, you just have to find ways to do so. If you have a business, give it time and network like your life depends on it. My biggest struggle I've had was getting our name out there because we know about 5 people out here so I've had to constantly try and put myself out there and find ways to let people know we are here as an option for catering needs.
Health & Wellness
Lucent Lemon
My side hustle is my business Lucent Lemon! It is handmade essential oil diffuser bracelets & oils!
What made you want to start it?
What made me want to start it is when I got pregnant with my first baby, Layla! I wanted to do everything and anything that I could to be able to stay home with her. Living in a different state, not knowing anyone I didn't want to go back to work and leave a stranger to watch her. I worked my butt off to start up Lucent Lemon so that I could stay home with Layla! I am also a super strong believer in oils as they have done so much for me & I just want to share that with the world in a fun and unique way!
How has it benefited you throughout PCSing?
It has benefitted me through PCSing because I can take my business anywhere. It's all online so I do my business on my own time and whenever and whenever I want! Plus, it benefits me because I can work from anywhere that we get sent!
How much do you earn from it per month?
I earn a part time income from Lucent Lemon! I think I could probably earn a full time income if I wanted to, but my main focus is Layla right now! As she gets older and I have more time, I plan to expand!
Do you have any tips for others?
My tip for others is that you should follow your small dream! It could become really big like mine did! I never thought I would be where I am today! I am one lucky mama to be able to work from home and raise Layla still!
Real Estate
Jaima Botterbush – Prodigy Realty
I am a local real estate agent in Hampton Roads, VA area. – Jaima Botterbush
What made you want to start it?
It started as a side hustle while I was working in banking. Real estate quickly became my passion! I got into it for the more flexible schedule since my husband is active duty and we have 2 children. I now do it full time. It allows me freedom of schedule (mostly).
How has it benefited you throughout PCSing?
I have not personally PCS'd since getting licensed, but most states allow you to get licensed by testing or you can waive the test. You could easily get licensed and work referrals from other areas. Building a network would be very beneficial.
How much do you earn from it per month?
Working as an agent full time, I earn roughly $7500 per month if I average my yearly income.
Do you have any tips for others?
My number one tip if someone wants to get in to real estate is to find a mentor! Find a great team lead who is willing to teach you, because the classes only teach you about law, nothing else. A side tip, because I've been a military spouse for 15 years, is to find yourself outside of your service members job. It is so easy to let the military lifestyle hold you back. I'm always happy to chat if anyone has questions.
Technology
FindMe Mobile
I'm an attorney by trade, but my current "side hustle" is FindMe Mobile – a mobile app (business directory and social network) for the minority military spouse. – Jennifer Brantley, Esq.
What made you want to start it?
We were at the last base for only 1.5 years before orders came down to move overseas. I'd just solidified my list of favorite places – hair stylist, nail salon, restaurants, and friends. Yet here I was, having to do it all over again – earlier than planned and in another country. I would have loved an app to get me connected to places where I'd feel not just comfortable, but also welcome! I've heard similar stories from spouses and active duty members alike, which is why I'm so excited about the spring 2020 launch of FindMe.
How has it benefited you throughout PCSing?
It will supply passive income, but more importantly and practically, it will connect myself and others to businesses that meet my needs as a black woman (like ethnic hair care salons or places of worship) and are recommended by other minority (black and brown) military spouses. Best of all, since it's an app, it and any residual income it produces, will travel with me – requiring very little maintenance.
How much do you earn from it per month?
The plan is for it to produce supplemental, passive income through in app purchases and subscription options.
Do you have any tips for others?
If you want your side hustle to work, find something that you love and are passionate about and monetize it. If you like what you do or what you have to offer, you'll be more easily able to convince others to purchase from you.
Do you have your own military spouse owned business? Comment about it below!