What is a side hustle? It's a way to bring in money in addition to your main "9 to 5" job. which is what these side hustle ideas will help you do.
In our current economy and it's rising cost of living, many people struggle to get by having just one source of income and have to look to other means. (Note: You can also look into creating a budget and ways to cut down on costs.)
They are good ways to make money that work around your schedule, some are even gigs that you can work from home.

Even if you can cover your bills, it's nice to have extra money to treat yourself every now and then. There are people that use these ideas to make thousands of extra dollars a month! Best of all, most of these side hustle ideas don't have any start-up costs.

So, let's get started: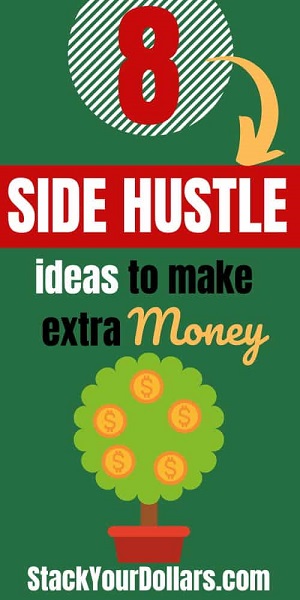 This post may contain affiliate links as a way to support the costs of this website (at no additional cost to you); however, I won't recommend products I don't believe in. View my full disclosure at the bottom of the page.
1. Drive for Uber or Lyft!
Almost everyone has heard about these companies by now, it's one of the most popular side hustle ideas. It's a great way to make money when you have the time.
Both places have requirements that vary by location but you must have an eligible vehicle and pass a driver screening. With Uber, you also need to have a valid U.S. driver's license with one year of driving experience (3 years if under you're 23). With Lyft, the minimum age ranges from 18-25 in specific states.
Click here to view the Uber requirements, or here for the Lyft requirements.
The peak times to make money driving vary, but are usually during rush hours, weekend nights, and during special events and holidays.
I have seen some people driving for both. You can compare which company would earn you more money for the dates and times you're driving.
You can even sign up to deliver food for UberEats on your scooter!
If I told you that you could earn money from just taking a picture of your receipt after grocery shopping, would you believe me? Well, it's true! Sort of!
You also have to select the items that you bought, but how simple is that? Before you go to the store, you can even tailor your shopping list around the items that would give you more money back.
I've earned over $70 only using it once in a while and buying mainly fresh groceries. Today, I just earned $1 back for any item at any store. A dedicated user has the potential to earn so much more.
But even better, it's not just limited to groceries. There are cashback offers for going to the movies, restaurants, buying clothes, pet supplies, so much more!
As I'm writing this and referring to the app, I just realized that it even has offers for travel. So yes, I am about to book my hotel for my vacation and get 4% back. Cha-ching!
You have to reach $20 to withdraw the cash that you've earned. And, you can earn $5 for every referral, sometimes there is even a bonus cash amount for a certain amount of referrals.
3. Rent out an extra room.
Airbnb is a great option, especially if you live in a popular location. You can easily make hundreds of dollars if you provide guests with a great experience.
The best places I have stayed have been first of all clean (I'm a slight germaphobe and hate bugs), the host left things like water bottles and toiletries, and they also gave awesome insider information of restaurants to go to and things to do.

Listing your place is free and you only have to pay once it gets booked, generally a 3% service fee. They also provide up to $1,000,000 protection for damages to covered property.
If you're going to be spending your money, why not earn money back while doing it as well?
With Swagbucks, you can get money for shopping at different stores and online, watching videos, answering surveys, playing games, and by setting Swagbucks as your search engine to connect you to different offers as you browse the web. (Whew, that was a mouthful!)

In the screenshot below, you can earn 2,800 SB just for signing up for Hulu for $6.
With that, you can get about 9 of the Dunkin' Donuts $3 gift cards. Score!
Even better, for every person you refer who signs up as well, you BOTH get a 300 SB bonus when they earn their first 300 SB.
Then you can get an EXTRA 100 SB if they add the Swagbutton to their computer. Also, you'll earn 10% of their lifetime SB earnings!
Click here to signup for SwagBucks.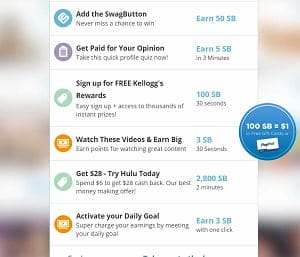 5. Start a Business
This is one of the side hustle ideas that might come with some startup costs, it depends on what you do.
If you have any special skills, there are ways to make a profit off of them. Eventually, they can become your main source of income and allow you to be self-employed.
Start a blog: Millions of people search the internet every day for information. Providing them with that information can be a great source of income. Read my post, "Can You Make Money By Blogging? A How-To Guide" for more details.
Start a hair or makeup business
Interpretation service: With our melting pot of languages spoken, many people are looking to translators for help.
Sell customized t-shirts
Become a realtor: The commission can be thousands of dollars on just one home.
And more! The most profitable ideas provide a service or product to customers that few others do.
6. Rover
If you love pets, rover is perfect for you! You can get paid to hang out with other's cute furbabies all day.
The services needed are dog walking, doggy daycare, drop-in visits, house sitting, and dog boarding. The highest-paid service is dog boarding, where you have them come to your home overnight.
You can set your own rates, but the recommended for this is $25 per night. You'd keep 80% of your earnings, which makes you $20 to cuddle up with those lovebugs!
7. Rent out your belongings.
Remember that awesome DSLR camera you barely use? Have a great sound system? A nice mountain bike? With Fat Llama, people will pay you to rent those and more!
That's easy money you can make instead of letting it collect dust.
And if something happens to your item and you don't have it insured, Fat Llama guarantees you up to the value you paid for it (max of $30,000) on your proof of purchase.
8. Give others a hand.
How many times have you needed help bringing home new furniture, wished someone would wait in line for you, or wanted someone else to put together that Ikea dresser with seemingly 1,000,000 pieces?
With TaskRabbit, you can get paid to do these things for your community and more!
Sign up, pass a background check, attend an info session, and start getting paid for those tasks! You set your rates and compete for tasks with others.
Starting out, the recommended rate for something like running errands is $17 per hour and TaskRabbit keeps 15% of it. If you're being reimbursed to do someone's shopping, you'd keep 100% of the reimbursement.
There are many, many ways to make extra money and these are just a few of the hundreds.
However, I must advise you not to fall prey to the money-making schemes out there, (ex. the life coach pyramid scheme). Be careful with your money, and if there are startup costs, always do your research first!
Have any good side hustle ideas you'd like to share?