Take the opportunity to learn from my mistakes and follow these Paris travel tips.
The City of Love and the City of Lights. If you're planning to vacation in Paris, France there are some things you should know before going.
I'm sure you'd like to have the best experience possible when vacationing. While I had an awesome time visiting Paris, there are things I wish I had done differently.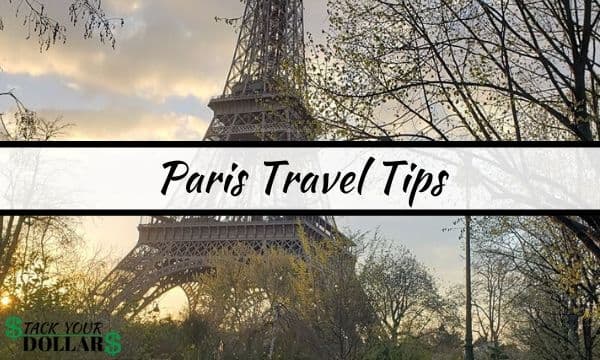 This post may contain affiliate links as a way to support the costs of this website (at no additional cost to you); however, I won't recommend products I don't believe in. View my full disclosure at the bottom of the page.
What I Did Right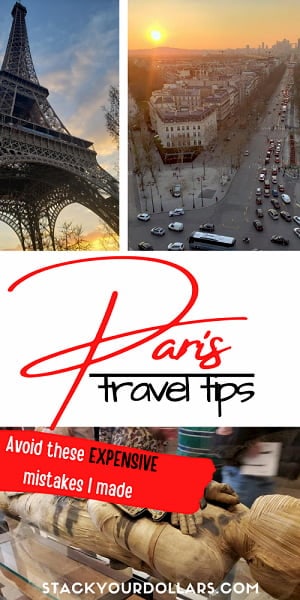 1. Found a cheap flight
If you think like I used to, you probably think that international travel is expensive. Guess what? It's not always true!
This ticket was less than the cost of traveling to a lot of places within the United States.
What also made the airline ticket cheap was that it was in the off-season winter months and I traveled to an airport in a bigger city.
See more ways to find cheaper flights.
2. Ate at a hole in the wall restaurant.
Smaller restaurants are very underrated. Some of the best foods I've had came from places not frequented by the majority.
Around the corner from my hotel was a little restaurant called, Best Food, in Clichy. The food there was great and better yet, cheap.
The large quantity they gave left me full and carrying leftovers back to put in the fridge.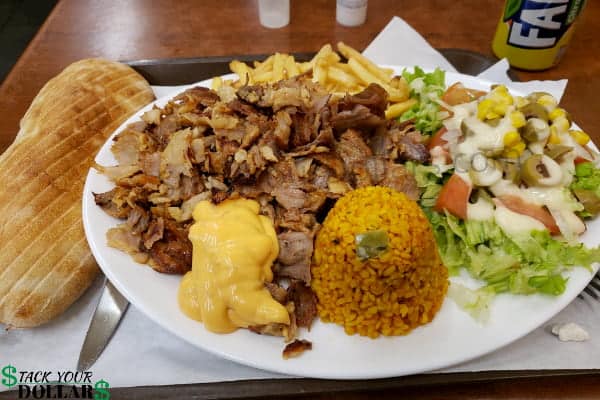 3. Grocery shopping on vacation
It's weird to think of going shopping for groceries while on vacation, but this is a great way to cut down on food costs.
You can pick up easy travel meals like sandwiches to avoid spending money eating out for every meal. We also picked up bottles of water to drink in the room and carry around.
4. Learned a few phrases in French
While it is possible to vacation in Paris without knowing any French, we found these phrases helpful and polite:
Bonjour (Good day) and Bonsoir (Good evening)
Oui (Yes) and Non (No)
S'il vous plaît (Please)
Merci beaucoup (Thank you very much)
Excusez-moi (Excuse me) and Pardon (Sorry)
Je ne comprends pas francais (I do not understand French) – This was useful to send the drivers when getting an Uber.
What I Did Wrong
1. Booked a hotel too far from the city.
While I saved a lot of money, I probably made up for it in the cost of Uber. Don't make this huge money mistake like I did!
Find a good balance of affordable yet close accommodations. On my vacation after to Italy, I started also looking on Airbnb.
It has allowed me to book places at an affordable rate that are in the heart of the city. Everything was within walking distance and I didn't have to pay for a car ride anywhere!
2. Didn't bring comfortable walking shoes.
If you're sightseeing you will do A LOT of walking. Especially at the Louvre and The Palace of Versailles.
I spent over 6 hours walking around at each place and did not even see 1/4th of the vast museum. At the end of every day, my feet were always aching.
3. Not making an appointment for the Eiffel Tower.
While an appointment is not needed, it does save you a lot of time.
Of course, everyone wants to visit one of the most famous monuments in the world when visiting Paris. And on my last night, I waited in line over 2 hours to take the elevator up to the top.
There is, however, a shorter line for those who choose to climb the 674 steps to the second floor and are not afraid of heights.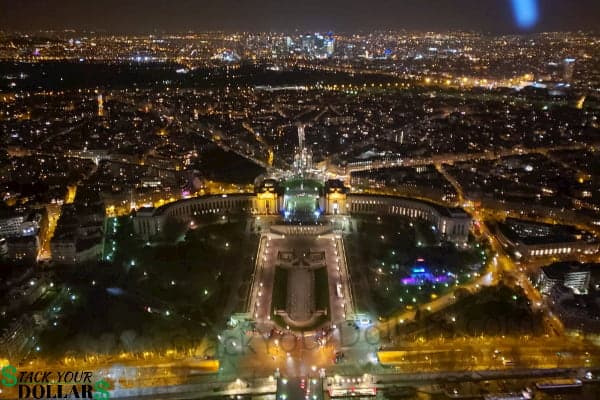 4. Not preparing for temperature drops.
The wait for the Eiffel tower leads me to my next mistake.
While it was a chilly March night on the ground while waiting, at the tower's peak it was like a frigid winter. At 906 feet in the air, it felt as if it was 10 or more degrees colder with the icy winds.
However, the view at the top was absolutely worth it. And despite my thriftiness, I did not hesitate to buy an overpriced cup of hot chocolate at the cafe on the next level down.
Just be sure to do a quick search for "Paris, France weather" when packing to leave!
5. Had lunch by the Notre-Dame.
It's usually a mistake to have lunch by any tourist attraction, as I've noted in my post on vacationing for cheap.
These places usually have "tourist prices". Of course, this knowledge was reinforced as I sat down and looked at the prices on the menu for a small cafe across the street from the Notre-Dame.
Not only was the steak and fries expensive, but it was actually a burger patty. It was a pretty small meal for the price as well!
Going to a less crowded area on another day, we found a better deal. Lunch included a sandwich, dessert, and drink for under $10 each.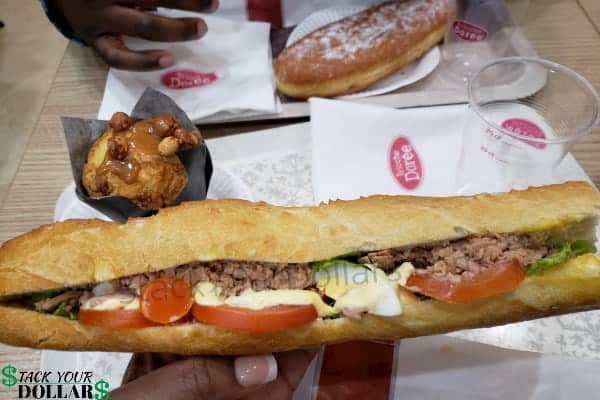 6. Paid to go to the Louvre Museum
Planning to visit the Louvre? Free admission is offered every Friday from 6 pm to 9:45 pm if you are under the age of 26.
Of course, I did not know this and waited in the long lines to buy a ticket and enter the museum. It is also free for everyone on the 1st Saturday of the month at the same time.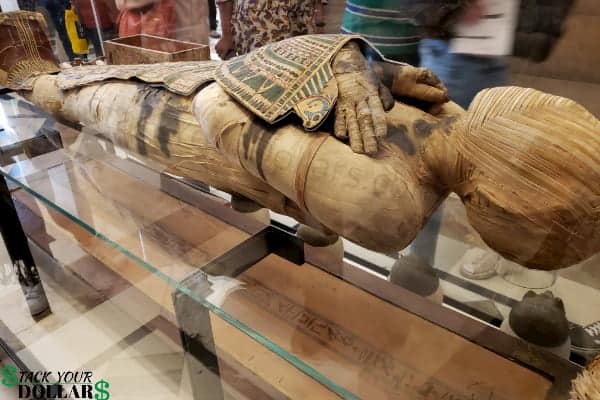 7. Climbing the Arc de Triomphe tired.
Due to the long lines in the daytime, I waited until later to go back to the Arc.
By this time, my feet were already aching from walking around all day with uncomfortable shoes. Little did I know, the elevator was only for those with disabilities and I had to climb these stairs.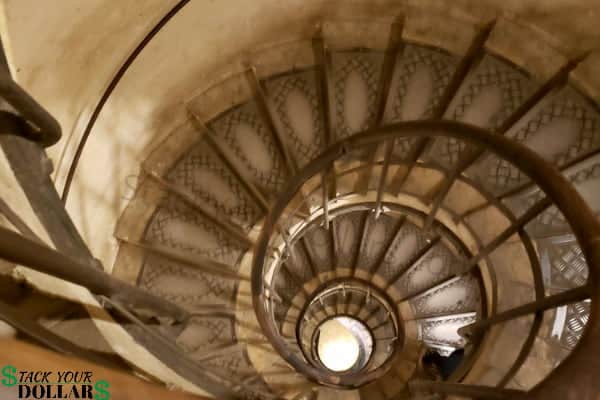 But after those 284 scary steps, the sunset view was absolutely breathtaking. This is the only mistake I'm glad I made.
That's it for now. I hope these travel tips for Paris, France help you to have a wonderful time.
If you have anything you'd like to share from your Parisian vacation, comment below.