Flights can be so costly sometimes. One of the hardest things for military families like mine is finding affordable tickets to visit family for the holidays.
Many of us are thousands of miles away and maybe even in a whole different country. Below, I'll share some tips on what I do to save money and find a cheap flight anywhere I go.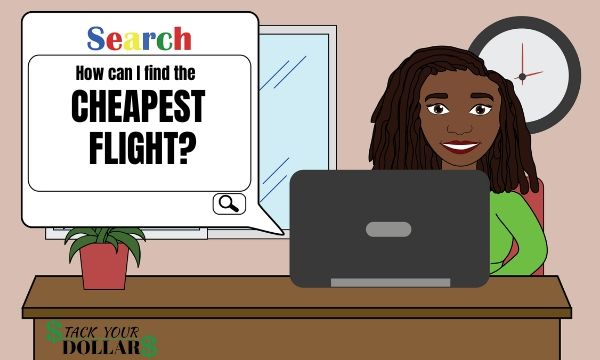 This post may contain affiliate links as a way to support the costs of this website (at no additional cost to you); however, I won't recommend products I don't believe in. View my full disclosure at the bottom of the page.
Tips to Find the Cheapest Flights Anywhere
1. Use search engines.
My favorite tool to use is Google flights. It's easy to look at many different dates to see which ones would be the cheapest to fly on. You can select a day to leave and see which days would be less money to return on for months in advance.
Though I usually find good tickets on it, it does not always show the best prices and options. Cross-reference other sites as well. Popular ones are Skyscanner, Orbitz, Expedia, and more!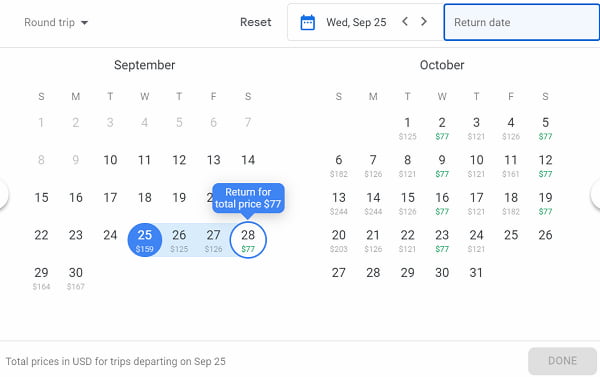 Pro Tip: This is also how to find cheap flights without a destination mind. I usually put in my departure location, select the next few months and find cheap vacation ideas.
Military: American Forces Travel offers discounts on flights, hotels, car rental, cruises, packages, and more. I've only looked up flights so far and haven't found them cheaper than elsewhere, but I always make sure to still check.
2. Search separate one-way flights.
Sometimes flight search engines only show you round-trip tickets that go through the same company. Searching for one-way tickets, I've found cheaper flights before flying and coming back home on two different airlines. 
3. Go to a different airport.
Flights are usually much cheaper out of major cities. Don't be afraid to drive to another city and go to the airport there.
One time when I traveled to Vietnam, I drove 2 hours from San Diego to Los Angeles to get the ticket about 3 or $400 cheaper; that was totally worth the drive and cost of parking for me.
4. Avoid peak travel times.
Most people love to travel in the summer and when their children are out of school. The most popular times to travel are around June to August. Due to this, those are also the most expensive times to travel. Tickets are also much more around the holidays.
Traveling in the fall is how I went on a low-cost vacation throughout Italy.
5. Limit your searches.
I'm not exactly sure how they do it, if it's based on your IP address or the cookies. However, I have noticed that the more I search for a specific flight, the more the price rises.
One flight I was looking at went from $500 to $1,100 after looking it up too much. I ended up driving 4 hours and flying out of a different city to save money.
So my suggestion is to not search the flight too much unless you're ready to purchase your tickets. You can also try only searching in incognito mode and always clear your cookies.
Google Chrome: 3 Dots -> Settings -> Advanced -> Privacy and Security -> Clear Browsing Data
Firefox: 3 Lines -> Options -> Privacy & Security-> Scroll down to Cookies and Site Data
Safari: Settings > Safari > Advanced > Website Data
Internet Explorer: 3 Dots -> Settings -> Privacy & Security -> Clear Browsing Data
(No matter what you're using, it should found be in the settings or a privacy tab.)
6. Search on different devices.
I don't know why, but the different devices I used showed different prices. I checked to make sure all the flight details were exactly the same; however, the price on my husband's phone was cheaper than the price on my laptop. Crazy!
Also known as MAC flights, they allow you to travel around the world for little to no cost at all. They are military planes on missions that allow service members and their families to hop on IF there is space available.
Due to that, this method of flying can be unreliable and you would need a flexible schedule. Eligible passengers are placed into different categories and are prioritized a spot by that.
This means you could be packed and ready, waiting at the terminal, only to have to go back home. I have also heard of people being stuck where they flew to and having to wait a week for the next available flight or buying last-minute tickets back home.
Hopefully, these tips on how to find a cheap flight anywhere will get you where you need to be on a budget. Good luck!