Looking for an Italy itinerary for 8 days? This is my experience in Italy traveling on a budget.
Ahhh!! I'm actually going to Italy. On this 8-day vacation (10 with flight days) my husband and I will be going from Venice to Rome and stopping at a few cities in between. In total, this incredible Italy vacation cost us under $3,000.
Take this journey with me as I go day by day, living life and traveling through Italy on a budget. My Italy itinerary for 8 days includes:
Venice
Bologna
Florence
Pisa
Lucca
Rome
Pompeii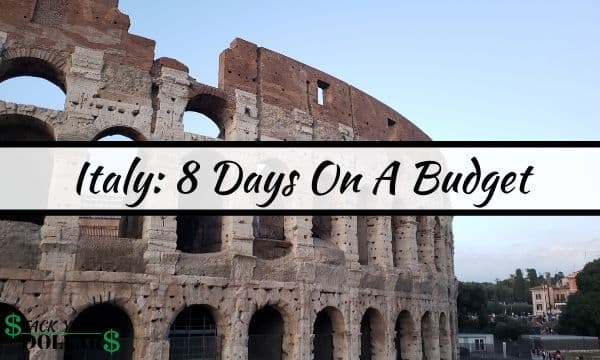 This post may contain affiliate links as a way to support the costs of this website (at no additional cost to you); however, I won't recommend products I don't believe in. View my full disclosure at the bottom of the page.
The Preparation
Hold on, hold on. Before we go, 1st we have to buy tickets!
You can look back on my articles on finding cheaper flights and how to vacation for cheap to see how I get my airline tickets at a good price. We searched and searched for tickets for various dates and different airlines.
The cheapest ticket we found from our area in Virginia was $578. This will fly us from Virginia to Venice, then from Rome back to Virginia.
Home Security While You're On Vacation
Leaving your house empty while on vacation can be nerve-racking. Especially for my family, security is a big concern after an incident that happened this year. However, with the time left at our current rental, it wasn't feasible to hook up a company-monitored alarm system.
Instead, I did a lot of research and got a few of these outdoor, waterproof security cameras by Ezviz on Amazon. I lucked out and got them while a $20 coupon offer was there. I love that they can be plugged in instead of batteries dying all the time and they work on Wi-Fi or wired internet.
They were very easy to set up and you also don't have to pay for monthly storage, I use a 16 GB micro SD for $5. We also got some cameras that rotate 360 degrees inside the home as well.
They do have a few bugs though. Such as the option to define the area doesn't work for me. And it repeatedly goes off over just the trees moving. But what counts for me is that it works and the image quality is great.
Packing for Vacation
Airlines these days charge so much for everything. That means we only get to travel with a free carry-on. Having a checked bag would be upwards of $100 each, going and coming back. So that's over $400 dollars extra! No thanks.
If you don't already have one, I suggest getting one of these rolling duffel bag carry-ons for the trip. (There are probably better options, but I bought it for $20 and have been on 3 international trips with it now.)
With all the things I have to stuff into one little bag and the walking we'll be doing, it's easier to drag the bag along than carry it. (With my trip at a close, this turned out to be so true. I watched many people struggle with big luggage while I whizzed by.)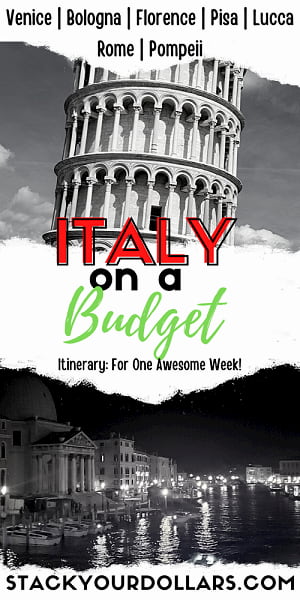 Day 1 & 2 – Flight Problem
So the first day of my travels was quite eventful. This is why this would be a great time to bring up getting travel insurance. Our flight connected through New York to go to Venice.
About 2 hours into the almost 8-hour flight, there was a smell of something burning (Not the greatest thing in the world while 39,000 feet in the air). Eventually, it went away, but the flight was still diverted, and went to the nearest place, St. John's Canada, to check out the plane and we sat idly on the tarmac for about 3 hours.
The whole time I was in contact with my Airbnb host. We were supposed to reach at 11 am and the latest we could check in was 10:30 pm. I was praying that we'd get there before then. Alas, the pilots and crew were no longer able to take us by that time and we flew the 3 hours back to New York.
Our rescheduled flight would not be until that night, so we lost a whole 24 hours of our time in Venice and have an unused day on our Airbnb rental.
Thankfully, it wasn't expensive and we didn't schedule anything else yet, so the $100 check Delta offered will cover it. However, if they hadn't, having good travel insurance would have gotten us the money back. Delta also gave us a voucher for a room at a hotel and a meal there.
Day 3: How to get to Venice Island from Marco Polo Airport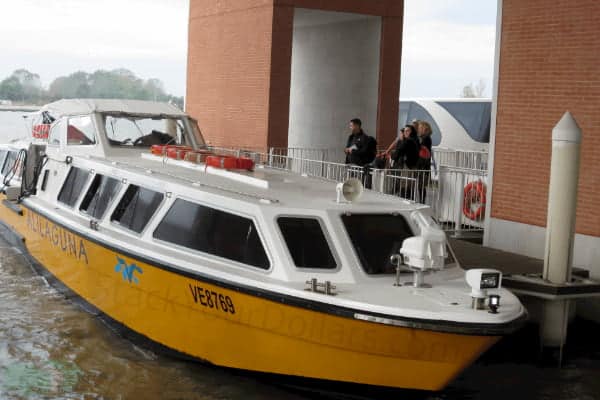 Take two! We boarded our flight and finally made it to Italy at about 9 am. Success! Who knew getting there would be the most challenging part of my vacation so far? After going through customs, we made our way towards the exit.
Note: Part of Venice is attached to the continent but it is also made up of over 100 islands. The airport is on the mainland and you have to get transportation over to the islands.
Looking up information, we found that the best way to enter Venice for the first time is by water taxi. However, this costs up to a whopping 120 euros! (It can be a better option if you are traveling with a larger party or find people to share the cost.)
Instead, we used an Alilaguna kiosk and bought 2 tickets for the waterbus for 15 euros each over to the main island. (Guglie on the orange line took us near our Airbnb and within a 10-minute walk of the train station. You can also travel by land on a bus for 8 euros.)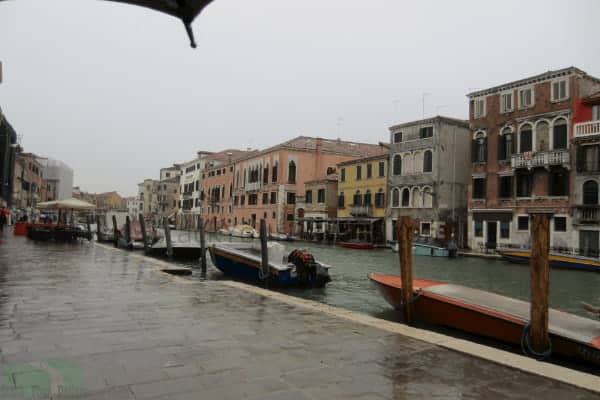 Where to Stay in Venice
In each city we visited, we tried to stay somewhere near the train station for less hassle. From hostels to hotels, there is plenty of places to choose from due to the massive amounts of tourists that visit here but they go fast so book early.
Since we didn't, our cheapest and best option was an Airbnb (I always go for those with multiple positive recent reviews). Note: Italy requires a city tax that is charged per person, per night.
What to do in Venice
We were not able to do as much as we wanted to in Venice because of our shortened time and jet lag. However, we did get to see some amazing sights and even though it rained, plenty of people were out and about.
The island is very walkable (just from the train station to Saint Mark's Basilica is about a 25-minute walk) and we put in about 30,000 steps viewing everything. We even got up early on the next day to venture around before our train to Bologna.
Here are some sights I recommend visiting:
Saint Mark's Basilica (Basilica di San Marco) – Completed in 1092, and built in the Italo-Byzantine style, it is the most famous church in Venice. Admission is free but it's worth it to pay 5 euros to visit the Basilica museum and view the sights from the 2nd floor. (No pictures allowed)
Doge's Palace (Palazzo Ducale) – Though we didn't go inside, this Venetian Gothic palace cost 25 euros to enter. You also get access to go through the Bridge of Sighs.
St. Mark's Square (Piazza San Marco) – Across from the Basilica, this is the main public square of Venice.
Rialto Bridge (Ponte di Rialto) – One of the many cool bridges in Venice and the oldest one that crosses the Grand Canal.
Libreria Acqua Alta – A kooky and cute bookstore with cats and unique ways of displaying their books.
If you have more time, try catching a water taxi to see the less crowded islands nearby.
Where to eat in Venice
In our research, we found that eating at restaurants in Venice can be a bit expensive. However, there are plenty of ways to eat in Venice and throughout Italy on a budget.
It was cheaper to buy food and drinks at the grocery store. Grabbing a slice of pizza can also be as low as 1 euro and some change.
Be sure to get a gelato! The shop we went to cost 1,70 euros for a cone.
Day 4: Exploring Bologna, Italy
Bologna is not as popular as Venice but it certainly should be! It is definitely worth visiting and has great food as well!
To get to Bologna we took a train from Stazione di Venezia Santa Lucia (Venezia S. Lucia) to Bologna Centrale for 12,75 euros each around noon.
NOTE: Use the Trenitalia website to look up possible times and costs of trains you'd like to take, and then buy your tickets at the kiosk once there. We also learned on this trip that you must validate your train ticket after getting a fine.
Where to stay in Bologna
Just minutes from the train station, we found a place to stay called, "4 Star Luxury Rooms and Spa". It's a little weird because it is an apartment in a commercial building along a line of shops, but it was awesome and cute.
Our room was one of two in the apartment and featured a chromotherapy (color light therapy) shower.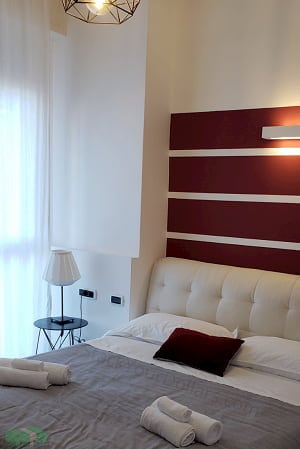 What to do in Bologna
Bologna is also an extremely walkable place with plenty to see. I saved everything I wanted to see on google maps and set up the routes in order from my hotel.
It would have taken 40 minutes without all the stopping to "ooh" and "ahh". It was a walking tour I could take at my own pace, best of all… it was free!
If you want to make your own tour, take a look at these places:
Rocca Galliera – Remains of an ancient castle. Not much information can be found on it, but one person wrote in Google reviews that it was a castle attempted to be built 5 times by different people, starting with Cardinal Bertrand du Pouget in 1330, but it was demolished by uprisings of the Bolognese every time.
Scalinata Del Pincio – Beautiful 19th-century staircase with a fountain leading up to the park.
Montagnola Park (Parco della Montagnola) – Small 19th-century park with a cool fountain and statues.
Piazza Maggiore – The city's main square where you'll find the Biblioteca Salaborsa and Fontana Del Nettuno nearby. The day I went people were playing music, and students were celebrating their graduation.
Biblioteca Salaborsa – Public library that you must see the inside of! Note: Google Maps will lead you to the wrong place. The entrance is across from the fountain of Neptune.
Fountain of Neptune (Fontana Del Nettuno) – 16th-century fountain.
Basilica di San Petronio – 1390 Gothic basilica.
Archiginnasio of Bologna – Another majestic library built in the 16th century.
Piazza Santo Stefano – A nice and quiet square in the center of town to relax that also has the Basilica di Santo Stefano.
Two Towers (Le due Torri) – These two leaning towers (Asinelli & Garisenda) were built in the 11th century by two prominent families as a competition between which one was greater. The taller one, Asinelli, costs 5 euros to climb its 498 steps.
Where to eat in Bologna
The person we checked into our hotel with recommended these places to eat.
Trattoria da Me (Via S. Felice, 50, 40100 Bologna BO, Italy) – The best pasta but you will most likely need a reservation to get in.
Scalinatella ristorante pizzeria Bologna (Via Caduti di Cefalonia, 5/e, 40125 Bologna BO, Italy)
La Montanara (Via Augusto Righi, 15/A, 40126 Bologna BO, Italy) – This is where we ended up grabbing dinner after leaving the towers. It was a bit pricey but so delicious, especially the meatballs, polpette e piselli (14 euros).
Day 5: Things to do in Florence, Italy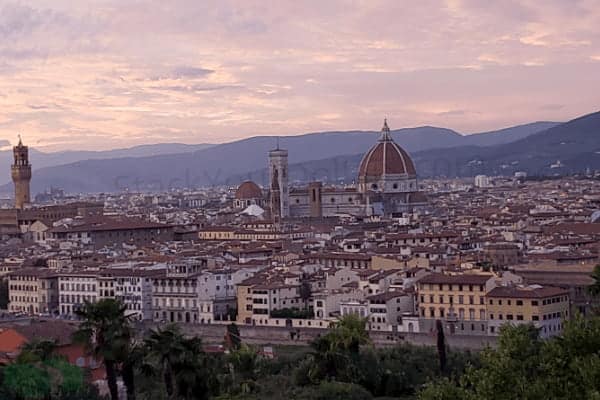 Florence is the capital of Italy's Tuscany region and is filled with many wondrous art and architecture.
The train here was 33 euros each from Bologna Centrale to Firenze S.M.N. It could have been much cheaper at 9,45 euros if we weren't too afraid to change trains.
Where to stay in Florence
Our 2-night stay in Florence was found cheaply on Agoda.com. The Bellevue House was also a little weird as well but nice, and our host, Alex was very kind and informative.
When checking in, he gave many suggestions on what to see and where to eat.
The reason I found our room weird is because we booked a room with a private bathroom but it was separate and across the hallway. It also had another shower inside the room! However, this was my second favorite place we stayed in Italy.
What to do in Florence
This city is also very walkable, but some things might be a bit of a longer walk.
Basilica of Santa Maria Novella – 15th-century Dominican church.
Galleria dell'Accademia – This is the museum where you will find Michelangelo's "David" but it costs 6.50 euros, 4.50 extra if there's a special exhibition the days you go, and 4 euros extra to pre-book and enter a slightly shorter line.
Cathedral of Santa Maria del Fiore – Gothic style church is also known as the Duomo Cathedral of Florence.
Piazza della Repubblica – City square.
Strozzi Palace – A palace built for Filippo Strozzi the Elder to rival the Medici.
Piazza della Signoria – Square in front of the 13th-century Palazzo Vecchio palace.
Ponte Vecchio – A medieval stone bridge that is the only one that escaped bombing by the Germans in WW2.
Piazzale Michelangelo – Make your way here for a picturesque sunrise or sunset view over the city.
Where to eat in Florence
Trattoria da Giorgio (Via Palazzuolo, 100r, 50123 Firenze FI, Italy) – They had a delicious fixed-price menu that included a first course, second course, side dish, and 1/4 liter of wine or a soft drink. Currently, it's a total of 13 euros for lunch and 15 for dinner.
Trattoria Il Contadino (Via Palazzuolo, 69/71r, 50123 Firenze FI, Italy) – Trattoria da Giorgio had a long line for dinner, so we walked 2 minutes down and ended up going to this restaurant. It also has a fixed-price menu. Lunch is 10 euros for 1 course, and 12 euros for 2 (also including a side dish and wine or a soft drink). Dinner is 14 euros for 2 courses a side dish, and a bottle of water (1 euro extra for 1/4 liter of wine or a soft drink).
Day 6: What Pisa is Famous for and Lucca, Italy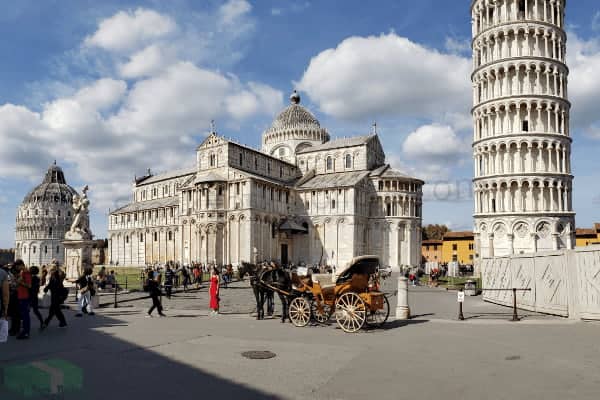 If you've heard of Pisa, you know what it's famous for, the leaning tower (Torre de Pisa)! Of course, this had to be a stop on our vacation.
We decided to only make it a day trip because there's not much else to see in Pisa. From Firenze S.M.N. to Pisa Centrale was 8,70 euros and took an hour.
Getting around Pisa
From the station, it is only a 22-minute walk to the tower. Along the way, be sure to see the:
Dolmenweb – Palace of the 1st Medici, Cosimo I.
Cattedrale di Pisa – 11th-century cathedral known for its Romanesque bronze doors and right by the leaning tower of Pisa.
Leaning Tower of Pisa – A freestanding bell tower made for the cathedral next to it that leans due to the unstable foundation it was built on. If you want to climb it, it'll cost you 18 euros!
Visiting Lucca, Italy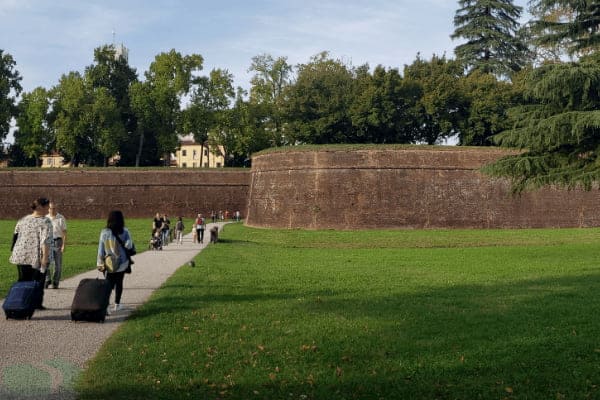 Lucca was also a recommendation to visit and a 25-minute ride from Pisa costs 3,60 euros. It is known for its medieval walls which still surround the city center.
Though I was a bit disappointed because I imagined a city like in the anime, Attack on Titans, it was still well worth the visit.
What to do in Lucca
Walls – Take a scenic walk around this 4km wall. There are also different places to rent a bike from 4 euros/ hour for a regular one to 18 euros/ hour for a 4-seater quadricycle. (Riding took us 50 minutes at a moderate pace.)
Guinigi Tower (Torre Guinigi) – Though we arrived too late in the day, we would have loved to visit this medieval tower with trees growing on top (the cost is 4 euros).
San Michele al Foro – Romanesque church dedicated to Saint Michael.
Getting back, the train from Lucca to Florence cost 7,90 euros each.
Day 7-8: What to see in Rome, Italy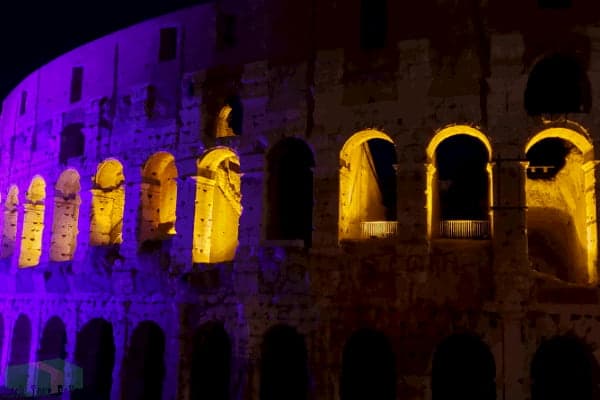 The trip to Italy could not have been complete without a trip to its most famous city and the capital, Roma! With thousands of years of history and ancient architecture, it is a breathtaking sight to see.
Again, we hopped on a train from Firenze S.M.N to Roma Termini at the cost of 21,65 euros each.
Where to stay in Rome
Like Venice, Rome is packed with tourists. It was extremely hard to find a decent place for a reasonable price at the last minute but we ended up finding somewhere again on Airbnb near the train station.
While it was a very low price and even included breakfast, it did have its issues and I would definitely suggest you book ahead of time. The area near this train station was a bit sketchy, had many homeless people and I would not have wanted to stay there if I was traveling alone.
What to do in Rome
If you've heard of Rome, you probably already have a list of places there that you'd love to see. With the distance between its incredible monuments, we found that it was worth it for us to spend money on one of the 4 hop-on hop-off tours buses.
The Colosseum (Colosseo) – This famous amphitheater is known for its gladiator games. We luckily ended up there on the first Sunday of the month, which is free, but it would have cost 12 euros each.
Arch of Constantine (Arco di Costantino) – By the Colosseum, a triumphal arch built to commemorate Constantine I's battle victories. (The Arc de Triomphe in Paris, France was inspired by this.)
Temple of Venus and Rome (Il Tempio di Venere e Roma) – Thought to be the largest temple in ancient Rome.
Trevi Fountain (Fontana di Trevi) – A baroque fountain and one of the most famous fountains in the world. Be sure to throw in a coin and make a wish!
Vatican City – An independent city-state and headquarters of the Roman Catholic church. Though entrance is not allowed, you can go to the churches and museums.
St. Peter's Basilica (Basilica di San Pietro) – Italian Renaissance church and burial site of the apostle, Saint Peter.
Sistine Chapel (Cappella Sistina) – Famous for its paintings by Michelangelo.
Circus Maximus – Ancient Roman site for chariot racing.
Pantheon – Ancient Roman temple with the largest un-reinforced concrete dome in the world.
Spanish Steps – Steps with an irregular butterfly design built to connect the church above with the square below.
Altar of the Fatherland (Altare della Patria) – Enormous monument built in honor of Victor Emmanuel II, the 1st king of Italy.
And many, many more must-see landmarks!
Where to eat in Rome
Ristorante Colosseo "Luzzi" ( Via di S. Giovanni in Laterano, 88, 00184 Roma RM, Italy) – Small and crowded but the food is cheap and delicious. When in Rome, do as the Romans do and try the Roman-style chicken (7 euros)!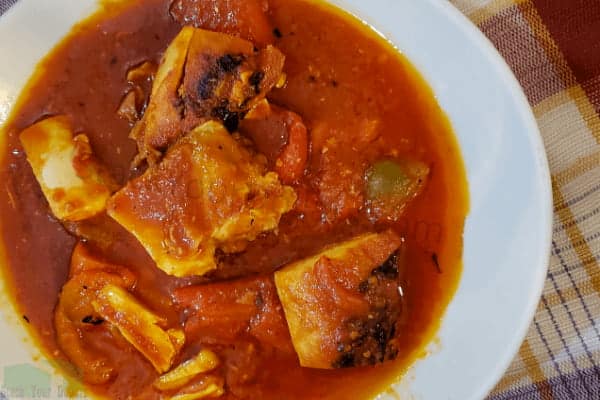 Day 9: Pompeii day trip from Rome
Although we could have used our 3rd day in Rome to see even more of all its monuments, I couldn't resist being so close to Pompeii without getting the chance to visit it. Just south of Naples, it is known for the volcanic eruption of Mount Vesuvius in 79 A.D. that buried the city and preserved it in ash.
I searched through a lot of options for how to get to Pompeii from Rome. The cheapest option found was to take 4-hour connecting trains from Roma Termini to Pompeii at 14,80 euros each, both ways.
To get that price and have enough time in Pompeii, we took the left at 7 am in the morning and got back close the midnight.
I was intimidated at first because the ticket only showed 5 minutes to get from Napoli Centrale to Napoli Piazza Garibaldi for the next train. But there are actually 50 minutes between trains and both places are different sections in the same station.
Is Pompeii worth visiting?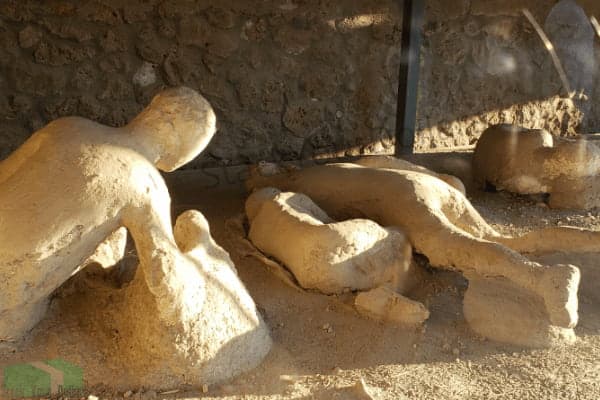 Though my expectations were set much higher than they should have been, I would say yes. At 11 euros, you're able to venture through this ancient city.
Just note that the main thing you will be able to see is the empty buildings, everything else is set up in display cases.
Also, be sure to bring water and stay hydrated! The drinks at the café inside are about 3 euros.
While there, you can also walk over to the Villa of the Mysteries (Villa dei Misteri) – a well-preserved ancient villa possibly used in cult activities due to the depictions in its frescoes.
Day 10: Termini to Fiumicino Airport
With our vacation at an end, we had one more thing to figure out, how to get from Rome to Fiumicino airport.
We decided to take the train one last time from Roma Termini to Fiumicino Aeroporto. This cost 14 euros and could have been 6 less if we risked the connecting trains with 10 minutes in between.
The cost of an Italian vacation for two
What can you do in Italy for 7 days? Venice! Bologna! Florence! Pisa! Lucca! Rome! Pompeii!
This certainly was not a relaxing Italy itinerary. It was a whirlwind of a vacation and yes my feet still hurt, but it was an amazing and unforgettable trip.
Below is the breakdown of costs if you'd like to follow this itinerary. Be sure to also check out my post on Italy travel tips.
Vacation Expenses List
$1156 – Multi-city flights to Venice and returning from Rome (Can be less for you, I've seen as low as $341 in New York)
$793 – 8 nights of accommodations plus city tax (Average place of $100 per night but can be less)
$321 – Trains to each city plus the Alilaguna waterbus (Can be cheaper if you take connecting trains)
$500 – Food (I averaged this at $30/ day per person but we spent way lower)
Total: $2,770 dollars