When planning your trip to Italy, there are probably some things you should know before going. You've made a great choice by looking up these Italy travel tips before going.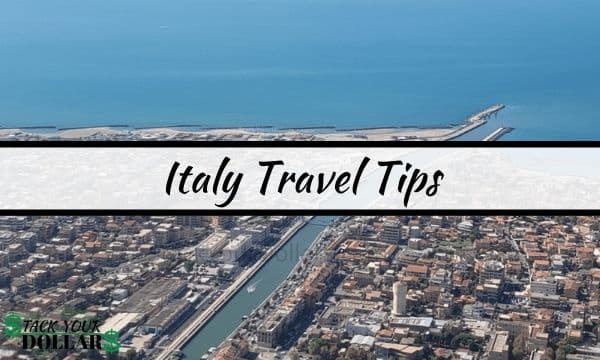 Not only will they make your life easier but they might also save you a lot of time and money. I've also added some commonly asked questions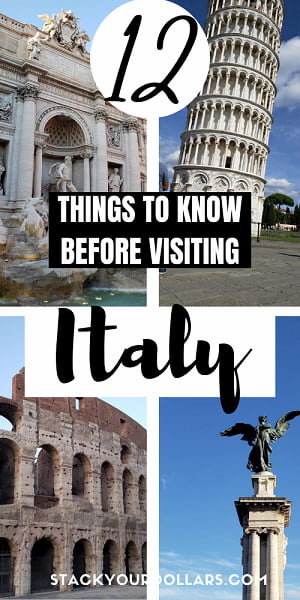 This post may contain affiliate links as a way to support the costs of this website (at no additional cost to you); however, I won't recommend products I don't believe in. View my full disclosure at the bottom of the page.
Tips for Travelers to Italy
1. Find cheap flight tickets
These are some ticket prices in 5 cities across the U.S. You can learn how to find cheap flights in Europe by using the tips in my post.
Flights going to Venice then returning to the origin city from Rome:
San Francisco: $471 in February
San Diego: $643 in February
New York: $341 in March
Miami: $478 in February to March
Chicago: $707 in March
2. Don't expect to have a filling breakfast
What do Italians have for breakfast? Compared to Americans, I would say nothing. Most Italians prefer a sweet breakfast of only coffee and a pastry.
This was quite shocking to me, but after having their heavy dinners, I was not even hungry to eat anything more in the mornings. So, if you book a place that includes breakfast, it will most likely only have coffee and pastries (maybe juice and yogurt as well).
Also, they consider cappuccinos a breakfast drink and it should only be ordered before 11 am.
3. Most, if not all public toilets must be paid for
After I went through jumping around and doing the "pee-pee dance" while trying to count coins, I thought that this is definitely something to mention! The first pay toilet I used was at the Bologna train station and cost 80 cents euros but the machine only took up to 1 euro coins.
I suggest to always be prepared with some coins in your pocket, the most I've paid was 1 euro. Some bathrooms also have attendants to collect the money and give change.
4. Be prepared to climb stairs
Almost everywhere we stayed ended up being a few floors up, one being 4 flights of stairs up. While they also had elevators, they were very tiny and could barely fit two people. Good thing we were only traveling with carry-ons!
5. Cellphone service sucks
Even though my cellphone plan allowed me to have free use of data and texting, the service in Italy was poor. We made sure to do everything we needed to with the WiFi at the hotels before going out for the day. Be sure to also download an offline map!
6. Don't settle at the first price you see
Throughout the cities, there were multiple shops selling the same things right near each other. So shop around and don't settle for the first price you see.
I collect souvenir magnets and always eventually found the ones I wanted for 1 euro. I've also seen gelato for as low as 1,70 euros up to 10 euros by a tourist attraction.
7. GET YOUR TRAIN TICKET STAMPED!
Sorry to text shout at you, but this tip is one of the most important Italy travel tips that I experienced. To avoid a 30 euro penalty be sure to validate your train ticket before getting on the train.
And no, it doesn't matter if you didn't know, they will kindly explain the right way while writing up your fine.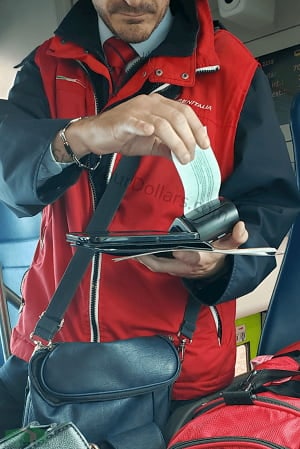 8. Time and Date
Europeans use the 24-hour clock, which we Americans like to call "military time". They also write their dates with the day, month, and then year (DD.MM.YY).
9. You don't have to tip
Although it won't be refused, it is not expected in Italy. Most restaurants will instead have a "coperto' (service charge added) or in the case of a fixed menu, it might be included.
10. Always have enough cash on you
Some places only take cash instead of a credit card. Machines might also be down due to the quality of the internet.
11. They might be closed for a few hours
Unlike America, some Italian places are very relaxed and tend to take a long lunch break "riposo" for a few hours (up to 4).
12. Bring comfortable shoes
With all the walking between the tons of historic monuments, comfortable walking shoes are a must! You might even want to consider adding insoles and breaking in new shoes before going!
Frequently Asked Questions
Why should you visit Italy?
It's a beautiful country with so much history to see and great food to eat.
What do I need to know before going to Italy?
You might find all the Italy travel tips on my list important. But I'm no expert, so I'd advise to always do more research for more travel tips.
How long should my trip to Italy be?
You can see a lot in a little bit of time, but you might not want to rush like I did. For a place like Rome, you might want 3-4 days to see it all. Smaller cities like Bologna and Florence only require 1-2 days.
Do you need to speak Italian in Italy?
Though it would help, you can get by without knowing anything. Most Italians I've encountered were friendly and used to tourists.
When does Venice flood?
Due to Acqua alta in Autumn and Winter, there might be flooding due to high tide for a few hours.
What to pack for an Italy vacation?
Be sure to check what the weather will be like so you can pack weather appropriate clothes. I also always carry a camera, portable power bank, and travel power adapters.
How much is a vacation to Italy?
Your costs can vary based on what you do and for how long. Take a look at my cheap Italy itinerary for how you can spend 8 days viewing 7 cities for about $2,700.
How much does a flight to Italy cost?
Be sure to read my guide on finding cheap tickets. I've found round-trip flights from $341 to $741 in various cities throughout the U.S. in February and March 2020.
What is the best time to visit Italy?
The cheapest time to travel is from September to March. I prefer to travel in September, early October, and March to avoid the colder weather.
How much are trains in Italy?
Prices can be as little as a couple of euros to much much more. It varies based on the distance traveled, if you make connections or not, and how fast the train goes (high-speed trains cost more).
How to book trains in Italy?
I look for tickets at the best times and prices on the Trenitalia website and then buy at the train station kiosk when I get there (just in case I end up missing my desired time). You also have to know the Italian names for the stations so I always us google to map my route first and then copy down the station names that I'm traveling to. Note: For English, click the British flag on the kiosk.
Have any questions before going or Italy travel tips to share? Comment and let me know.