I've been making these cheap freezer burritos for over a year now and I still LOVE them!
But you know what? They're actually a bit more expensive than you can buy in the store. Though these budget-friendly burritos are only about $1.32, you can buy other ones for around 50 cents.
However, my homemade frozen burritos are more delicious, you'll know exactly which healthy ingredients are going in, and they are only approximately 192 calories!
Freezer Burritos
I like to make a big batch of these burritos to freeze about every two months. My favorite one is the beef & bean burrito.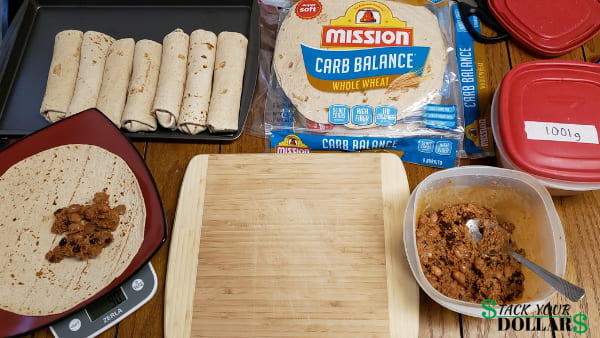 They are also a part of my monthly grocery shopping list where I only spend $200 for two people! You can easily make your own frozen burritos to take to work and save money on lunch.
They are delicious by themselves, or with sour cream and sriracha.
Once you get a hang of making them, you can add other ingredients such as rice, corn, etc.
Of course, you can also make these cheap burritos even cheaper by buying beef that is less lean, but this means more calories. The canned foods are also cheaper if you don't buy them organic.
How long will these burritos last in the fridge? Honestly, I have no clue, they're so delicious that they've never made it past 2 months in my home. However, you can place them in a freezer bag if you need to keep them longer.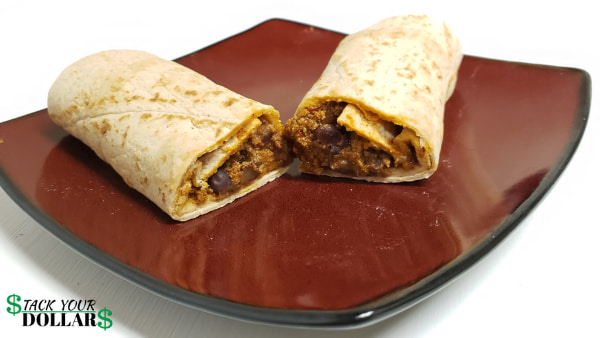 Cost Breakdown:
Your specific costs may be different due to location, brands, and price changes. For example, this ground beef used to cost me about a dollar less!
32 Servings ($1.32 per serving)
1lb 96% Lean Ground Beef= $6.68 x 2
Mission Carb Balance Whole Wheat Burrito= $5.58 x 4
14oz Organic Black Beans= $1.16 x 2
14oz Organic Pinto Beans= $1.16
6oz Organic Tomato Paste= $0.96 x 2
1 Sweet Onion= $1.10
Total= $42.18
Calorie Breakdown:
The calories will vary based on the products that you use. Using 85% lean ground beef instead of 96% would raise the burrito to about 217.50 calories each.
2lbs 96% lean ground beef= 1120 Calories (140 per serving)
3 cans of beans= 1155 Calories (385 per can)
2 cans of tomato paste= 300 Calories (150 per can)
331g onion= 105 Calories (32 Calories per 100g)
Total= 2640 Calories
Divided by 32 burritos= 82.5 Calories + 110 Tortilla= 192.5 Calories per Burrito
Products used: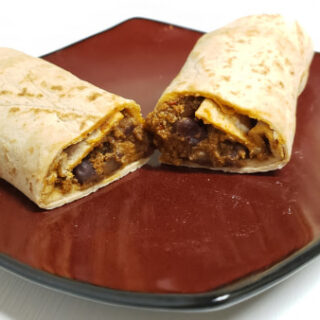 Homemade Burritos Recipe
Total Time:
1 hour
10 minutes
Delicious, low-calorie (and cheap) freezer burritos.
Ingredients
2lbs Ground Beef
4 packs of Mission Carb Balance Whole Wheat Burrito
2 - 14oz Organic Black Beans
14oz Organic Pinto Beans
2 - 6oz Organic Tomato Paste
1 Sweet Onion
Instructions
Add the 2lbs of beef to a pot with about 2 cups of water. Put the stove on low and keep breaking up the pieces with a potato masher until the beef is cooked through. (If you stop too early, they can reform to bigger clumps!) When done, throw off the excess fat.
Season the way you like it with salt, black pepper, garlic, cumin, chili powder, and cayenne pepper. (The cumin and chili powder are the main ingredients) I love spicy foods so I add lots of black pepper, cayenne pepper, and crushed red pepper.
Add a cup of water then stir in the tomato paste.
Throw in the diced onions and drained beans.
Allow to cook for 30 minutes, then leave the mixture to cool.
Once cool, weigh everything by transferring to another pot or large bowl on your kitchen scale. Take this weight and divide it by 32 to know how much each burrito should be filled with.
How to fold burritos: Add the filling at the bottom half of the tortilla. Fold the bottom of the tortilla up over the filling. Fold down the sides. Tightly roll your burrito the rest of the way.
To freeze, wrap your burritos in parchment paper or plastic wrap. Seal with masking tape and label, if desired.
To reheat: Remove the wrapping from the burrito and place it in the microwave for 1-2 minutes. Flip the burrito halfway through.
Nutrition Information:
Yield:

32
Serving Size:

1
Amount Per Serving:
Calories:

192
Nutrition information isn't always accurate and will depend on ingredients used.
Frozen Burritos – Step by Step Photos
These delicious burritos are so easy to make.
If you've ever wanted beef as finely grounded as Taco Bell, this is how you make it! All you need is a potato masher. Keep mashing while cooking the beef in water on low!
Drain off the extra liquid then add the seasonings and mix.
Add the tomato paste, onion, and beans then mix. Cover the pot and leave it to simmer.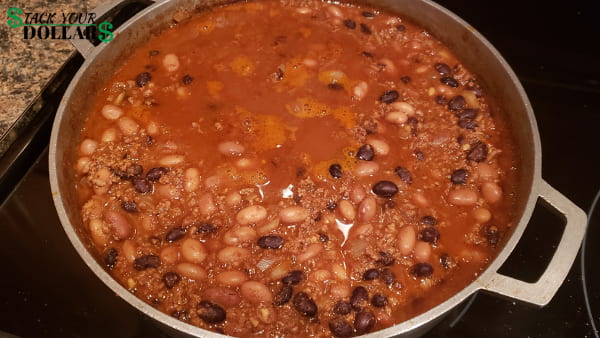 The beef and bean burrito filling is unbelievably delicious! Keep tasting and adjust the seasoning as it cooks.
When adding salt, only add a little at a time. Wait for it to cook in then mix and taste it before adding any more.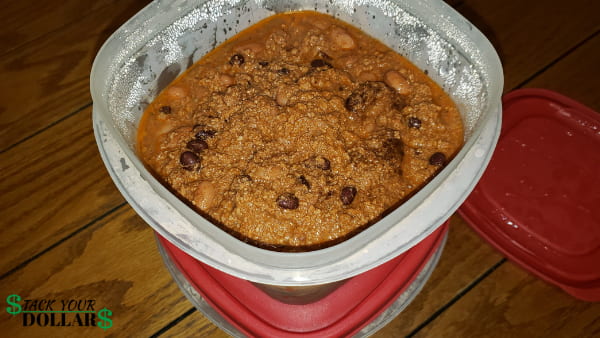 Once cooled, the liquid will congeal a bit and allow you to easily spoon the filling onto the tortillas.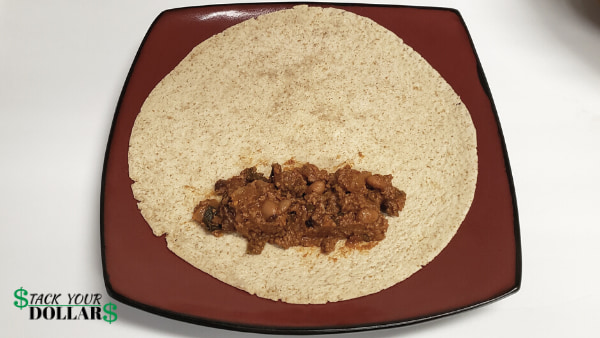 Weigh the filling and split it evenly into 32 servings. Fill each burrito with that amount.
Folding the burrito is very easy once you get used to it. Start by folding the bottom over the meat.
Tuck the sides down.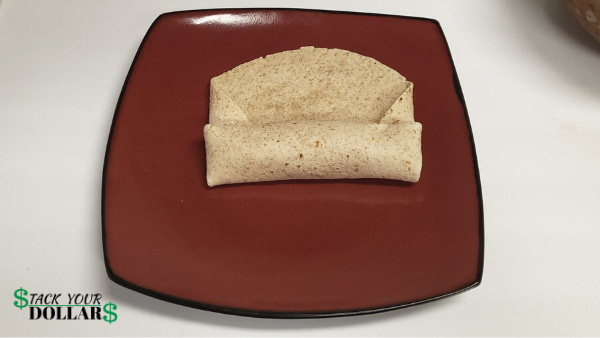 Then roll that baby up!
Now you have a complete burrito to freeze and enjoy anytime. Continue with the entire batch and wrap each in plastic wrap. I like to also put it in a freezer zip lock bag.