"How does military housing work?", "How much does military housing cost?" and "Should we live in military housing or rent out in town?" are three of the most frequently asked questions.
I can help you know how housing works; however, the rest are difficult questions to answer. What is best for one person might not be best for another.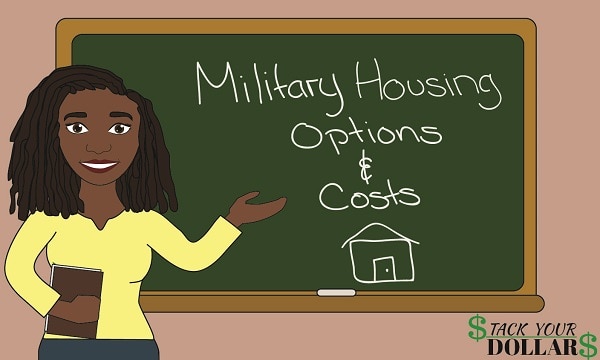 What I can do is, from a purely financial point of view, help you decide what would be better for your pockets.
This post may contain affiliate links as a way to support the costs of this website (at no additional cost to you); however, I won't recommend products I don't believe in. View my full disclosure at the bottom of the page.
How much is the military housing allowance?
The housing allowance varies by rank, location, and if you have a dependent.
To figure out how much BAH (Basic Allowance for Housing) or OHA (Overseas Housing Allowance) you will be receiving at your duty station you can use the BAH calculator on the DOD website.
How much you can cover with it will depend on your housing needs and where you're willing to live. Finding a home at the ideal price, quality, and location can be hard.
Related: All About Military Pay Dates And More
Is military housing free? No, you pay for it with the allowance you receive. The housing may take all of it or only a part.
What does BAH cover?
Although BAH is only meant to cover a small percentage of utilities, I try to always find somewhere I can afford to pay for it all.
As you should be able to tell by now, I love to save and make the most of my money by budgeting. So below, I will outline the things to consider before renting an apartment or home, getting military housing, or buying a home.
Learn how to create a simple budget here.
One may seem cheaper than the other at first until you look at all the costs associated with it.
Note: As an example, I will use a married E-1 sailor in the popular duty station of Norfolk, Virginia. The 2020 monthly allowance with dependents for this rank is $1599. Also, utilities discussed include water, trash, gas, and electricity.
Renting A Home
When renting a place, you usually have to pay an application fee, security deposit, and first month's rent. You may also have a pet deposit and a pet rent if you have any.
It is also always recommended to have renter's insurance to protect your belongings.
Apartment
Small apartments are usually the best way to make the most out of your money.
Example:
You can rent a 2 bedroom apartment for around $1000. This leaves you with $599 for utilities (which could be up to $200). You can also look for communities that cover some of them. This option would leave you with a good amount of BAH leftover.
Usual benefits of apartments
Disadvantages
– Rent is cheaper
– Utilities are less expensive
– No landscaping or gardening
– Maintenance is taken care of
– Short-term commitment
– Limited to a smaller Space
– Larger apartments typically cost much more than renting a house.
– Initial fees to move in

House
Renting a house gives you the extra space needed, but at a higher cost. It may be equal to or more than the BAH received.
Example:
Most homes I found near the base were a bit run down or in bad neighborhoods. For a 3 Bed/ 2 Ba the average in an "okay" neighborhood is at least $1300. However, the utilities can be around $200 to $400 depending on your usage.
That will leave you equal to, or going over the $1599 BAH.
Usual benefits of renting a home
Disadvantages
– Not responsible for major repairs
– Short-term commitment
– Larger bills
– May be responsible for landscaping costs
– Initial fees to move in
Another major disadvantage when renting a home is the outrageous bills people report receiving. This can be a result of water leakage or unusual usage.
Getting Military Housing
If you are new to the military lifestyle, there is one thing you should know first. Most military housings are not actually on a military base.
How does military housing work?
You have to sign up and possibly be on a waitlist with the housing community where you are stationed. (These are usually privatized military housing and not really owned by the government.) To live in the house, most communities will take all of the BAH you receive as an allowance from your paycheck. However, they sometimes cover all utilities such as water, trash, electricity, and gas.
This means that whether you are receiving $1599 (E-1), or $2058.00 (E-9), you'll be able to get the same home. But, that also means that a higher rank will be paying a lot more for the same house.
Usual benefits of military housing
Disadvantages
– Utilities are paid for
– Larger home for less money
– Not responsible for repairs
– Short-term commitment
– Some areas have flat-rate home
– No upfront fees to move in
– No pet fees
– Money is forfeited if you get a large BAH
– May be responsible for landscaping costs
– Bedrooms limited by family size
Housing for military are also based on the number of dependents in a family. An E-1 with a spouse and 4 children could be eligible for a 5 bedroom home. On the other hand, an E9 with a spouse and no children may only get a 2 or 3 bedroom and still lose all of their BAH.
So, a great thing about military housing is that you can get a larger home for a low price if you are of a lower rank. But, if your family is receiving more BAH, it might make more sense to rent or buy.
Buying A Home
There are so many factors involved in buying a home.
A great benefit for military members is that the VA loan allows the purchasing of a home without a down-payment or private mortgage insurance.
This has allowed many military families to purchase and move into their new homes for significantly fewer upfront fees.
Example:
In Norfolk, you could find a home in a decent area that might add up to around $1,200 in mortgage per month. With $1599 in BAH, you'd be left with $399 to pay for utilities.
Usual benefits of buying a home
Disadvantages
– More living space for less than renting
– Tax benefits
– More upfront fees than renting
– Can be a good investment to make money

– Long-term commitment
– Responsible for repairs/ maintenance
The major issue that I see, when choosing to buy a home, is the problems faced when it's time to PSC.
You can choose either to rent out your home or to put it on the market.
Things to consider when renting out your house:
How will you manage each new rental from another state or country?

Additional costs for a property management company
Cost and time involved to fly back and forth

Can you afford to cover the mortgage and your current home in-between tenants?
Will you be able to rent it for equal to or greater than the mortgage and property tax amount?
Potential extra income
Things to consider when selling your house:
Have you owned long enough to turn a profit? Your outstanding loan may be more than what you will be able to sell the house for.

Sometimes you can't sell for what the home is valued at.

Selling a home usually costs about 6% of the sales price in addition to other fees.
Will you be able to afford two homes if it doesn't sell before moving?
But do not let me dissuade you, it is possible to buy a home and turn a GREAT profit. What is most important is that you prepare for every possibility to avoid ending up in debt.
And learn from my experience, talk to a financial advisor instead of a realtor working based on commission.
In Conclusion
There is no perfect answer for which option would be best; the costs for each vary by location, home size, and distance from the base.
It also depends on your family and their needs.
And sometimes, it all just comes down to luck for what you will be able to find.
Related: Saving Money In The Military: 38 Tips By Milsos
FAQ
How to find rentals? Where to find homes for sale?
Craigslist: Yes! Craigslist! For renting at least. You have to be careful and take precautions with this because there are a lot of scams, but it can be a great resource. I found the best little apartment before and the neighborhood was great as well.
Trulia: The best part about this site, to me, is the crime map overlay. While browsing through places, you can easily see how the crime is in those areas.
AHRN.com: A website made for military members
Realtor: Most realtors will help you find a rental for free, and of course should be talked to when looking to buy.
Is there any program to help people in the military buy a house?
With VA home loans, you can purchase a home without needing a down-payment or private mortgage insurance. You can reuse this benefit and you don't have to be a first-time home-buyer.
How much does it cost to live in military housing?
Usually, military housing costs the entirety of the BAH or OHA amount that you are entitled to.
What does military housing look like?
Every house looks different. There can be various different types of houses available at the same duty station. The best source for pictures I've found is from Facebook groups for those communities. There will usually be some friendly people willing to share pictures around their homes. I've even received a video walk-through before!