For the past several months, we've been traveling around Japan and having a grand old time. This country is such a beautiful place with so many things to do that it's hard to get bored. Tokyo is the most popular city, but there are numerous unique places to visit in Tokyo and outside of it as well!
Is Japan expensive? No, but it also depends on what you want to do. The most expensive thing is transportation. Other than that, you can get away with spending very little.
I like to budget and monitor how much I spend, so my family can do as much traveling as possible. I don't know what's in your pockets or how your budget is set up, so here are several things to do in Japan and their prices.
NOTE: Prices are only accurate as of the date I was present and are subject to change.
This post may contain affiliate links as a way to support the costs of this website (at no additional cost to you); however, I won't recommend products I don't believe in. View my full disclosure at the bottom of the page.
Things To Do In Tokyo
Before you head out, the most important thing to make sure you have is a high-capacity power bank. It'll keep your phone juiced up for all the pictures, translating, and most importantly, the GPS for directions. My charger is 22000mah and can fully charge my phone a few times, but isn't sold anymore.
I've also recently bought this add-on wallet to keep my IC card at the back of my phone and a lanyard. It's much more convenient when on the go instead of pulling out my wallet each time.
By the way, it might be useful to learn about Japanese currency before your trip.
Godzilla Statue: Free
Location: Yurakucho, Chiyoda City, Tokyo
I was excited to go and see this statue of Godzilla but disappointed by the size of it. Worth it? No. But it was still nice to explore the area and get a bite to eat at a nice restaurant.
It's a short walk from Yurakucho station where we also had these delicious treats (kougnane).
Marvel Avengers Station: 2500 yen (Highschool: 1700, Primary: 1100)
Location: Roppongi, Minato City, Tokyo
A temporary Marvel exhibit that has been touring the world since 2014. When I went, it was at the Mori Museum in Roppongi.
There are interactive exhibits to learn about the Avengers and even a few fun games. If it ever comes back or to a location near you, be sure to check it out!
Sumo Tournament at Ryogoku Kokugikan National Sumo Stadium: 4950 yen
Location: Sumida City, Tokyo
If you've been interested in sumo wrestlers like I have, going to one of these tournaments is something you won't want to miss! Just know that spectators are not supposed to cheer aloud.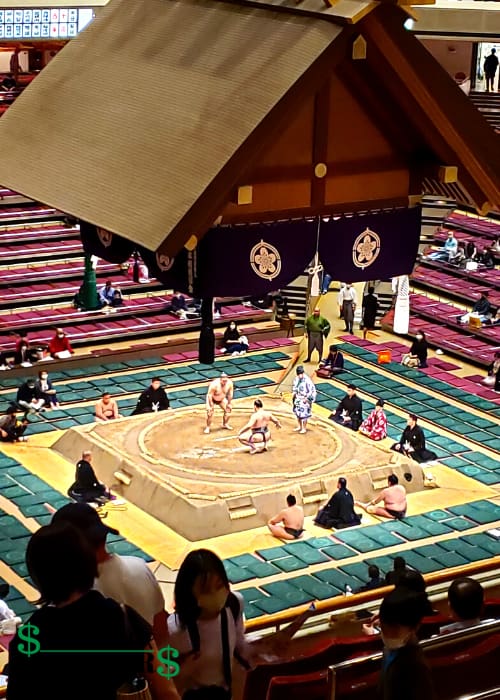 I was also always told to follow where the locals are going. So I saw a long line and got in line to follow them into the basement where we ate some delicious Chanko Nabe (sumo stew) for 500 yen.
teamLab Planets: 3200 yen
Location: Koto City, Tokyo
An interactive art museum that will have you walking knee-deep through water. You can hear, see and feel the awesome experience this museum has to offer.
I recommend going to Planets before Borderless. While it was impressive, after the size of Borderless, I expected it to be much bigger.
teamLab Borderless: 3200 yen
Location: Koto City, Tokyo
This was an eye-opening and beautiful experience. When I first went, I was annoyed that I wasted money after going in and seeing the illuminated flower display on the wall.
However, as you walk further into the museum, the exhibits get much more expansive and interactive. I was floored by how amazing it was and spent hours there. Borderless will be closing in August 2022 and moving to another area in 2023.
Venus Fort: Free
Location: Koto City, Tokyo
This mall in Palette Town originally opened in 1999 is no longer there, but I wanted to share how spectacular it was anyways.
On the day we went to teamLab Borderless, we had about 2 hours until the entry time and spent it in this mall looking at all the sights, stores, and the free car museum.
Harry Hedgehog Cafe: 1430-3080 yen
Location: Jingumae, Shibuya City, Tokyo
A cute cafe to hold and feed hedgehogs. The hedgehogs must be held with gloves and you also get a drink from the vending machine with your entrance fee.
It cost 1430 yen for 30 mins and 1650 with treats to feed the hedgehogs. The treats were mealworms, so I obviously didn't get that one! The price goes up to 3080 for 60 mins which may be preferred if you go at a busy time. There was luckily only one other group when we went.
P.S. There's another one located in Yokohama.
Tokyo Tower: 1200 – 3000 yen
Location: Shibakoen, Minato City, Tokyo
Enjoy a beautiful view of the area from the Tokyo Tower! You can even see Mount Fuji on a clear day. It costs 1200 yen for the main deck and 3000 for the top deck.
With the top deck tour, you get guided up with a history of the tower. You also receive a phone and headphones to tell you the history of the surrounding buildings (provided in multiple languages).
Tama Zoo: 600 yen
Location: Hodokubo, Hino, Tokyo
This inexpensive zoo was quite big for the low cost of entrance. There were many different types of animals and exhibits to see.
TIP: Like any zoo, don't go when it's too hot because a lot of the animals like to hide.
Places To Visit Outside Of Tokyo
Artrick Museum: 1300 yen (Junior & High School: 1000, Child: 600)
Location: Naka Ward, Yokohama, Kanagawa
Are your eyes playing tricks on you? This museum is filled with trick art that creates cool picture-worthy illusions.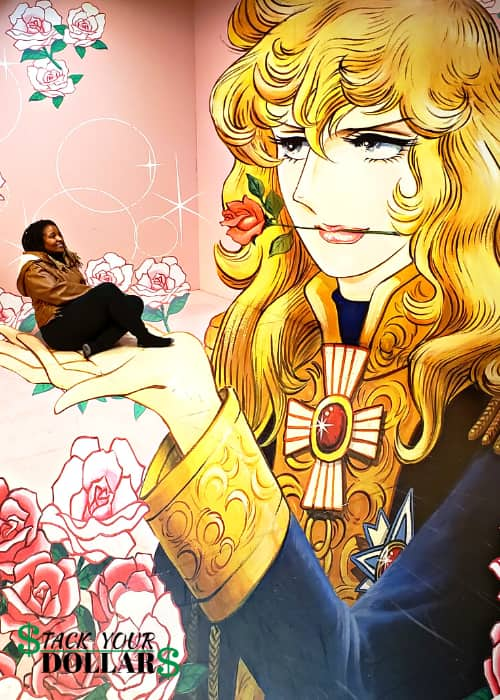 Since the streets of Chinatown are also right there, take the time to explore and enjoy the food stalls.
Yokohama Chinatown: Free
Location: Naka Ward, Yokohama, Kanagawa
Don't miss out on visiting Chinatown if you're near Yokohama! It's a vibrant and colorful place with much to see.
This is free but you'll want to carry yen because there are a lot of yummy foods to try! Everything we ate was at most 500yen.
Moff Animal World: 1650 yen
Location: Nishi Ward, Yokohama, Kanagawa
Located on the 5th floor of Queen's Tower, this animal encounter area was a surprisingly good time. You're able to pet and feed various types of animals. There are yen coin machines to buy tickets for animal feed. Due to the long lines, avoid going on a holiday.
Kamakura Great Buddha (Kotoku-in): 300 yen
Location: Hase, Kamakura, Kanagawa
This is a giant bronze Buddha statue located at a Shinto shrine in Kamakura. Although this was a crowded attraction, being here had a (hate to be cliche) zen-like feel to it. I truly felt at peace looking at this large statue among the rest of the gardens surrounding it.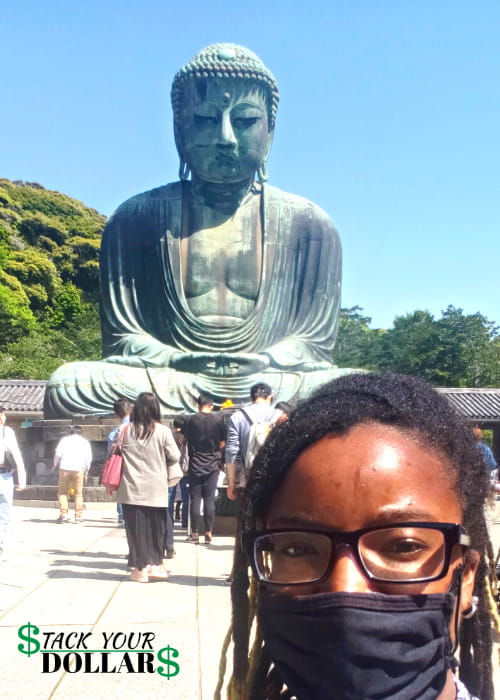 Enoshima Island: Free
Location: Enoshima, Fujisawa, Kanagawa
Enoshima Island is a wonderful place to spend the day that I really should go back to one day. We came here after the Kamakura Budhha and only walked around a bit and went to the caves.
There are many food stands and restaurants to try, a garden, observation deck, beaches, and more. I also learned that there is an Enopass that gives entrance to multiple attractions and discounts at restaurants.
Enoshima Iwaya Cave: 500 yen
The two caves are dedicated to Buddhist statues and the five-headed dragon of Enoshima.
Day Trips From Tokyo
Jigoku Nozoki (Hell Peak Point): 700 yen
Location: Kyonan, Awa District, Chiba
Are you prepared for a lot of stairs? This mountain is home to many picturesque views and Buddha statues. I went on a day after it rained and it was great because there were few people; however, it was recommended to take the cable car up and back due to the mud and slick trails.
Cable car: 500 one-way, 950 roundtrip (Children 6-11: 250 & 450 yen)
Even with the cable car, there are still quite a few steps to get to the peak; it's worth it though! The shrine gate closes at 4 pm, so we also weren't able to see everything. Before leaving, I recommend trying the black vanilla ice cream!
To get here, I took a train and bus to the Tokyo-Wan ferry port, the ferry across to Chiba, then a short walk. The round-trip ferry ticket was 900 yen there, and 700 yen back (450 & 350 yen respectively for children).
Mother Farm: 1500 yen
Location: Futtsu, Chiba
I was excited to go to this farm just for the experience of milking a cow. It's a large farm with many animals to interact with and pet. There is also a zipline, bungee jump, and amusement park rides not included in the entrance fee.
Similar to Hell Peak Point, it's a long trip to get to this farm. In addition to the bus, train, and ferry to get to Chiba, there is about another hour of taking a train and a country bus to the area.
Arakura Fuji Sengen Jinja Shrine: Free
Location: Asama, Fujiyoshida, Yamanashi
This shrine is home to the iconic 5-tiered Chureito Pagoda. It is a stunning place for viewing Mount Fuji, cherry blossoms (when in season), and the city landscape below.
The most expensive part about visiting this place was the trip there. A combination of trains and a highway bus… the trip cost around 6000yen round-trip.
Snow Monkey Park (Jigokudani Yaen Koen): 800 yen
Location: Yamanochi, Shimotakai District, Nagano
Get up close to snow monkeys bathing in an onsen. The hike to the area is beautiful and a long, winding, and mostly flat route (but there are some stairs to climb as well). I was slightly disappointed since I assumed the hot springs were natural; however, they are not.
Though an inexpensive entrance fee, getting to this place is a long trip and about 9000-10000 yen each way. I visited this park and Matsumoto Castle with a tour group for $95USD.
Matsumoto Castle: 630 yen
Location: Matsumoto, Nagano
This beautiful 16th-century castle is the oldest in Japan. We were able to tour inside the castle which also has exhibits of old weapons. Be prepared to take off your shoes first!