The first time I rented a car was when I was 22 and going on a trip to Chicago. Everywhere I looked for a quote, there was a hefty underage car rental fee attached.
If this isn't the first post you've read by me, you should know by now that I am CHEAP. There was no way I was going to pay such crazy prices of up to $50 extra a day in charges. I know that I'm a safe driver and you do not get the young renter fee back.
So of course, I scoured the internet to find a way to avoid paying the extra money. And I found it!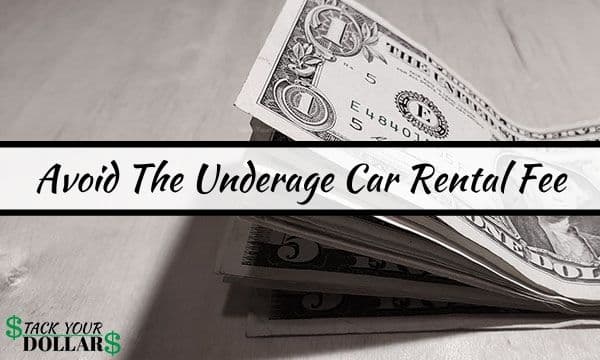 Back then, I was luckily able to sign up for the Hertz Gold Plus membership. This allowed the underage car rental fee to be waived.
Along with that and coupons, my car rental in Chicago, I ended up being a total of $50.90 for 3 days! (That's including all taxes and fees.)
I don't believe that option is available anymore however, it does not specify in their program benefits. I'm also too old now to check and see if I would get charged when trying to book a rental.
But, feel free to try it yourself and let me know. Their Gold membership is free to sign up for starting at age 21.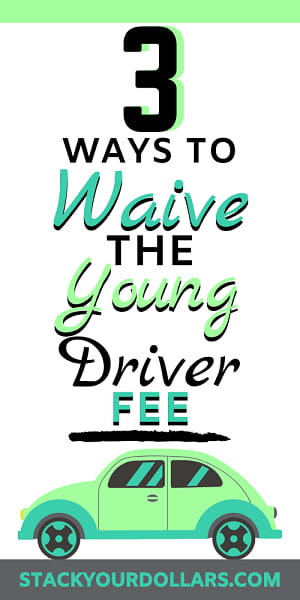 This post may contain affiliate links as a way to support the costs of this website (at no additional cost to you); however, I won't recommend products I don't believe in. View my full disclosure at the bottom of the page.
Why is there an underage car rental fee?
According to the statistics on sites such as the AAA Foundation and Centers for Disease Control (CDC), teen drivers are significantly more at risk for being in a car crash. Due to this, car rental companies charge an extra fee to compensate for that risk.
This fee is known by several names: Underage Car Rental Fee, Underage Surcharge, Young Driver's Fee, Age Differential Fee, etc.
Can the young renters fee be waived?
It may make sense, but I'm sure that you'd still rather avoid this surcharge.
The only way I know of currently is to get the young driver fee waived is through a membership with AAA, USAA, or from being a part of the government or military.
AAA Membership
Hertz: "As a AAA member between the age of 20 and 24, the young driver fee is not applied if you meet standard rental qualifications."
The lowest AAA membership is $70 for a year. Depending on how much your underage fee adds up to, the cost of this membership is more than worth it. Plus, you get all the benefits of having AAA.
USAA membership
A membership here is limited to insurance eligible military members and their families.
The USAA website states:
Avis: $27 per day for Young Driver fee. This fee is waived for 18 to 24-year-olds
Budget: $27 per day for Young Driver fee. This fee is waived for 18 to 24-year-olds
Enterprise: $20 per day for Young Driver fee. This fee is waived for 21 to 24-year-olds
Hertz: $30 per day for Young Driver fee. This fee is waived for 18 to 24-year-olds
Military & Government
U.S. military personnel and government employees traveling on official business are not charged underage car rental fees by most companies. On orders, they are also able to rent a car at the age of 18.
How old do you have to be to rent a car?
The minimum age to rent a car varies by location and car rental company.
The average age is 20 and that would include a surcharge until the age of 25. However, the state laws in Michigan and New York allow for a car to be rented at the age of 18, despite the minimum age in other states. (This is usually accompanied by a big increase in the age differential fee.)
Also, stated before, military members and government employees are also able to rent a car at the age of 18 on authorized travel.
How much is the young renter fee?
Underage car rental fees are not cheap and can add up very fast.
I've seen fees of up to $84 per day, and that is more than the cost of some daily rentals.
I've done some research, and here are the costs of a few companies:
Alamo
Avis
Budget
Dollar
Enterprise
Fox Rent a Car
Hertz
National Car Rental
Thrifty
How can I get a cheap car rental?
Regardless of if you are a young driver or not, being a member of these companies will get you discounts on car rentals and much more.
Also, coupons are your best friends! I always do a quick google search before purchasing anything.
I usually combine savings through USAA with a coupon code on the rental website for the most bang for my buck!
Sadly, it may be cheaper to use ride-share services such as Lyft and Uber or even public transportation to get around.
Related: Learn my method for finding the best car rental prices here.