I would not say I'm an expert at finding the best car rental prices, but I am pretty good.
The first car I rented was when I was 21. Not only did I get it for $15/day, but I also managed to get the underage car rental fee waived.
I rented for 3 days and my total was only $50.90. Since then, I have found car rentals for as low as $11/day when renting for two weeks.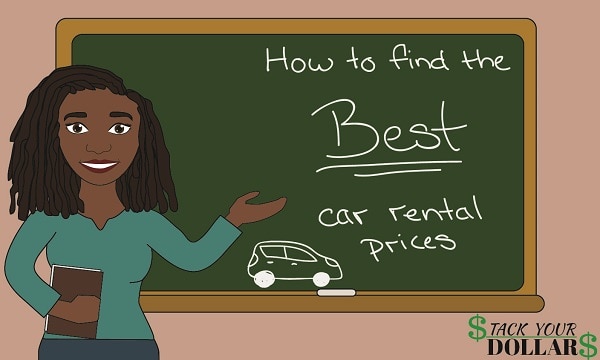 With how costly car rentals can be, I bet you're wondering how I got such a great deal. You may have a getaway, road trip, or some other reason for needing to rent a car.
I'll tell you my secret so you can save money too. These are the tricks I follow to compare car rental prices and find a cheap rental at the best prices.
This post may contain affiliate links as a way to support the costs of this website (at no additional cost to you); however, I won't recommend products I don't believe in. View my full disclosure at the bottom of the page.
How to get a cheap car rental?
Airport fees – As always, convenience is going to cost you. I know it's easier to just walk from the terminal and pick up the car, but you also pay an extra airport fee for this privilege. Compare your prices for getting a car rental at the airport to an offsite location. It might be cheaper to pay for a ride there instead.
Memberships – There are car rental discounts with AAA, Costco, frequent-flier programs, and many other places. If you're a part of any company, check to see what membership deals and discounts they have.
Look up coupons – I always combine my membership discounts with a coupon code. It's easy to search " (Company) ____ car rental coupon" in Google and see what comes up.
Skip the add-ons – Why pay extra for things like GPS when you can use the maps on your phone? I always skip it and set my directions for a route without tolls so I also don't have to get a transponder. If your insurance or credit card covers car rentals, you might even be able to not add their insurance.
Go for the economy Car – If you don't need as much space, economy cars are usually cheaper. Smaller cars are also better on gas so that's another bonus.
Fill up on gas – Top off at a nearby gas station before returning. The fees for not doing this can be outrageous. I once filled the tank and got a little lost trying to return the car. The gas meter must have dipped maybe 1 peg under and I received a charge for about $170 a few days later. Thankfully they canceled the fee after I showed my gas receipt with the time I refilled.
Don't rent at all! – Find out the best mode of transportation in the place you are going. It might be easier to walk everywhere or use public transportation. For instance: A car rental in San Francisco would have meant $40/day parking at my hotel, and steep parking prices everywhere I went. Using a ride-share app was much more convenient and cheaper.
How to book a cheap car rental?
Now that you know how, I'll also show you how to find the cheapest car rental. This example won't be as thorough as I usually am to find car rental discounts, but hopefully, it will give you a good idea.
In this test, I'll be looking for a cheap car rental in Orlando, FL from Thursday, Nov. 7th, 11 am – Sunday 10th at 11 am.
The prices will be compared using Expedia, American Forces Travel, Booking, Costco, and USAA. Let's see what we'll find.
Expedia
With Expedia, the best car rental prices were with Budget car rental companies. The lowest was $21 a day with a $90 total at Economy Rent A Car.
I also always cross-check with the company's website to make sure they don't have a better deal. This was a few cents cheaper on their website.
The underage car rental price would add on $14.95 per day; That's at least $44.85 tacked on!


American Forces Travel (Military)
Economy Rent a Car also showed the best car rental prices with AFV. However, they only showed the "pay later" option which is about $4 more in this case.
It is also similar to the price on the company website.

Booking
Again, Economy showed up as the cheapest; however, the car type is different. This car would also come without air conditioning.

Costco (Membership Program)
The company with the cheapest rental rates at Costco for these dates was Avis. The total there was $94 which seemed to be $10 cheaper than on the company website.
However, I noticed when you clicked to continue on Avis' website, the price jumped up to $156.08 because the taxes and fees weren't added. So be sure to check this when comparing costs!
The underage surcharge here added on $81 and brought the total up to $250.97.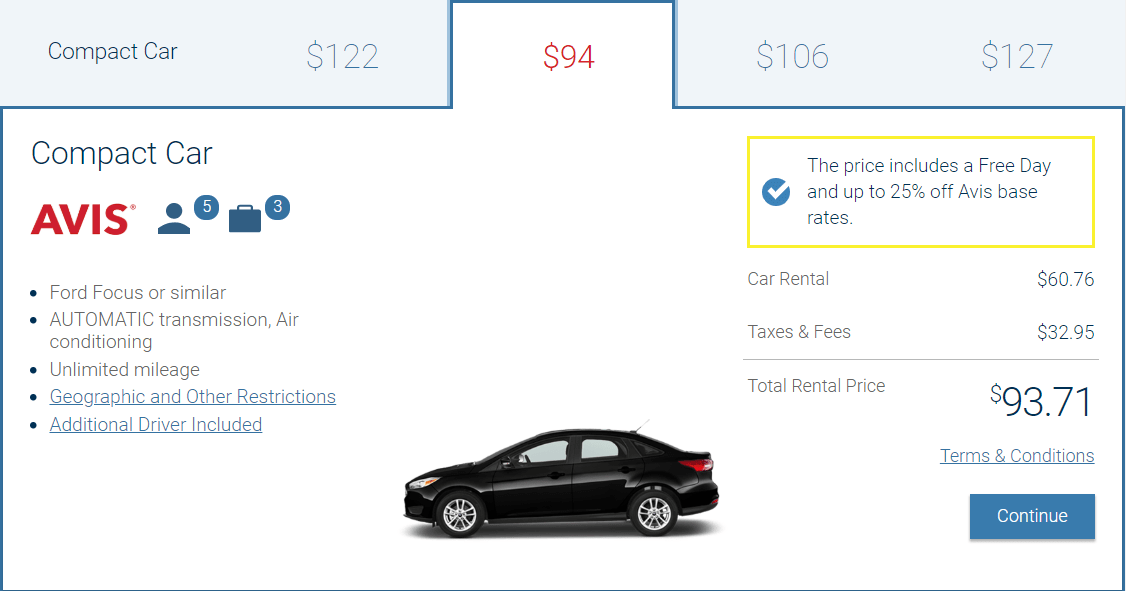 USAA (Military)
With a membership at USAA, the total with Budget car rental would be $123 regardless of age; however, on the website, driver's over 25 could save about $6 for these dates.
Without USAA, the Budget underage driver fee adds $27 a day and brings it up to $212.

Conclusion
Despite all my search tactics, the best car rental prices were on the Economy Rent A Car website for both regular and underage rental prices.
This doesn't mean it's the cheapest car rental company, it just has the best prices right now for those dates. It's always best to compare prices on the dates you're searching to see what deals there are.
There are also two things I could have changed to make this even cheaper:
I searched for the car rental from Orlando Airport. Remember to compare prices to close-by locations to avoid the airport fees. (I kept everything at the same place to make the example easier to do).
I didn't look up coupons. As I said earlier, I always find coupons to add. They are a great way to easily save even more!
Young drivers: Read my other article for more ways to skip the underage driver fee.
Frequently Asked Questions
Which car rental company is best?
According to TripSavvy, the best car rental companies are Enterprise, Avis, National, Alamo, Budget, Dollar, and Thrifty. They rated these 8 companies based on criteria such as discounts, rewards programs, customer service, and extra fees. Of course, what you consider to be the best would depend on your personal preferences.
What is the cheapest car rental company?
No one company always delivers the lowest prices. Shopping around is your best bet for finding car rental discounts. Even companies thought of as being "expensive" might offer the best deals for your dates.
Which car rental company picks you up?
Depending on your location, the following car rental companies offer pick-up services: Hertz, Enterprise, and Budget.
How old do you have to be to rent a car?
The youngest age that you can rent a car is 18 years old, this is allowed at some companies in Michigan and New York; However, restrictions and extra fees will apply until 25.
Does AAA waive under 25 fee?
Yes, you can get the underage surcharge waived when you have a AAA membership. Read more about it here.