Oh boy, let me tell you about my experience with vegetarian groceries! As a (sort-of) vegetarian myself, I know how expensive it can be to stock up on all those veggies, fruits, and plant-based goodies. But I'm proud to say that I recently managed to keep my grocery bill to a cool $200 – and it was a total victory dance moment.
Being a vegetarian can be great for your health, the environment, and the animals. But let's be real, it can also be pretty expensive! It's like you need a second job just to afford a few veggies and a loaf of bread.
I mean, have you seen the price of a block of tofu? And don't even get me started on the fancy vegetarian meat substitutes – who needs fake chicken when you can have real chicken for half the price?
And don't even think about buying organic products – I think I need a loan just to buy a carton of organic eggs.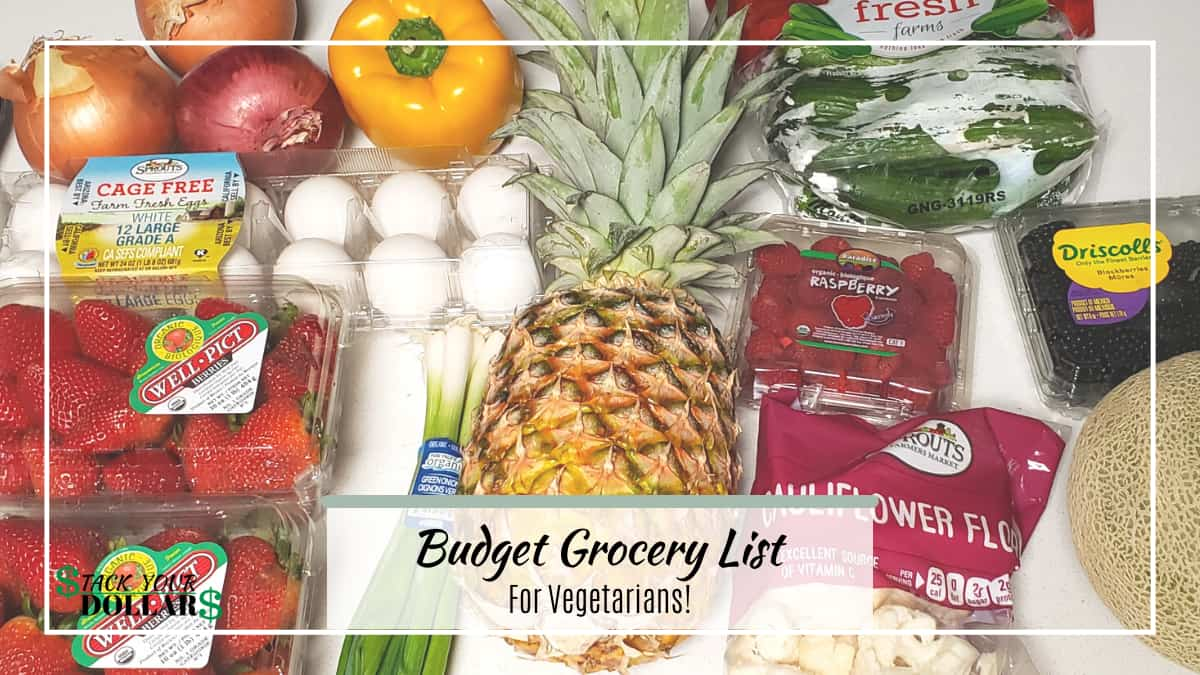 In all seriousness though, it's important to budget and plan our grocery trips carefully to avoid overspending. That's why like my past grocery list for 2 adults on a budget, I've created this shopping list for vegetarians. And, who knows, maybe one day we'll strike it rich and be able to afford all the fancy organic snacks we want.
Vegetarian Food List
It can be a bit overwhelming when you're trying to figure out what to buy. When it comes to grocery shopping as a vegetarian, having a list is key!
A well-planned shopping list can help you stay on track and avoid impulse buys. Make sure to include plenty of fruits and vegetables, whole grains, legumes, nuts, and seeds on your list, as these are the staples of a healthy vegetarian diet.
Also check out the USDA dietary guidelines for vegetarians and speak to your doctor to make sure you're reaching your nutritional needs
You can use the following to help build your shopping list. First things first, we need all the veggies:
Carrots
Broccoli
Bell peppers
Avocados
Cucumber
Celery
Eggplants
Kale
Spinach
Cauliflower
Sweet potato
Brussel sprouts
Asparagus
Mushrooms
Onions
Garlic
Zucchini
We're basically like bunnies, but with more sophisticated taste buds. And of course, we can't forget about all the fruits:
Apples
Bananas
Strawberries
Blueberries
Cherries
Mangoes
Pineapples
Melons
Squash
Dates
Now, let's talk about the grains:
Quinoa
Rice
Oats
Pasta
Popcorn
Cornmeal
Bulgur
And don't forget our protein powerhouse, legumes:
Black beans
Kidney beans
Lentils
Chickpeas (Garbanzo beans)
Lima beans
Alfalfa
Tofu
Hummus
But wait, there's more! We also need all the nuts and seeds as they are great sources of healthy fats and protein:
Almonds
Cashews
Chia seeds
Flax seeds
Pumpkin seeds
Peanut butter
Almond butter
Cashew butter
Tahini
And of course, we need dairy and plant-based milk:
Milk
Almond milk
Soy milk
Oat milk
Yogurt
Cottage cheese
Sour cream
Cheese
Cream cheese
And let's not forget about the vegetarian meat substitutes and eggs:
Veggie burgers
Meatless chicken nuggets
Tofu dogs
Eggs
Plant-based eggs
Beginner Tips
If you're new to this lifestyle, the list of foods vegetarians can eat may seem daunting. It can be scary when you're changing from the things you're used to. But there are so many delicious and nutritious vegetarian foods to be enjoyed!
Believe me, my husband was a bit skeptical about giving up meat. But I was determined to show him that vegetarian food could be just as delicious and satisfying as meat-based meals.
I sharpened my culinary skills and started experimenting with new vegetarian recipes, trying out different flavor combinations and cooking techniques. And every time my husband tried one of my new creations, he was surprised at how tasty and filling they were.
It just goes to show that good food can truly be a powerful force for change!
Vegetarian Grocery List
To save money on groceries, I had to get creative with my shopping strategy. I go to the store armed with a list of ingredients for specific meals, so I don't get distracted by all the fancy new products on the shelves.
I also make sure to check the store flyers and online coupons for any deals on my favorite products and will adjust my typical list and meal plan based on the sales. Here is what my typical monthly shopping list looks like:
Vegetables
Organic Frozen Broccoli – 4lbs: $9.39***
Organic Baby Spinach – 1lb: $4.99 x4
Organic Grape Tomatoes: $3.46 x4
Organic Baby Carrots – 1lb: $1.56
Organic Cucumber: $1.50 x4
Onion: $1 x4
Minced Garlic: $5.99+
Avocado: $1 x4
Organic Mushrooms: $5.99***
Fruits
Fruits: $15 (Any produce in-season but typically apples and bananas)
Organic Frozen Strawberries – 4 lbs: $9.99***
Organic Frozen Blueberries – 3 lbs:$8.79***
Grains
Bread: $3.44 x4
Mission Carb Tortillas – 2x8ct: $6.79***
Organic White Flour – 5 lbs: $7.58***
Organic Steel Cut Oats: $3.72++
Organic Quinoa – 4.5 lbs: $9.39++
Legumes
Organic Garbanzo Beans – 8 cans: $8.79***
Organic Black Beans – 8 cans: $8.79***
Bitchin Sauce: $9.99***
Cashew Dip: $9.69***
Dairy
Coffee Creamer: $2.68
Cream Cheese: $2.12
Sour Cream: $1.16
Almond Milk – 12pk case: $13.99***
Shredded Mozzarella – 5lbs: $15.69+
Meat Substitutes & Eggs
Other
Fries: $3.32
Tater Tots: $3.32
Tea: $3.12
Sparkling Water: $10.99
Organic Coffee: $10.99***
Organic Tomato Ketchup: $1.98***
Organic Cane Sugar – 10 lbs: 10.69***
Baking Powder: $2.76+
Coconut Oil: $15.49+
Lemon Juice – 2 Pack: $5.99+
Organic Tomato Paste – 12pk: $8.59++
Coconut Aminos: $8.89+
***These items are bought every 2-3 months and the cost is divided to reflect that.
++Indicates items purchased once (+) to twice (++) per year.
About My List
These groceries all come up to an average of about $170/mo. for the year and still leaves room for more. The lowest I spend is $116 on the items I re-stock every month and then more when It's time to buy any of the other items I buy less frequently.
If I were to re-stock all of these groceries in one shopping trip, it would cost about $316.30.
In the end, I was amazed at how much I was able to buy on my $200 budget. And the best part was, I didn't feel like I was missing out on anything – I had plenty of delicious and nutritious food to last me the week. With the extra money, you can also try out different sauces and buy ingredients to try new recipes.
If you noticed, I also save money by not buying meat substitutes. Instead, I've been trying out recipes to make black bean burgers. I'll share it in the future once it's perfect!
How to Make Being Vegetarian Cheap
Going vegetarian can be easy on your wallet, and no, I'm not pulling your legume! Even in this economy, I'm still saving money by following these tips:
Plan out meals to avoid buying too much and creating food waste.
Use these meal plans to do the bulk of your grocery shopping once per month. This avoids the extra food picked up on multiple shopping trips.
Save money by buying in bulk what you can and freezing some items to last longer.
Adjust your meal plans based on grocery store sales.
Don't be afraid to shop around at different stores and buy generic brands.
Cook in batches to save time and money. Having available meals cuts the need to eat out when feeling lazy. Leftovers can also be used for lunch.
Try recipes to make some things instead of buying them. For example, I recently started making bagels myself and it is so easy and inexpensive!
Most importantly, don't shop while you're hungry because it will affect your food choices.
What To Eat In A Week As a Vegetarian
These are some easy vegetarian meals that you can have based on the grocery list I provided. My lunch is usually leftovers from dinner.
Breakfast:
Oatmeal with berries
Eggs and avocado toast
Egg muffin
Bagel and cream cheese
Coffee
Lunch:
Veggie wrap
Leftovers
Salad with beans
Dinner:
Curry chickpeas and quinoa
Pasta
Black bean burgers and fries
Vegetable soup
Pizza
Mediterranean bowl
Chili
Cauliflower wings
Snack:
Smoothie
Carrots and dip
Popcorn
Peanut butter on bananas
Don't be afraid to get creative in the kitchen, try new flavor combinations and cooking techniques to make simple ingredients taste amazing. With a bit of effort, you can make being vegetarian both delicious and affordable.