It's not my fault I have to go shopping for clothes, they're a necessity! While that is true, buying new clothes doesn't have to be expensive and kill your budget.
But… How do you dress trendy on a budget?
It's easy! And I can teach you how to spend less on clothes, even name brand pieces, just like I do.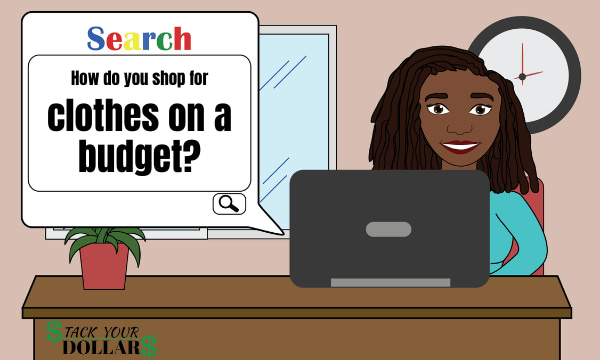 These are all the tips I used to quickly restore my wardrobe after it was all sadly destroyed. I purchased all the essentials then slowly added on more over time.
Recently, I even went shopping to buy trendy work clothes on a budget. I was able to buy 12 cute and professional pieces for only $50! That's about $4 per item! (But I'll talk more about this at the end.)
First, let's go over the best ways to save money on clothes.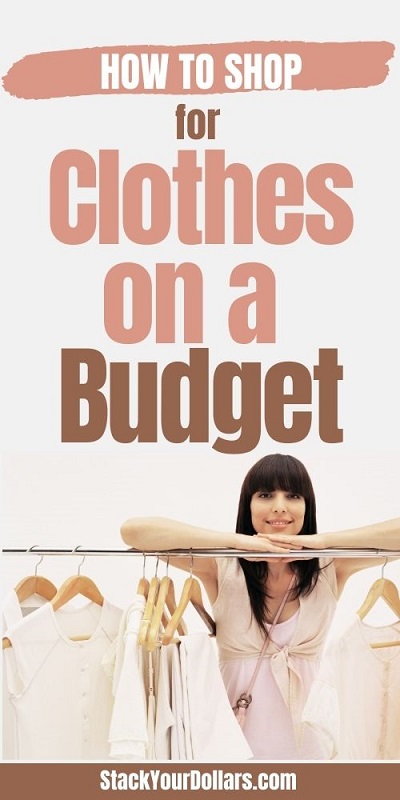 This post may contain affiliate links as a way to support the costs of this website (at no additional cost to you); however, I won't recommend products I don't believe in. View my full disclosure at the bottom of the page.
Tips To Shop For Clothes On A Budget
While I love to shop, I hate to spend money. Quite a conundrum, isn't it? Despite that, I've been able to shop while still living on around $2,500 per month.
With that said, here are the best tips and tricks on how to dress with less.
1. Do you really need it?
It's not wrong to want to spend money on new clothes, don't we all love looking our best? And clothes are necessary because we can't walk naked, but do you really need NEW clothes?
Every time I want to go shopping, all I have to do is think of some of the clothes in my closet that have still gone unworn. Seriously, clean out your closet if you need a wake-up call!
Sure, it might be a great sale going on, but unless you really NEED new clothes, the money might be better spent somewhere else. Regardless of the logic, I might still buy an item or 2 occasionally, but I always make sure they are affordable clothing.
2. Look for coupons.
When I go to checkout while shopping online, I always do a quick search for coupons first.
Retailmenot is one place I always look among others. Just Google: "store name" coupons and see what there is. It's a simple thing to do and can save you so much money!
3. Sign up for email lists
Businesses love to get you to spend money, so they'll occasionally send out coupons to get you to shop. I've had to unsubscribe to a few in order to resist the temptation!
Some stores will also send you discounts on your birthday, and you'll be one of the first to learn about special sales.
4. Delay buying
While shopping online, taking time before committing to your purchase is great for two reasons.
One: You might realize that you don't really need some of the items in your cart and put them back.
Two: Online stores hate abandoned carts. Many will email you a discount to come back and finish your purchase.
Even inside a store, you can take time to walk around and look at other items. This always gives me time to reconsider what I picked up.
5. Buy out of season clothes
Plan ahead and you can find great deals. Buy last season clothes when they're on clearance for the next year.
Winter merchandise goes on sale in January and February, while spring items are on clearance around June and July.
6. Purchase second hand
You can find cheap, good quality clothes at local thrift stores and online sites. They have a treasure trove of awesome clothing if you just dig a little.
Even better, why not borrow or buy clothes from friends or family? This is a great choice too if you need something special for an event.
7. Put quality over price
While I love to buy frugal clothing, it's not always the best choice. Sometimes you'll find cheap clothing that are cute, but they have awful quality. Why buy a $5 shirt if it will tear apart after the first wash?
These are the times where it may be best to spend a little more to get something that will last much longer. In the end, it saves you money over constantly replacing worn-out clothing.
Best Places To Shop For Clothes On A Budget
Revamp your wardrobe without breaking the bank by exploring these top destinations known for offering stylish and affordable clothing options, making it easier than ever to shop on a budget.
1.Thrift store
Thrift stores are the perfect place to shop for a bargain hunter. It's the best way to find expensive clothes for cheap. I love to go for not only clothing, but also home decor. It's a great way to save money when starting out in your own home.
TIP: Try driving to stores in wealthy neighborhoods to find designer fashion on a budget.
However, I really prefer the convenience of clothes shopping online.
2. thredUP
It was an amazing day when I discovered the beauty of thredUP. It's an online consignment and thrift store where you can find high-quality secondhand clothes.
I like that you can sort clothing by "new with tags", like-new", "gently used", and "signs of wear".
It is EXTREMELY affordable to buy clothes on this website, and so easy to sort through and find what you need. I've even bought brand new clothing with tags on it for under $5.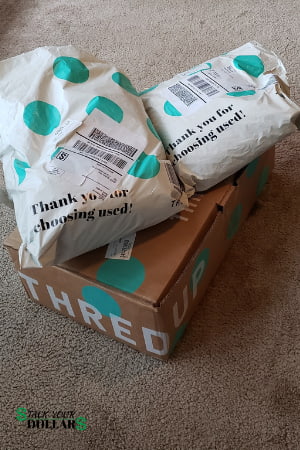 They even have Ann Taylor items starting at $3.99! If you're a new customer, click this link to get $10 off.
3. Ross
Ross Dress for Less and dd's DISCOUNTS both fall under Ross Stores, Inc. They are both great for buying designer clothes on a budget.
The downside is that the place is crowded! You really have to dig through to find the great deals; and not all of their clothes are of great quality!
But if you like the shopping hunt, this is the store for you.
There are amazing, inexpensive clothing to be discovered. I've even found items on clearance for as low as 50 cents!
4. Discount Stores
Aside from Ross and DD's, these are other discount stores where you can find fashion-forward clothing that are cheap.
They specialize in the sale of discounted designer items.
Burlington
Target
Walmart
Marshalls
Macy's
T.J. Maxx
5. Department Stores
Department stores can be more expensive, but they are great for bargain shoppers during sales and utilizing coupons.
My Trendy Work Clothes On A Budget
As promised, here's my latest haul from shopping on a budget!
After being stuck indoors for months and previously having a work from home job as well, I was getting sick of it! So, I decided to apply for some positions that would get me out of the house and a little of the human interaction I needed.
Except… I realized I had no clothes to interview in or wear to work. Gone would be the days of working in my pajamas. I also am steadily losing weight, so investing in clothes that won't fit in a few months was not in my plans!
That's why my first stop was to a local thrift store when I received an interview. I purchased a blazer and 2 suit pants for under $5 each.
Now that I've received an offer for a position, I had to buy even more clothing! Yes, to shopping! No, to spending money! Then I remembered that I could buy women's professional clothing for a great deal on thredUP.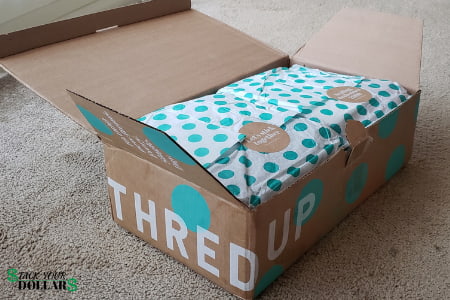 TIP: Get your measurements to make sure the clothing you buy will fit and avoid the $1.99 restocking fee.
I used the pants I already purchased to measure the exact waist, inseam, and rise that I needed to purchase. And I was able to score all of these cute items!

If you're trying to learn how to dress for success on a budget, this is it! Don't forget, you can use this link to get a $10 credit!
I also purchased several cute button-up tops from Ross and inexpensive flats.
Summary
Are you ready to stay on budget while getting the clothes you need? Let me know which of my tips work for you!
While I listed several cheap clothing stores to shop at, you can find great deals at any store if you keep looking. That's how you will find the cheapest designer clothes!