Here it is, time to go on deployment. This may be your first or one out of many, but it always helps to have a deployment packing list with necessities.
I mean… you can't just turn around and pick up what you need easily if you forget something.
You'll want to make sure you bring all the essentials, and also what you need to be comfortable and entertained. But… they must also be practical and not waste the little space you have.
This post is filled with great ideas that you'll want to consider taking with you; they also make great deployment gifts!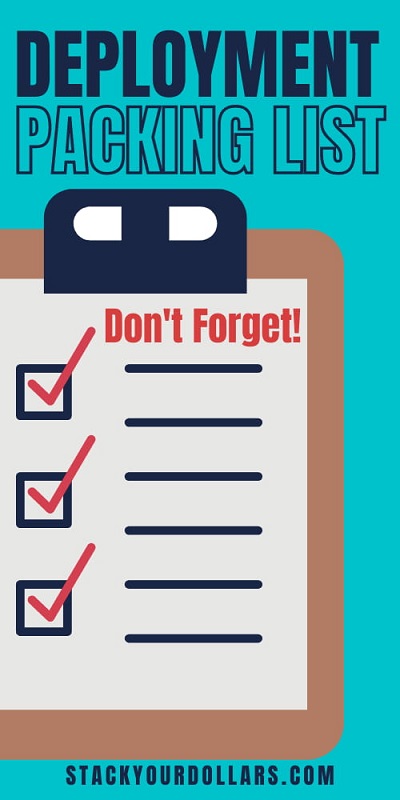 This post may contain affiliate links as a way to support the costs of this website (at no additional cost to you); however, I won't recommend products I don't believe in. View my full disclosure at the bottom of the page.
Deployment Necessities
Necessities vary based on if you're in the Navy, Army, Marines, Coast Guard, Space Force, and also based on the location you're going.
If you plan to buy any of these items for your service-member, it would be best to make sure they'll be practical for their situation.
If you shop on Amazon, some of these items can also be shipped to APO/FPO addresses. In my experience, they've usually taken about a month or less to reach.
1. Mattress topper
The beds given are rarely comfortable. Using a mattress topper will allow for a good night's sleep.
My service-member can sleep anywhere, so this wasn't necessary to buy. However, this is a must-have for some others, especially if they have back problems.
2. Hard drive
Hard drives are great to fill up with movies, shows, music, and pictures. Service-members also frequently share what they have. I recommend at least a 2TB portable hard drive.
3. Sleeping bag
A warm weighted blanket or sleeping bag is great for keeping the night chills away. It can get really cold in some areas and on ships at night!
On the other hand, a nice portable fan is great to have when it gets too hot.
4. Noise-canceling headphones
With so many people occupying the same area, wired noise-canceling headphones are great for drowning them out! You can also find them for around $5 at discount stores like ROSS.
If you'll be able to keep them charged, wireless headphones are better.
5. Tap lights
These tap lights are a necessity to do anything at night when taps is called. Another option is a strong flashlight.
6. Velcro
My service-member likes to use velcro to hold up his phone/tablet and watch movies hands-free. If you can find them at a nearby dollar store, they're much cheaper.
Command hooks are also great to hang things up and make good use of the little space.
7. Melatonin
Do you know what's horrible? When you finally have a day to sleep in and can't. That's why melatonin is useful for helping you get to sleep and stay asleep.
It's also great for those who have to work overnight and sleep during the day. Oh, and don't forget to grab a sleeping mask!
8. Shower slippers
I won't even mention the stories that I've heard about the shared showers. They are gross! Just be sure to have shower slippers if you'd like to avoid a foot fungus or infection.
Some sturdy crocs are a much better option compared to flimsy flip flops.
9. Watch
I purchased this solar-powered and water-resistant, atomic G-Shock watch as a boot camp graduation gift for my husband. He's had it for over 8 years now and it still works great though we did have to buy replacement bands.
For a more budget-friendly option, this Casio watch is also a great option.
10. Hydro flask
Hydro flasks are popular for keeping hydrated. They can keep water really cold for hours!
I also really like the gradient colors of the Iron Flask brand; just look how cute it is!
11. Coffee mug
I always recommend this Contigo coffee mug, it keeps your tea or coffee warm for hours! However, these insulated mugs can build up mold and you should remove the gasket to clean every nook and cranny; but it's kind of hard to replace the gasket after cleaning.
That's why I recently bought a Zojirushi insulated mug after reading through the reviews. It has a big gasket that should be much easier to keep clean. UPDATE: This mug keeps drinks extremely hot and my tea was still warm when I remembered it the next day (24+ hrs later).
12. Motion Sickness Pills
I nearly forgot to add this, because neither I nor my sailor ever experienced motion sickness. However, that certainly changed when he went from a large carrier to a small ship!
Non-drowsy motion sickness pills are great to have on hand (just in case).
Other Useful Gifts for Deployment
Care packages are one of the ways we can brighten the spirits of our service members when they are deployed. I like to send one every month and decorate them for holidays.
They do not have to cost a lot of money to send, though I've heard of spouses paying $100 at UPS and FedEx. My cost has always been under $20 at USPS and I buy my decorating supplies at the Dollar Tree.
But what to fill it with? Here are some ideas:
Granola bars
Tuna packets
Microwave rice
Ramen noodles
Gum
Beef jerky
Mixed nuts
Drink mixes
Seasonings
Playing cards
Foot powder
Crossword puzzles
Socks
Underwear
Holiday themed gifts: Just remember to send a month in advance
Toiletries: Ask what they'll need soon
Tobacco products (Cigarette, dip, etc.): Always runs out in the ship store
I also send little gifts that I know my husband will like. One of his favorites was receiving all seasons of an old sitcom on DVD and character t-shirts.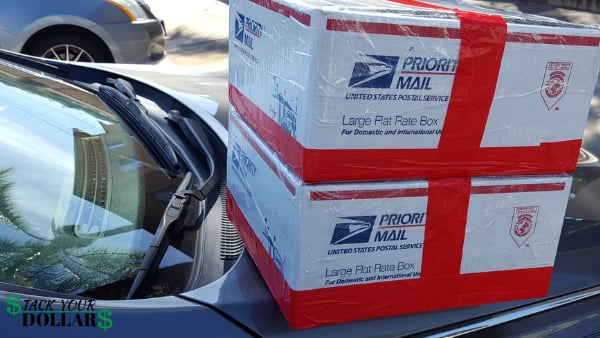 Packing Tips:
Pick up the Large Flat Rate boxes at the Post Office for a cheap way to ship items. You can also order a free Military Kit, but it comes with various size boxes.
Buy saran wrap at the dollar store and thoroughly wrap anything that may leak. Then place it in a grocery or zip-lock bag.
Completely wrap every square inch of your package in tape to prevent damage. You can buy the tape cheaply at the dollar store as well.
Buy your decorating supplies for $1 at the dollar store. Why spend extra at Michaels or Hobby Lobby when they'll throw it away?
Deployment Packing List
Before you leave, don't forget the essentials! Here's a list of some things to bring on deployment:
Civilian clothes: Not allowed for all deployments. Bring clothes appropriate for the culture and weather of the area you're going to.
PT gear or workout clothes
Mesh laundry bag
Sewing kit
Laundry detergent
Underwear and Socks: A good amount in case you can't do laundry for a while.
Toiletries

Toothpaste
Toothbrush
Floss
Soap
Deodorant
Feminine hygiene products
Chapstick
Shampoo and conditioner
Razor and shaving cream
Toilet paper: Just in case
Lotion

Extra pair of glasses: If you're blind like me, these are important! I've purchased glasses for as low as $15 (prescription lens included).
Medication: The amount needed for your deployment period, plus extra in case of an extension.
Condiments and seasonings: To give the food more flavor.
Food and snacks: Things that are easy to store and will last like granola bars.
Related Posts:
10 Strategies For Saving Money On Deployment
Best Side Hustles For Active Duty Military Members: Includes ways to make extra money while on deployment!