This post will show the best DIY home security ideas for military families; however, they are great ideas for anyone that needs an inexpensive or portable security system!
Okay, so here's what happened: We PCS'd (aka moved) to a new state and found a home to rent in a quiet little neighborhood. It was a great find, especially because many neighborhoods in this place are… sketchy.
Anyways, a few months go by and we feel lucky so far. There've been a few car break-ins here and there, but we always keep our car in the garage and locked with valuables out of sight.
We even left on vacation for a week and went to Paris! But then, the unimaginable happens.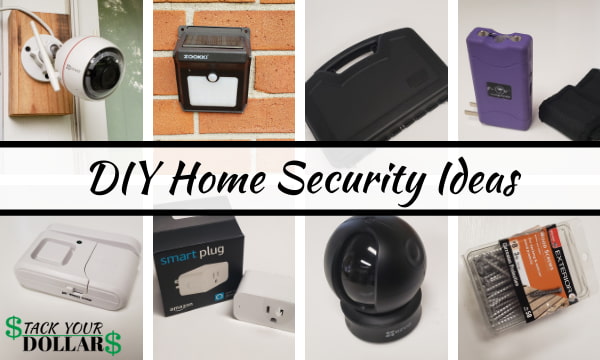 It started out as a normal day, and I went out to do some shopping and pick up groceries. Then I get a phone call from my husband.
Someone just attempted to break into our home and the police were on the way.
I was in the middle of the store pushing my cart and trying not to cry in front of everyone. But, I managed to stay calm-ish.
My first thought was about what I can do to make sure this NEVER happens again.
This post may contain affiliate links as a way to support the costs of this website (at no additional cost to you); however, I won't recommend products I don't believe in. View my full disclosure at the bottom of the page.
Home Security Tips and Tricks
These are some things I purchased to secure our home to feel safe again. They're all easy home security solutions that can be taken with you as you move around.
1. Door/ Window Alarms
Before going home that day, I stopped and picked up about $70 worth of GE sensor alarms for every single door and window. That was the only way I would be able to sleep in the house that night.
The best thing about these sensors is that they are a cheap way to secure your home, the installation is quick (just stick with tape), and they can easily be taken with you when you move. That is great for military families that move around frequently!
The biggest disadvantage, to me, is that you won't be alerted when they go off if you're away from the home like hardwired security systems. They can also be a bit hard to line up on some surfaces.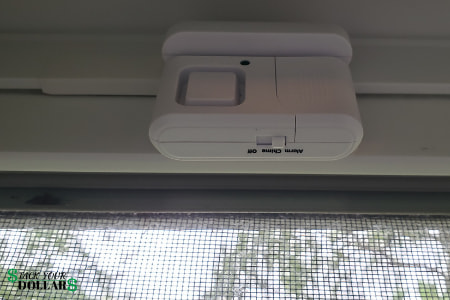 2. Self-Defense Weapons
The next thing that we purchased was a firearm. This wasn't on my list of home security strategies, AT ALL, but I eventually became comfortable with it.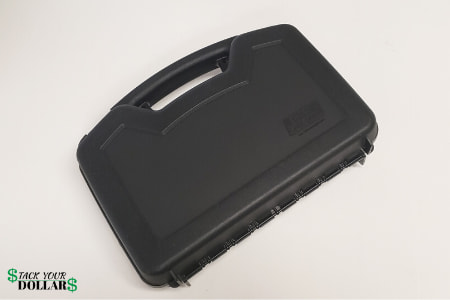 We bought this cheap case on Amazon and went to practice at the range. A friend who is a GM (Gunner's Mate) even came and gave us a lesson.
You might also want to buy a safe to keep it away from tiny hands and criminals. Safes can be hidden in an inconspicuous place then bolted into the wall or floor.
Other self-defense weapons besides a gun include: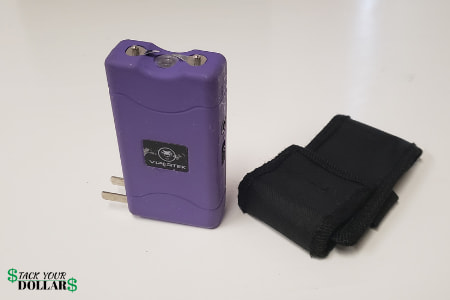 If you choose to purchase a weapon, be sure to look up the local laws for your area.
Also, practice safe habits and learn how to use them. You do not want to be in a situation where you are disarmed and the weapon is turned against you.
3. Outdoor Lights
These bright, outdoor, motion-sensor lights add an affordable layer of security. The great part is that they are also solar-powered! I've had them for over a year and they still work perfectly.
I purchased one to put over every entrance a thief would try to enter through. It's hard to sneak around if your every action is illuminated!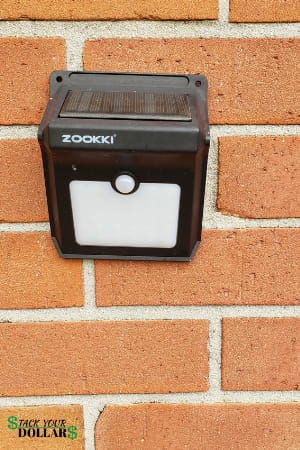 They are easy to install and have holes to put in screws. However, since we are in a rental, we bought outdoor double-sided tape, and that works great. Plus, it's easy to remove once we have to move.
4. Home Security System
We looked into getting a security system installed, but we couldn't find an affordable option for the few months until our lease ended. Instead, I purchased a wireless security camera (wired for charging).
I looked around at all the popular options:
However, I chose to buy an EZVIZ Outdoor Security Camera. It was more affordable than the other options and had great features:
Waterproof
Wireless
WiFi or wired internet connection
Plugs in for power (No dead batteries)
2-way audio (Useful for talking to unknown visitors)
Night vision
Motion detection
Strobe light and siren alarm
Connects to an app on my phone
Can use a Micro SD card for storage. (I use this cheap 16GB card)
They also had a $20 discount at the time, and constantly run other promotions! At the time of publishing this post, the camera is $15 off!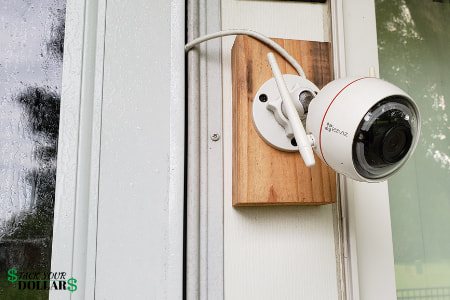 The only con is that it will sometimes send alarm alerts constantly due to the weather. However, other versions have smart motion detection.
TIP: The cameras have to be screwed into the wall. Since I'm not able to to that, I screwed them into wooden blocks then mounted them with double-sided tape.
5. Indoor Camera System
Every single bump in the night started to give me anxiety; it was weeks before I slept well. That's why I also purchased an indoor security camera.
This EZVIZ indoor camera has many features of the other one, but it also has:
Smart motion tracking
Pans and tilts
Almost 360-degree rotation
Any time I hear a noise or am away from home, I can quickly go on the app and look around the room with the camera. I can also see all the mischievous things my cat does when I'm not home!
Con: If it's set up too close to an object, the light will adjust the brightness to match when the camera turns to it. Then, it will send a motion detection alert.
But it is a great option for a cheap home surveillance camera. For an indoor camera, the Wyze camera might be a cheaper option, but it's easier to keep all our cameras in the same app.
Sidenote: I'm not a huge fan of indoor cameras due to the hacking in the news. That's why I always keep my cameras plugged out if I'm in the room. It's easy to just plug in and activate at night time and when you are gone.
6. Reinforce Your Doors
I recently also found out how easy it is for a burglar to force their way through a door.
According to 2018 FBI statistics, 56.7% of burglaries involved forcible entry. One of the cheapest ways to secure your home is to simply add a longer screw in the strike plate.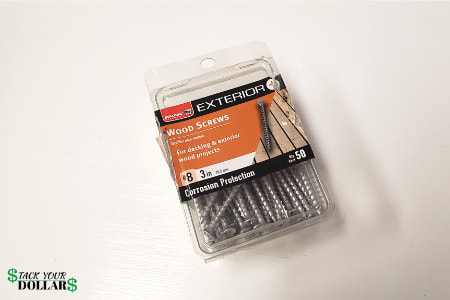 What is a strike plate? It's the little metal plate with a hole that a lock is bolted into. The small screws that they're typically secured with are easy to break when kicked-in.
Take a look at this video to see how easy it is to break a door in.
I was only able to put in longer screws, but that still adds a better measure of security. And if you don't have a deadbolt, ask your landlord to install one.
7. Lock Every Entry
Burglar-proof your home without spending a dime by locking every entry.
It's sad to say, but the whole situation could have probably been avoided if we had a padlock on our fence. Unless a thief is very motivated to get in, you can deter them by simply not making yourself an easy target.
A combination lock is a good option; however, I disliked only being able to enter the gate from the side with the lock. But, safety first!
It's also good to keep your garage latched and the door to it as well.
8. Don't Make Vacations Obvious
Don't let intruders know the best time to burglarize your home and get away with it. Here are some security ideas for your home when you'll be away, especially if for an extended time during deployments.
Do not announce your vacation on social media; hold off until your return.
Request to hold your mail or forward it to another address at USPS online or in-person at a post office.
Have a friend come by routinely to pick up fliers, mow the lawn, take the trash to the curb, etc.
Disengage the power to your garage door and padlock it. Some doors can be opened with a universal remote.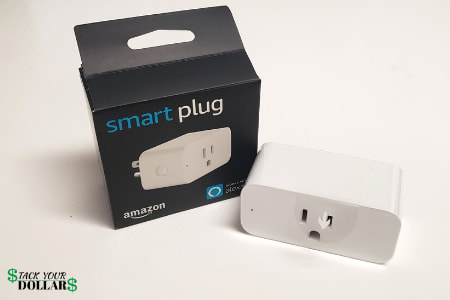 Schedule lights to turn on and off with an inexpensive outlet timer. Or, spend a bit more on a WiFi Smart Plug that you can control from your phone.
If you have any weapons, a safe is good. But, renting a locker at a range would be even safer.
Keeping Your Home Safe
What DIY home security ideas do you have?
There are a multitude of different ways to keep your home safe. It won't be like Fort Knox, but it can help you from becoming the victim of a crime.
Practice smart precautions that will stop burglars from targeting your home. Keep things locked up, and don't hide keys in obvious places.
Also keep your valuables out of sight from passers-by whether it's having curtains, blinds, or keeping your yard clear of items.