I was browsing the web and saw a query about eating on $5 a day. I thought… wow, that seems a bit difficult, but maybe it's possible.
Then after looking at meals I've made in the past and calculating the costs of the ingredients, I realized that I actually eat for UNDER 5 dollars a day sometimes but definitely always under $10 a day. The meals I eat are typically healthy, low-calorie, and certainly budget-friendly. In fact, I have another post detailing my monthly grocery shopping list of $200 for two people.
So I'm just here to tell anyone who's wondering if it is possible to live on $5 a day that yes, it is possible. Here are examples of meals you can eat throughout the day for only about $1 per serving. I share the exact cost of that I've paid for each ingredient and the breakdown per serving.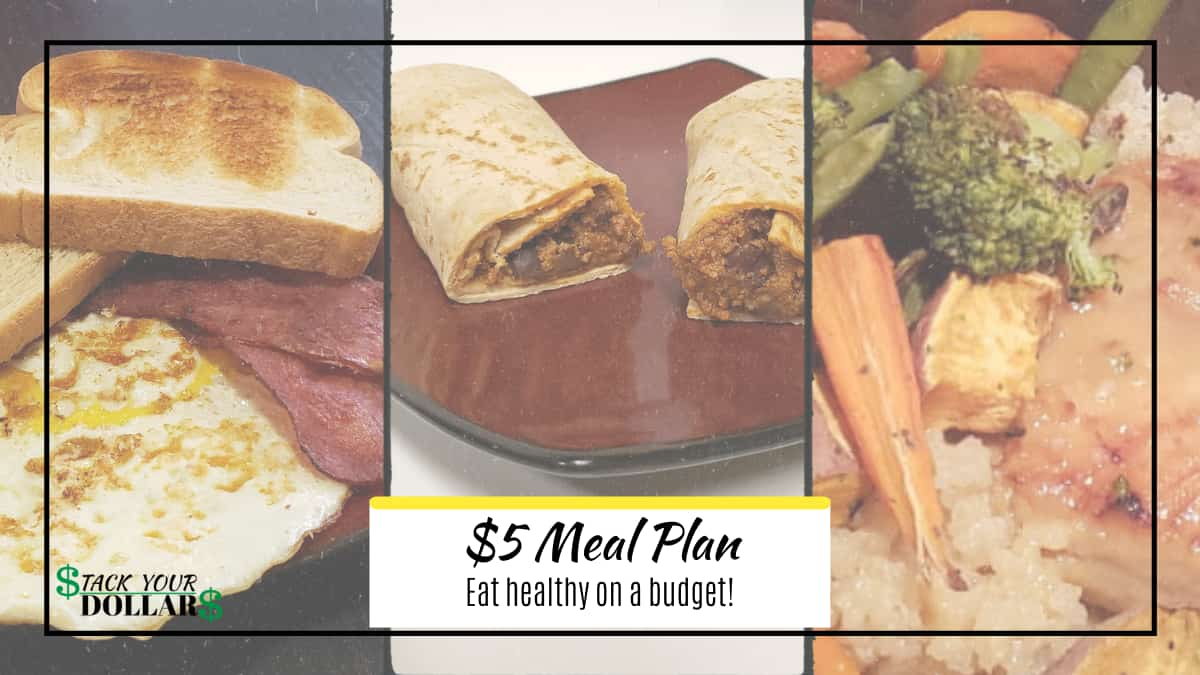 $5 A Day Meal Plan
These are some of the most common meals under $5 per day that I eat.
Breakfast: $1.31
There's nothing like a classic breakfast. Even though I have it almost every day, I still love it!
Bacon, Eggs and Toast
12 Eggs: $2 ($0.17 per egg)
Uncured Turkey Bacon (12 Servings): $3.72 ($0.31 per slice))
2-Pack Keto Bread (17 servings per package): $8.79 ($0.26 per slice)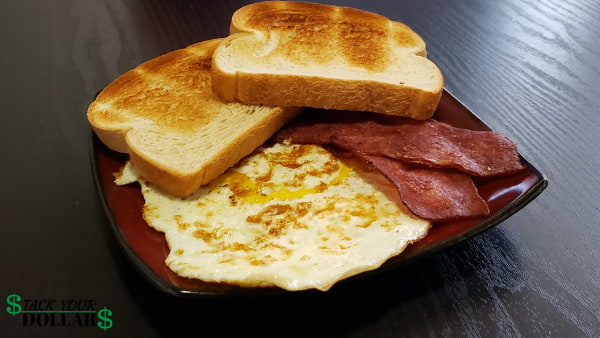 This breakfast of (1) egg, (2) bacon, and (2) toast would add up to: $1.31. I also eat oatmeal a lot, which is even cheaper.
Lunch: $1.32
These freezer burritos are something that I make often in a large batch. The total cost for all the ingredients come up to about $42.18, but you'll be able to make a total of 32 burritos! They are also under 200 calories, fyi.
Beef and Bean Burritos
1lb 96% Lean Ground Beef= $6.68 x 2
Mission Carb Balance Whole Wheat Burrito= $5.58 x 4
14oz Organic Black Beans= $1.16 x 2
14oz Organic Pinto Beans= $1.16
6oz Organic Tomato Paste= $0.96 x 2
1 Sweet Onion= 1.10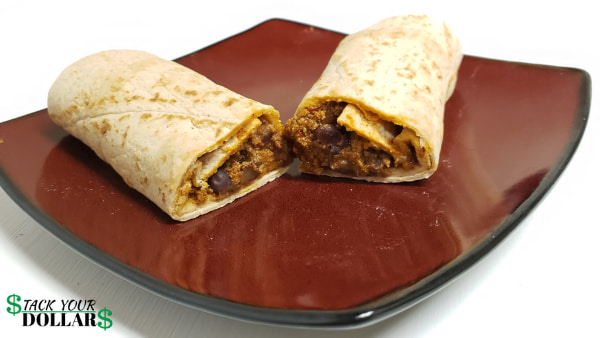 Each burrito comes out to about $1.32 each.
Dinner: $1.60
For this quick dinner, just season up your chicken and vegetables any way you like it and pop it in the oven. It's easy and delicious.
Healthy Chicken Stir Fry With Vegetables
Chicken Breast: $3.81/lb. ($0.95 per serving)
4.5lb Organic Quinoa (46 Servings): $10.49 ($0.23 per serving)
5.5 lb. Stir Fry Vegetables (26 servings): $10.99 ($0.42 per serving)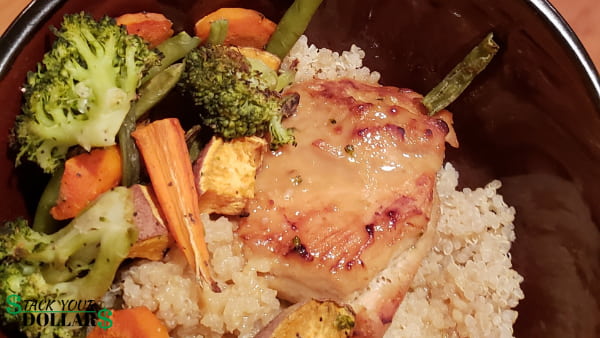 Total cost for a healthy dinner: $1.60
Conclusion
Whoa! Let's take a look at our totals. Breakfast + Lunch + Dinner= $4.23 per day.
What do you think now? Does cooking on a budget feel like a realistic possibility for you? If you need a few snacks in-between as well, there are many healthy options.
Snacks options for under $1:
Banana: $0.62/lb. ($0.16 each)
Chewy Granola bar (8-count): $2.69 ($0.34 each)
4-Pack Yogurt: $1.96 ($0.49 each)
Snack bag of chips: $0.50
Eating is necessary, but it doesn't have to be expensive. What delicious meals can you think of eating on a budget?