We all know about the four major credit processing networks in the United States: Visa, MasterCard, Discover, and American Express. But, did you know that American Express is a bank as well?
The American Express Company, also known as Amex, started as a freight forwarding company in 1850. Between the late 19th century and early 20th century, they introduced financial products and travel services.
Now they offer personal and business credit cards, prepaid cards, corporate programs, gift cards, savings accounts, and CDs.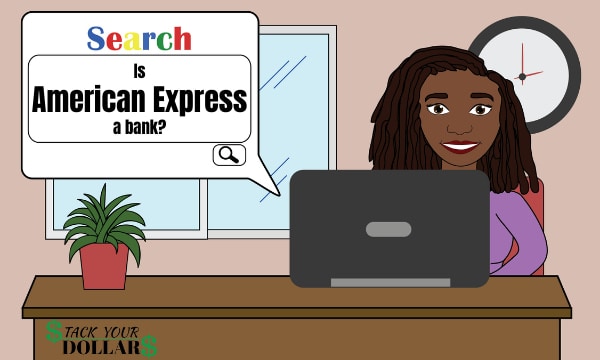 American Express National Bank
The American Express National Bank is an FDIC-insured bank that offers Personal High Yield Savings Accounts and CDs (Certificate of Deposit).
You won't be able to find an American Express bank near you because they only provide online-banking and have no physical locations or branches. The bank also does not send out any ATM cards, debit cards, or checks.
High-Yield account: A type of savings account that has a variable interest rate which is typically higher than average savings accounts.
Certificate of Deposit (CD): An account that offers a high return on your deposit with a fixed interest rate in return for letting the bank use the money for a specific time period. There is a penalty if you withdraw your money before. Amex offers terms from 6 months to 60 months.
American Express rates: As of 7/24/2020, they offer a 1.00% APY on the HYSA and 0.25% to 0.85% on CDs (depending on length).
Is American Express a good bank?
American Express accounts are a great option to park your savings and let your money grow, but it is not a good replacement to your primary bank account. The Amex bank does not offer checking accounts to do everyday spending.
Related: 7 Examples Of Why You Should Start An Emergency Fund
Benefits:
No monthly fees
No minimum balance (But an account with a zero balance will be closed after 180 days)
24/7 account access online or by phone
High interest rate
Disadvantages:
Online only
Does not offer ATM or debit cards
No checking accounts
My thoughts: Their high yield savings account offers a higher interest rate than my bank's; however, the rate for their CDs are lower. But the benefit of opening a CD with Amex is that they don't have a minimum deposit required for the interest rate.
How do you open an account?
To open an account, apply online or by phone (1-800-446-6307).
The account must only be used for personal and household purposes. Also, to open an American Express savings account you will need:
To be 18 years or older
A Social Security Number
An Email Address
A Phone Number
Your Date of Birth
Account and Routing numbers of an external account to transfer funds
To be a U.S. citizen or a resident alien with a valid Social Security Number (SSN) or Individual Taxpayer Identification Number (ITIN) with a home address in the United States
Useful Information:
Customer service: You can call them 24/7 at 1-800-446-6307
FAX: 1-800-542-0779
American Express savings routing number: 124085066
Mailing address:
American Express National Bank
P.O. Box 30384
Salt Lake City, Utah 84130
FAQ
What bank is associated with American Express?
Unlike other processing networks, you can get an American Express credit card from the company. There are also third-party issuers such as Bank of America, Wells Fargo, Citibank, US Bancorp, First National Bank of Omaha, USAA, Synchrony Financial, and Navy Federal. 
Is American Express a bank?
AMEX is a bank that offers and online-only account. They are FDIC-insured and offer both high yield savings accounts and CDs.
Does American Express have branches?
The Amex bank only offers online services and has no physical branches.
Is American Express savings FDIC-insured?
Yes, American express is insured by the Federal Deposit Insurance Corporation (FDIC). It is an independent agency of the United States government that insures the depositors principal plus interest up to $250,000.