Picture this: it's a crisp November morning, and the aroma of a roasting turkey fills the air. Your loved ones gather around the table, sharing stories, laughter, and, of course, a bountiful Thanksgiving feast. Those are the types of Thanksgiving I remember growing up and what I want to continue having and sharing with loved ones.
It's a time to express gratitude and share a delicious meal with your family and friends, but it's so easy for expenses to add up fast and that puts a damper on the holiday spirit. Well, I'm here to show you how you can have a memorable and cheap Thanksgiving without emptying your wallet. Here are nine tips for a budget-friendly celebration.
This post may contain affiliate links as a way to support the costs of this website (at no additional cost to you); however, I won't recommend products I don't believe in. View my full disclosure at the bottom of the page.
1. Make A Plan
Start by creating a budget for your Thanksgiving celebration. Determine how much you can comfortably spend on groceries, decorations, and other essentials.
Here are a few cheap Thanksgiving dishes to plan around:
Mashed Potatoes
Salad
Deviled Eggs
Cornbread
Baked Beans
Roasted Vegetables
Cranberry Sauce
Having a clear plan will help you stay on track and avoid unnecessary expenses. You can use this free Thanksgiving budget worksheet to do it.
2. Shop Sales and Discounts
Keep an eye on sales and discounts at your local grocery stores. Many supermarkets offer special promotions on Thanksgiving staples like turkeys, canned goods, and baking supplies.
Take advantage of these deals to save on your grocery bill. Waiting until the last second to shop will result in having to pay whatever price you can get on what's left.
3. Host A Potluck Dinner
Consider making Thanksgiving a potluck event where everyone brings a dish to share. You can make the main dish and have everyone bring a side dish, dessert, or drinks.
This not only reduces the financial burden, but creates a variety of dishes, and reduces the stress of preparing everything (that's the worst part for me!).
4. Choose Seasonal and Generic Brands
Opt for recipes using seasonal fruits and vegetables and generic brands when shopping for ingredients. Out-of-season produce is typically more expensive. You can even buy them cheaper frozen depending on the recipe.
Generic brands often offer quality products at lower prices than name brands. They sometimes even come from the same factory with just different labeling!
5. Visit a Food Bank
Sometimes, despite our best efforts to budget and plan, unexpected financial challenges can arise. If you find yourself in a tough spot leading up to Thanksgiving, consider reaching out to your local food bank, food pantry, soup kitchen, or church for assistance.
These organizations are dedicated to helping individuals and families in need, especially during the holiday season when many people come together to ensure no one goes hungry.
6. Make Homemade Decorations
Get creative with DIY decorations. Collect fall leaves, pinecones, and acorns to create centerpieces or wreaths. I like to go to dollar stores and check out their décor inventory, other stores will also have cheap items you can put together and make fancier.
You can make your own place cards, banners, and table settings using craft supplies you may already have at home.
7. Cook from Scratch
I've seen that simple things such as pre-seasoned potatoes cost way more than a bigger bag of them unseasoned. Instead of buying pre-made dishes, cook your Thanksgiving meal from scratch.
This not only saves money but allows you to customize your menu and accommodate dietary restrictions. Plus, homemade food often tastes better.
8. Limit the Guest List
Consider hosting a smaller gathering with just close friends and family. Fewer guests means less food, fewer decorations, and a smaller overall cost.
Quality time with loved ones is what matters most on Thanksgiving.
9. Meals from Leftovers
Plan to make the most of Thanksgiving leftovers. Transform turkey into sandwiches, soups, or casseroles. Use cranberry sauce for breakfast parfaits or desserts.
Using the leftovers to replace other meals throughout the week ends up reducing your regular grocery bill.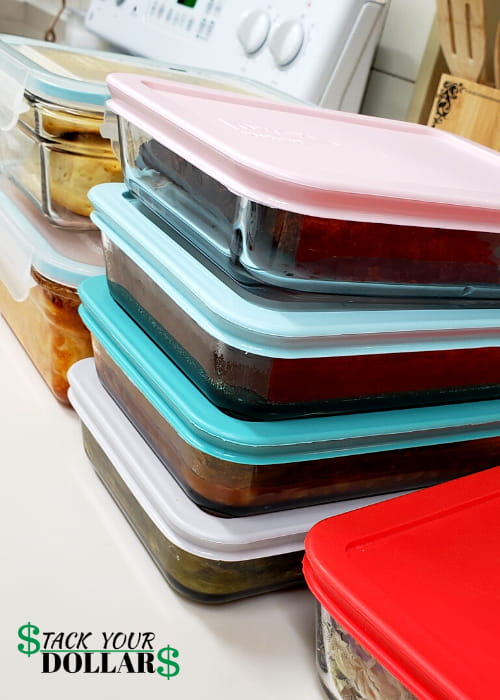 Also, if you don't have these Pyrex dishes, I recommend slowly investing in them as I did. I grab some anytime I see a good sale, especially around Black Friday. They're amazing to cook in and serve, then clean up easily by just sticking the lid on and putting it in the fridge.
10. Embrace Free or Low-Cost Activities
After the meal, engage in free or low-cost activities like taking a walk, playing board games, or watching a movie together. These simple activities can create cherished memories without spending a dime.
Conclusion
Thanksgiving is a time for gratitude and togetherness, and you don't need to spend a fortune to make it special. By planning ahead, making wise choices when shopping, and embracing the spirit of sharing, you can have a wonderful and budget-friendly Thanksgiving dinner that focuses on what truly matters – spending quality time with loved ones.
Now that we've got this holiday covered, take a look at this Christmas savings challenge with a free printable!