On Veterans Day, we pay tribute to the brave men and women who have served our country. This federal holiday, observed on November 11th, is a day dedicated to honoring and expressing gratitude to those who have served in the U.S. armed forces. Veterans Day originated as Armistice Day, commemorating the end of World War I in 1918 at the 11th hour of the 11th day of the 11th month, and later evolved to honor all American veterans.
For this special day, many businesses like to show their appreciation to those heroic past and present military members. They do this by giving out freebies, discounts, and holding events.
As a member of a military family, I'm always on the lookout for these special offers in my local area. It's heartwarming to witness how communities and businesses come together to honor our veterans. Plus… I can't deny that I love a good deal.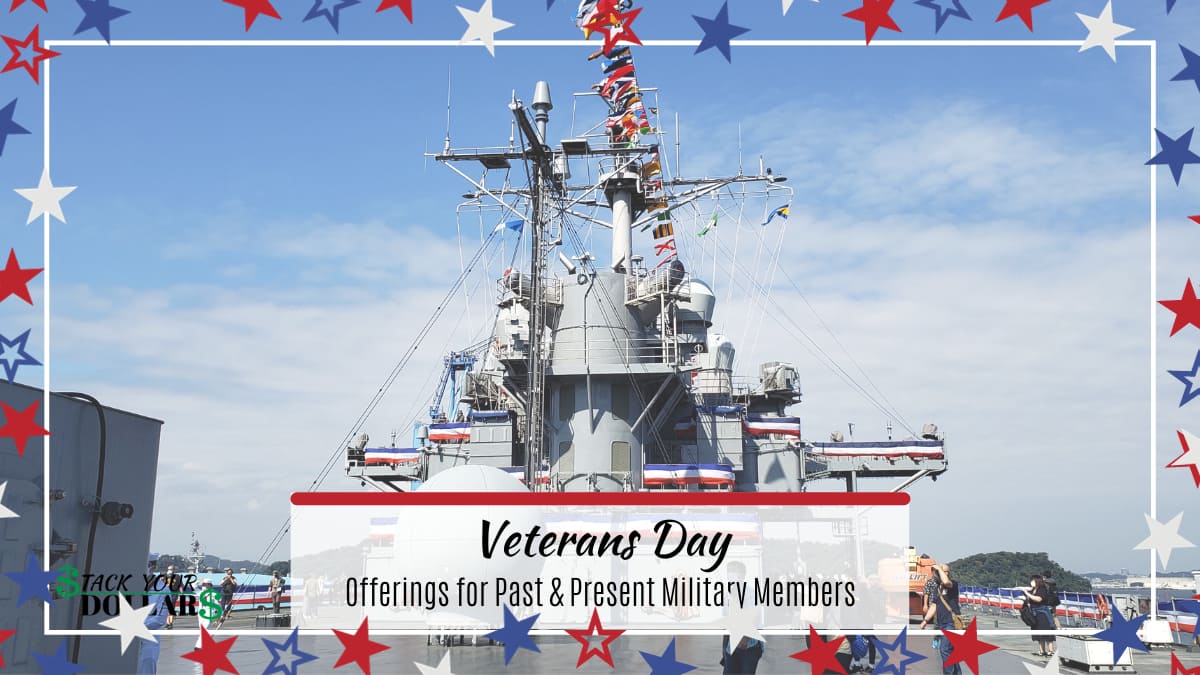 It's important to note that participation in these offerings may vary by location and date. Before planning your Veterans Day activities, make sure to call your local franchise or branch to confirm their involvement in these programs.
Free Meals For Veterans Day
Many restaurants nationwide are extending their gratitude to veterans with free meals on Veterans Day. From classic diners to upscale eateries, veterans can enjoy a complimentary meal as a token of appreciation.
Here is a list of restaurants to look out for and what they are currently offering or have in the past:
Applebee's: All Veterans and Active Duty Military members can receive a free entree from a select menu.
Bob Evans Restaurant: Bob Evans offers a special menu on Veterans day to Veterans and active duty military.
Buffalo Wild Wings: In the past, participating restaurants have offered a free small meal of wings and fries on Veterans Day.
Chuck E. Cheese: They have, in the past, offered a free personal cheese pizza to military members as thanks.
Chili's Grill & Bar: At Chili's restaurants, they have offered military veterans and active-duty members a free entree from a pre-selected list.
Cici's Pizza: Veterans and Active-Military can receive a free buffet from Cici's for Veterans Day.
Cracker Barrel: The Cracker Barrel Old Country Store is offering a complimentary slice of Double Chocolate Fudge Coca-Cola® Cake to U.S. military veterans.
Denny's
Famous Dave's: To thank veterans, this restaurant gave U.S. service members a free meal of a two-meat lunch combo.
Golden Corral: This buffet and grill is hosting a Military Appreciation Night on Monday, November 13, 2023 from 5pm to close. The offer is extended to the U.S. Military retirees, veterans, active duty members, National Guard, and reserves.
Hooters: This American wing joint, Hooters, has a Veterans Day tradition of giving military members a free dinner entree with purchase of a beverage.
IHOP: They have, in the past, given out complimentary pancakes to honor military members.
Little Caesars
Free Admission to Attractions
Museums, zoos, and attractions are opening their doors to veterans and often their families, allowing them to enjoy enriching experiences at no cost. Discover where you can explore for free this Veterans Day.
SeaWorld: There will be a Veterans day weekend of activities at SeaWorld from November 9th to 11th, wrapping up with a special fireworks show. However, a complimentary one-day admission is already offered through their Waves of Honor program.
Free Services
In addition to meals and shopping, veterans can take advantage of complimentary services on Veterans Day. Whether it's a free car wash, haircut, or legal advice, discover the services available to veterans.
There are some places that offer a free car wash on Veterans Day such as the following:
Brown Bear Car Wash: This is a car wash I found in Washington that gives former and current military a Beary Clean car wash on Veterans Day.
Soapy Joe's Car Wash: Soapy Joe's honors Veterans and Active-Duty Military (as well as spouses) a free car wash on Veterans Day. It requires first registering on their website.
Volunteer Opportunities
As we approach Veterans Day, a heartfelt way to truly honor the heroes who've served our nation is by volunteering. Consider giving back by volunteering with organizations dedicated to supporting veterans. Find local opportunities to make a difference and show your appreciation for their service at VA hospitals, State Veterans Homes, or other local organizations.
Conclusion
In conclusion, Veterans Day is a time to express our gratitude to those who have served our nation. In addition to this day, there are many other days throughout the year that businesses offer discounts and free things for military families.
Share this information with the active-duty military members and veterans you know, and let's come together to honor and thank them for their dedication and sacrifice.