Let me tell you, there's nothing quite like the feeling of getting something for free, especially when you're a military family. The support and appreciation shown to military families often come in the form of incredible freebies and discounted items and services. It kind of makes up for all of the moving and uprooting of our lives, having to give away perfectly good food and other items we can't take with us, and having to start over somewhere new and lost with doe eyes again far away from family and friends.
Now that I'm thinking about it, maybe it doesn't make up for all of that. But, it is a nice bonus that we can take advantage of.
From free admission to museums and national parks to discounts on various products and experiences, there are many ways for military families to save some hard-earned cash. There's a wide range of benefits waiting for you.
To get these free military discounts, you typically just have to show your military ID card. Now… Let's dive in and explore all the ways you can take advantage of these military-exclusive offerings!
Free Activities For Military Families
Whenever I PCS to a new area, I like to look up what is around that is free to do. It incentivizes me to get out of my shell and explore the area.
These are some of those programs that provide free recreational activities.
1. Blue Star Museums
I recently found out about this program and have been taking advantage of it ever since. This program was created by the National Endowment for the Arts and Blue Star Families with the Department of Defense to allow military families free access to museums across the United States.
Not only are there art, history, science museums, and kids museums, but also zoos, nature centers, and more participating. The kid's museum I went to in my area wasn't on the list, so there are probably even more businesses to discover by checking their website. It also wasn't much of a museum, but more so a huge activity and learning center.
The Blue Star Museums program begins on Armed Forces Day (the third Saturday in May) and ends on Labor Day (the first Monday in September).
2. Entrance to National Parks
On one of our PCS across the country, we made a pit stop to watch the sunrise over the Grand Canyon. This is when we found out that military families can get a free military annual pass from the National Park Service.
The pass allows unlimited access to over 2,000 national parks, national wildlife refuges, national forests, and other federal recreational lands. We've also been to Mount Rainier with it and might take a road trip to Yellowstone National Park next!
3. SeaWorld, Busch Gardens, and Sesame Place
Active-duty military and up to three dependents can get free access to either SeaWorld, Aquatica, Busch Gardens or Sesame Place once per year through the Waves of Honor Program.
I feel like I'm sharing too much, but this is a cool thing we discovered on our first PCS road trip.
4. San Diego Zoo
Most service members will probably end up in San Diego at some point in their military career. It's one of the largest military areas with several bases around.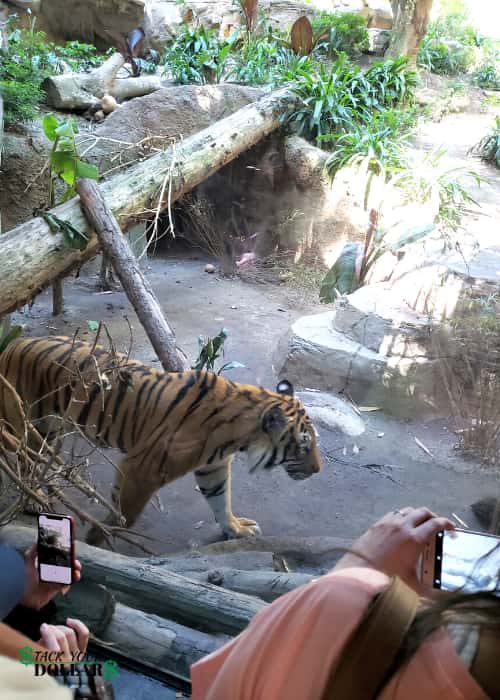 If you are there, it will be nice for you to know that the zoo is free for active duty military members to visit unlimited times. There is also a 10% discount for dependents.
5. Vet Tix
With the Veteran Tickets Foundation, military and veteran families can get access to tickets for sporting events, concerts, performing arts, educational and family activities.
In my area right now are tickets to a comedy tour, two concerts, a festival, and a few college soccer games. They only ask that you pay a small delivery fee to cover the cost of fees related to acquiring and transferring the tickets to you.
More Things Free for Military
Other than free things to do, products are great to receive as well. These are some of the free products and services that I know of for military families.
1. Tutoring
If you or your child needs help with school work, Tutoring.com offers free help for military families. They can provide tutors in more than 150 subjects and test-prep areas online 24/7.
2. BuildASign
This company offers a free welcome home banner for military families. I like to make my own sign, but a combo of both would be so sweet!
3. Tax Services
I dread tax time, but being able to use the MilTax software for free tax filing and receive consultation does help. It makes it easier since many of us military families have to file taxes for multiple states or self-employment taxes from side hustles or opening a business. This is something that other software typically charges extra for despite having the basic tax forms free for military members.
TurboTax is also free for enlisted military members up to E-9.
Military Family Discounts
These aren't free, but they are good discounts that can be taken advantage of.
1. Base Activities
Larger military bases usually have a range of free or low-cost activities that you can do. They typically have a movie theater, bowling alley, and most bases will also have a gym with low-cost classes and a pool.
2. MWR Navy Community Recreation Tickets & Travel (formerly ITT)
The Community Recreation Center on military bases is a great place to get discount tickets to amusement parks, special events, and other recreational activities. You can also receive assistance with travel plans.
3. myFFR
My Fleet & Family Readiness is one of my favorite sites to use and sign up for classes, activities, and trips organized by the base.
I've been on many trips through them and had an amazing time. It's not always cheaper than the price you'd spend to go separately (especially if you have a larger family), but the cost to be driven roundtrip to the places is more than worth it sometimes.
This is a trip I took with the MWR where we learned how to snowshoe. It's something I would have never known about or thought to organize myself. The best part is, they provide the equipment with your trip fee.
4. Various Restaurants, Stores, and Businesses
Some companies are known for giving discounts to military families. However, there are many less known and small businesses that offer this benefit as well.
Just take the chance to ask and see. Usually, it won't be much of a discount and just cover tax, but that's better than nothing! The last place I received a military discount was at a car repair shop, and I was surprised they really had one!
5. Microsoft Office
There used to be a Microsoft Home Use Program (HUP) that made Microsoft Office free for military members with a nominal charge for electronic downloads. However, now they only offer Microsoft 365 at a 30% discount.
FAQ
Can you get a free house in the military?
No. The military does not pay for a house for military members. What they do receive, is a stipend called a Basic Housing Allowance (BAH) which attempts to compete with the cost of housing in the area they are stationed.

However, this money is only meant to cover part, but not all, of their housing costs. It also shouldn't be considered as extra income, but part of their compensation package that in total adds up to an average income. 

Also, BAH is not a military dependent pay and it does not increase with dependents.
How does the military help you get a house?
People in the military are eligible to get a VA Home Loan, which allows them to buy a home without a down-payment or the private mortgage insurance (PMI) that would be tacked on without one.
Does the military give you a car?
No. Service members do not get a free car when they join the military. However, many shady dealerships like to prey on new and naïve members due to their steady income.

For many recruits, this is their first stable full-time job and they may get a little bit too excited when purchasing items. This allows the car salesman to lead them into high-interest car loans, which is one of the top financial mistakes military members make.
Can soldiers fly for free?
Military members do not fly free with airlines. They can receive discounts, but I've found them more expensive than prices I can find elsewhere. Some airlines, however, will allow free bags to be carried when you travel.

The military will pay for flights, but only those to support the mission, such as PCSing overseas or going to a school.
Is Six Flags free for military members?
Most Six Flag parks only give a discount to military families. However, some parks allow active-duty military members and veterans admission for free on Memorial Day or Veteran's Day.