It's a common misconception that military members are rich, and some new recruits think that as well when joining.
This train of thought, along with poor personal finance knowledge, has led to disastrous financial mistakes by service members.
In truth, a newly enlisted member is only making about $1917.60 (pre-tax) per month. That's only $23,011 per year and $11.06/ hour (2080 work hours per year).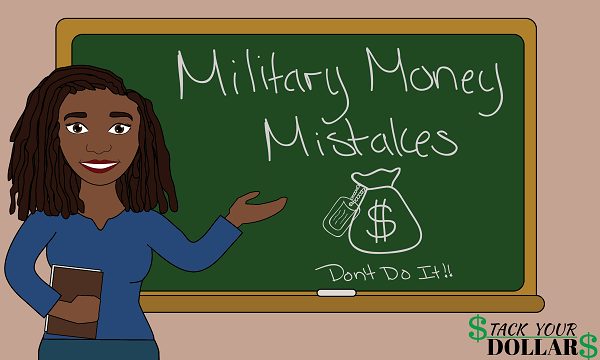 According to the 2021 Financial Literacy and Preparedness Survey by the National Foundation for Credit Counseling (NFCC), 29% of the population has debts in collections.
When you're new to the military, personal finance might not be the top thing on your mind. However, the financial mistakes and debt you accrue now can stick with you for years to come.
Here are a few do's and don'ts for common money mistakes that will help you avoid economic hardship:
1. Don't: Buy a High-Interest Rate Car
New recruits usually join the military at the age of 18 years old and might be excited to buy a new car with their first steady paycheck. This huge financial mistake is what leads many to believe that the military gives you a free Camaro when you join.
However, there are many car dealerships that prey on military members, especially these newly enlisted ones. These car dealerships are usually located near bases and advertise seemingly great deals to attract service members.
Once there, shady and aggressive car salesmen have duped military members into buying cars that they can't really afford. They know that they have a stable and reliable paycheck coming in, they can locate you and get your pay garnished, and you're most likely new and inexperienced with financial matters.
So… What better way for them to show their appreciation for you serving our country that a high-interest loan?
What to do instead:
Read reviews to find other's experiences at the car dealerships, this will help you avoid mistakes people have already made.
Ask for advice from older service-members and your higher ups.
Comparison shop. Don't get persuaded into getting what the car dealer says is a "great deal", always negotiate, and don't be afraid to back out of a bad deal before signing.
Consider buying a used car in good condition, new cars depreciate rapidly just from driving it off the lot.
Figure out the total price of the car before buying. This includes the monthly payments, getting an insurance quote, the amount to register it, how much gas costs, and the expenses for maintenance and repairs.
2. Don't: Blow Your Money on Deployment (or After)
With the military providing all your necessities such as lodging and meals while deployed, one would think that you can save a lot of money during this time.
However, around deployments is when some service members overspend and waste the most money on things such as:
New laptops, game systems, and other tech before going on deployment.
Hotels, entertainment, and frivolous purchases while on deployment.
Spending the money saved while deployed on lavish cars and vacations.
These purchases can account for hundreds to thousands of dollars in money that could be saved.
Military spouses remaining at home also have to watch what they spend, boredom can lead to unnecessary shopping trips.
I, for one, also ordered out more because I hated cooking meals for only myself. However, once I realized how much I was spending, I started to meal prep for the whole week instead.
All this isn't to say that you shouldn't spend money at all, but that when you do, you should be making smart decisions.
What to do instead:
Make a budget and give yourself an allowance to have fun with.
Avoid emotional spending and only make purchases your budget can afford.
Transfer extra money into a savings account.
Follow these strategies for saving money on deployment.
3. Don't: Get a Pet You Can't Afford
I know no one wants to hear this, but you have to consider if you are financially, physically, emotionally ready to have a pet, especially while in the military. I have seen many people looking to re-home their pets for a variety of reasons.
Having multiple pets, large breeds, or "aggressive" breeds can make your rental choices very limited, even with military housing. You could end up spending a lot of money on rent and pet fees to find somewhere to live.
Not only that, but there are the routine costs of food, flea medication, vet visits, pet insurance, and pet-sitting while on vacation.
Some military members also don't consider what will happen to their beloved pets when a deployment comes around. While there are great organizations that will help you find someone to foster your beloved pet when gone, do you also have the finances ready to afford a long-term boarding facility?
The military also does not pay transportation fees for your pets when PCSing. This could cost you a few hundred dollars if traveling within the country, but could add up to way more when going overseas. If you're not able to get one of the very limited spaces on a military flight, you might have to pay thousands of dollars in fees at an airline.
My husband and I would love to have a rottweiler, and I recently found a sweet girl in need of a home; Unfortunately, we are waiting until the day we are no longer renting or living the unpredictable military lifestyle.
What to do instead:
Though you can simply not pick overseas orders, at the end of the day the choice is usually "needs of the military". Save money to have an emergency fund for any unexpected fees.
Look into organizations such as Dogs on Deployment and Guardian Angels for Soldier's Pets for deployment care. The Dogs on Deployment Pet Chit Financial Assistance Program also helps to ease the financial burden when PCSing, along with the SPCA International's Operation Military Pets.
If you do come to the unfortunate decision of having to re-home your pet, look at these suggestions on how to responsibly do so.
4. Don't: Jump Into Home-Ownership
Buying a home looks like a great option when military members can get a VA loan that requires no down payment.
You don't have to waste money every month paying someone else's mortgage and you can build equity in your own place. Best of all, you have the freedom to do what you want in your own home without the restrictions set forth in leases.
Related: Military Housing Cost Comparison: Rent, Buy, or Military Housing?
However, with those freedoms, is also the unwanted freedom of paying for absolutely everything. No longer can you call the property manager if something breaks, you'll have to come out of pocket to fix it yourself. If you are not prepared for these unexpected fees, they can send you into debt.
Not only that, but it also doesn't always make sense to buy a home. Military members are not usually at the same place for a long time. When owning a home for only a few years, the majority of your mortgage payments are only going to the interest on the loan, property taxes, and insurance.
This means that without a big appreciation on the value of your home, you may not recover the cost of your investment, leading you to the choice of either renting it out or losing money.
Compare the cost of renting instead! Our first apartment was a bit small but saved us a lot of money. Now we spend all of our BAH on rent, but we don't have to assume the financial risk of things breaking and losing money from an early resale.
I calculated all the costs of renting and owning a home at our location, and assuming the home had no issues and we broke even on it, it would be the same amount as renting. If you plan to buy a home instead:
What to do instead:
Save money and have a plan to cover every eventuality. One military family bought a home due to their orders to stay in the same place another few years, only to be hit with surprise PCS orders after 4 months.
Buy a home that you'll be able to rent easily, i.e. a good neighborhood, school zone, etc.
5. Don't: Eat Out Everyday.
Last but not least, is a money mistake I've seen made by everyone, from service-members to civilians. I know some people who buy lunch at work everyday. Do you do this? The money can add up and affect you without you even realizing it.
Think about it, you might spend at least $5 on lunch every day. That's $25 a week and about $1,300 dollars a year! If you're spending more than $5 or eating out for breakfast or dinner as well, that's even more money going down the drain.
However, I know it can be a challenge to bring lunch, especially for single military members without the means to cook in their living quarters. Here are a few lunch ideas for everyone:
What to do instead:
To have lunch for the next day, I used to cook extra servings of dinner for leftovers.
Recently, I've also been meal prepping for the week, and making easy meals to freeze (like burritos).
Buying frozen or shelf-stable meals and snacks at the store can also save you a significant amount. Examples: The classic PB&J, granola bars, canned soup, instant rice, tuna or chicken packets, oatmeal, yogurt, etc.
Related: Saving Money In The Military: 38 Tips By Milsos
All of them can put you in positions where it is hard to save money and you can end up in debt.
Also, there are military finance classes available to you for free! Check out your local base for classes on money management, credit management, home ownership, retirement planning, and more!
FAQ
Do you make a lot of money in the military?
You don't make a lot of money as a service-member, but you do make a livable wage. Enlisted members don't make much, but ranking up to an officer can greatly increase your income. Also, there are a few other pay benefits depending on location and eligibility. Learn more about military pay.
How can I get more money in the military?
Side hustles! You can monetize on your hobbies and skills, rent a room to another military member, or one of the various other ways to make extra money in the military.
Is it financially smart to join the military?
Joining the military is a smart financial decision if you take advantage of all the benefits. You can receive free healthcare, education, and more!
Do you have any expenses while in the military?
You will have all of the same expenses in the military that you do outside of it. Rent/ mortgage, cable bills, cellphones plans and anything else you subscribe for will still need to be paid unless they are cancelled.
Is food free in the military?
Food is not free is the military, but you do get a Basic Allowance for Subsistence (BAS).
How much does it cost to join the military?
You do not have to pay to join the military. Instead, you get paid and may even receive a bonus incentive depending on the career field chosen.
How much money should I have saved up before getting out of the military?
When retiring from the military, it would be smart to have about 12 months of savings or more. This is to afford setting up a new life in the place you wish to settle in and as a buffer between acquiring a new job.
Think this information could be useful to others? Share me!