If you're a visual person like me, here's a cool and creative way to level up your money game! Hold onto your piggy banks because today we're talking about something that's gonna make budgeting a whole lot more exciting, financial vision boards!
Now, you might be wondering, "What in the world is a financial vision board, and how can it help me save money?" Well, think of it as a magic wand that grants you the power to visualize your financial dreams while keeping you motivated and focused on your budgeting goals. Trust me, it's like budgeting meets Picasso, with a dash of daydreaming thrown in for good measure.
"Imagination is the eye of the soul." – Joseph Joubert
So, grab your scissors, glue, markers, and a big ol' stack of magazines… it's time to get crafty with our wallets!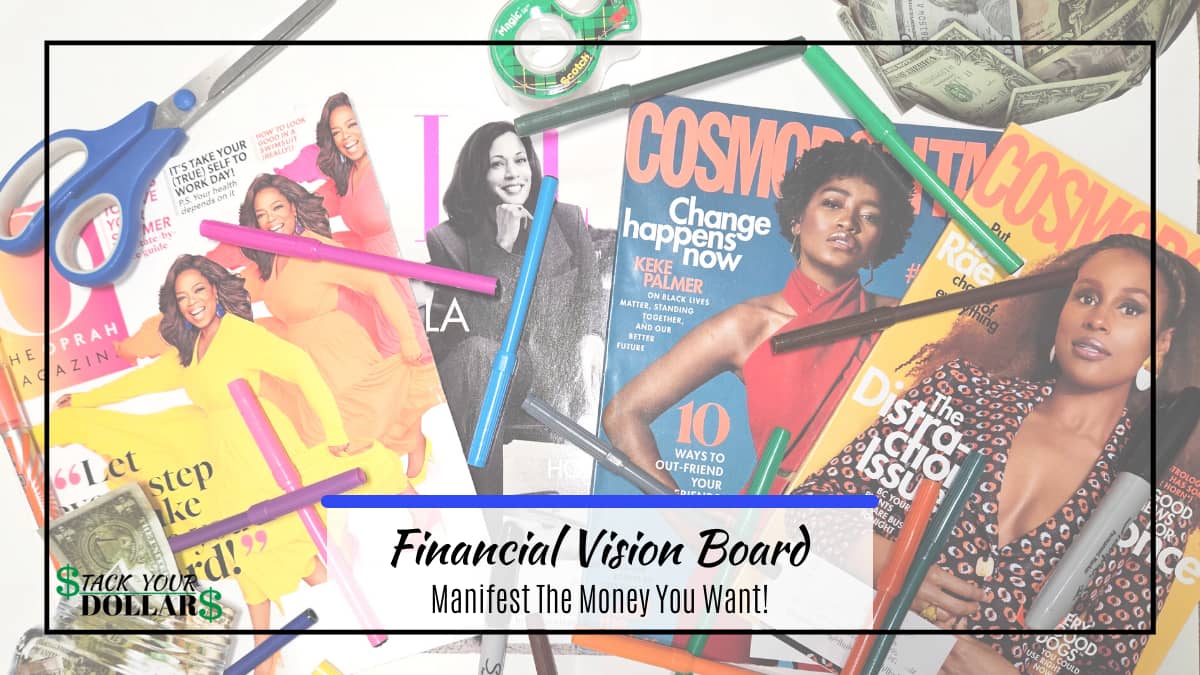 What is a Financial Vision Board?
A financial vision board is a visual representation of your financial goals and aspirations. It's like a colorful collage of images, words, and phrases that bring your dreams to life. By creating a physical manifestation of your financial goals, you're giving them a tangible form that can serve as a constant reminder and source of motivation.
"If you can imagine it, you can achieve it. If you can dream it, you can become it." – William Arthur Ward
Here are a few ways a vision board can help on your money journey:
Visualization: A wealth vision board helps you visualize your financial goals by bringing them to life through images and words, making them more tangible and easier to focus on.
Motivation: By displaying your financial dreams and aspirations, a vision board serves as a constant source of motivation, reminding you of why you're working hard to save and make wise financial choices.
Clarity: Creating a vision board requires reflection on your financial goals, helping you gain clarity and a clear direction for your financial journey. Example: Instead of just saying you want to be rich, you're focusing on the exact things that you want when searching through for images in a magazine.
Manifestation: A financial vision board taps into the power of the law of attraction, sending a strong message to the universe about what you want to achieve and helping you manifest your financial dreams into reality.
What should be on a financial vision board?
Now you're probably wondering… what the heck should you put on a vision board for money? Well, my frugal friends, the short answer is ANYTHING you want!
Yep, you heard me right. You're the captain of this artistic ship. But just in case you need some inspiration, here are a few ideas to get those creative juices flowing:
Homes: Have you dreamed of owning a cozy cottage surrounded by trees or a luxury condo with an infinity pool? Whatever home resonates with your style, you can pick it.
Cars: I used to dream of owning a cherry-red convertible. Now I'm more inclined to dream of lower gas prices! But if there is a certain car you'd like, put it on your board!
Vacations: Snip out pictures of breathtaking bungalows on the beach in Bora Bora, foreign cities, or snow-capped mountains. Let your wanderlust be free!
Material Things: Are you eyeing that fancy dress, swanky crocodile shoes, or sleek new electronic device? Find images to cut out that represent the things you wish you could easily afford. It's all about manifesting!
Financial Milestones: I hate to be in debt and I'm sure you do too! You can use images to manifest the financial goals you want to achieve like paying off a student loan or having the downpayment for a home.
Inspiring Quotes: Words have the power to speak to your soul! Motivational quotes, like "Save like a squirrel, spend like a boss!" or "Good things happen to those who hustle."
Personal Aspirations: Remember, a financial vision board is all about YOU. If you have personal goals like starting a side hustle, pursuing further education, reaching financial independence, or even retiring early to live out your dreams, go ahead and include visuals that represent those aspirations
Vision Board Example
Here is my money vision board. I included a mishmash of images and words that represent my dreams, and goals, and will inspire me.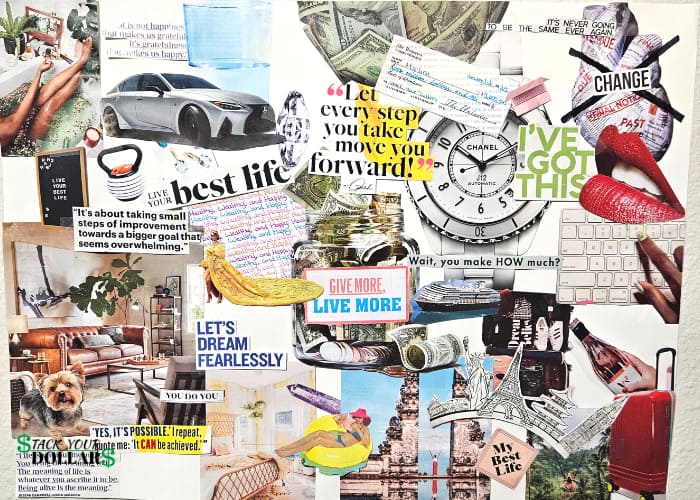 I loosely separated my board into different sections. The top right is financial and work goals. The bottom right is my travel dreams. Then the left side is a blend of life and home aspirations.
Here is what some of the things I cut out represent for me:
1. Financial Freedom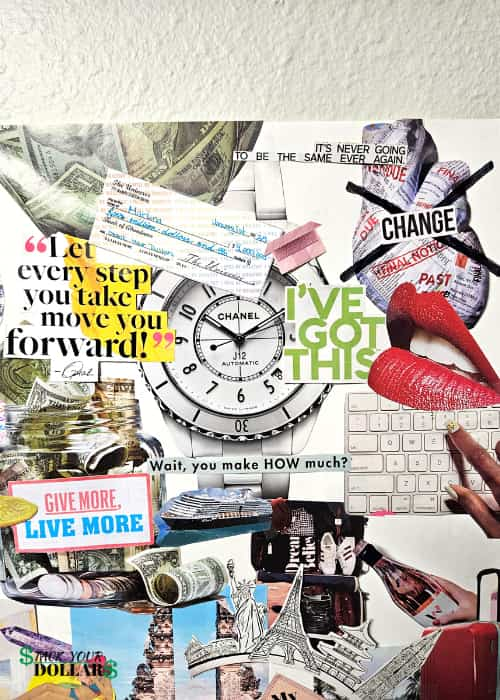 Heart-wrapped in bills: The heart is a representation of the financial stress that comes along with money problems and struggling to pay bills. I crossed the heart out with an "X" and put the word "change" over it, along with the words "It's never going to be the same again."
Manifestation check: I wrote an abundance check out to myself to receive $4,000,000 in the year 2025 for my work. This serves as an affirmation that my hard work and goals will get me where I want to be.
2. Travel Goals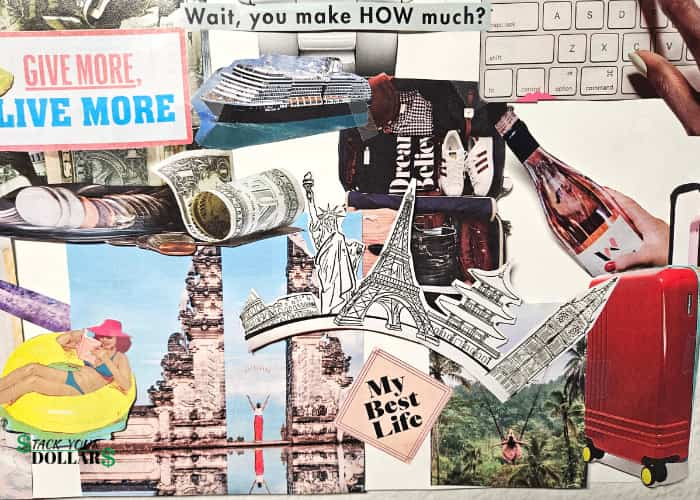 Travel Images: The pictures of different destinations and the quote, "My Best Life" are a representation of my dreams to travel all over the world.
Wine Bottle: Though I don't drink much, this image is here to reflect being able to just kick back and relax on vacation without worrying about anything.
3. Life Goals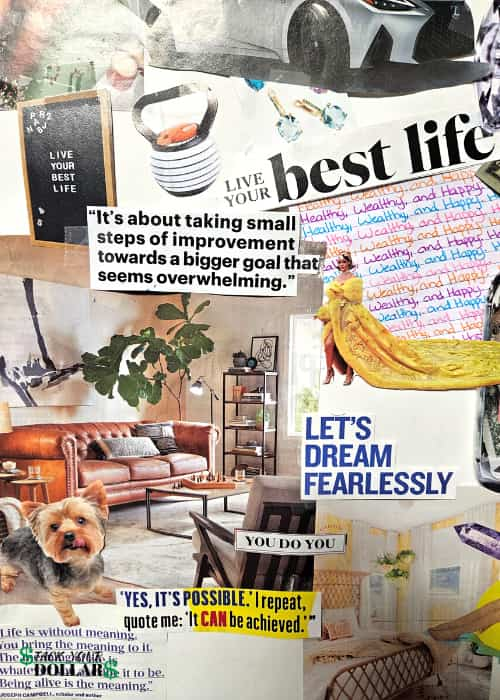 "Healthy, Wealthy, and Happy" Mantra: This financial affirmation serves as a declaration that I will be in good health, wealthy in financial and all other aspects of my life, and receive the happiness I want.
Home Décor: I want to manifest a beautiful and peaceful home. These images represent that financial dream of affording a good home life.
So, there you have it, a glimpse into my fabulous vision board. Remember, yours can be as unique as you are! Let your dreams, goals, and quirks shine through. Get creative, have fun, and watch as your vision board becomes a powerful tool in your financial journey.
Creating a Wealth Vision Board
Now that you've seen mine, would you like to make your own board? Here are the steps to create a wealth vision board:
Gather your materials and supplies
Selecting and cutting your motivators
Placing and gluing
Displaying your vision board
1. Gather your materials and supplies:
To create your wealth vision board, start with the basics. You'll need a sturdy board, scissors, glue or tape, and a stack of magazines. You can also use markers, colored paper, or any other craft materials that you'd like to personalize with.
2. Selecting and cutting your motivators:
Flip through those magazines and start cutting out images, quotes, and symbols that align with your financial goals and aspirations. Look for visuals that represent the things you want to achieve, such as dream homes, cars, travel destinations, dream homes, or financial milestones. 
Choose images that excite and motivate you!
3. Placing and gluing:
I think this is the fun part. Now that you have the images you want to use, arrange them on your board. You can scatter images in any way that is visually appealing, or set up sections for different goals such as "Living Debt-Free," "Career Goals," or "Vacation-Mode."
You can also use the markers to write down specific financial goals or phrases or add items such as a manifestation check. This board is all about you and your financial journey, so do what feels right.
4. Displaying your board:
Once your financial vision board is complete, display it in a visible place where you'll see it every day You'll want a spot like on the wall in your bedroom, on the fridge, or above your desk so you can keep it in sight and so that it serves as a constant reminder of what you're working towards.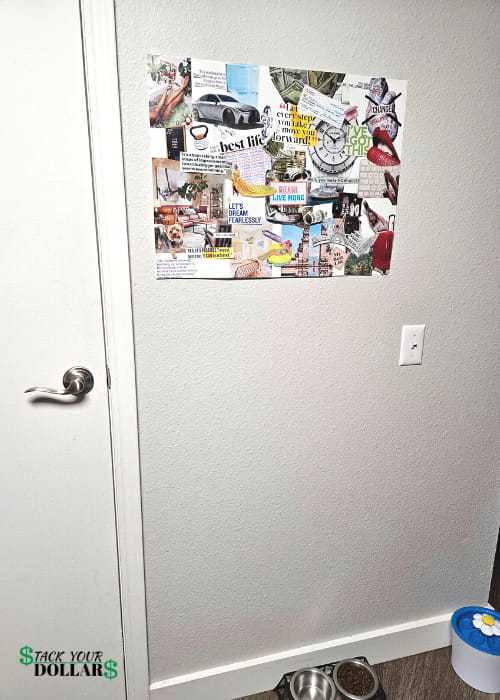 Turning Your Financial Vision into Reality
While a financial vision board can be a helpful tool, it should be complemented by concrete financial planning, budgeting, and action steps to turn your vision into reality.
"Visualize this thing that you want, see it, feel it, believe in it. Make your mental blueprint, and begin to build." – Robert Collier
Financial planning involves assessing your current situation, setting goals, and developing a strategic plan to achieve them. Budgeting is essential for aligning your spending and saving habits with your financial goals. By prioritizing savings and making mindful choices with your money, you can ensure that your vision becomes a tangible reality.
However, it's not enough to simply plan and budget; you must also take action. Your vision board should serve as a reminder to take practical steps such as increasing your income, reducing debt, and investing wisely. Taking consistent action is crucial for turning your vision into reality.
Creating your board is only the beginning. By combining your vision with thoughtful planning, disciplined budgeting, and intentional action, you can transform your financial dreams into achievable goals.