One of the best decisions for my wallet was starting to eat these cheap, easy meals on a budget of $300/mo. When I decided to eat healthy meals, it forced me to buy fewer groceries because I stopped overindulging and spending excessively on junk food.
I'm not saying I don't eat some junk, but I buy way less now and only fit it into my daily calories if possible. Making meal plans to avoid spoilage and shopping monthly also made a major change in my buying habits. I share an example of all the items I typically purchase in my healthy budget grocery list for adults.
Note: These meals are only MY idea of healthy. I do not take into account food groups, macronutrients, or established dietary guidelines. However, I do think they are far healthier than prepackaged meals and fast foods.
Though my meals and grocery list have changed a lot due to living abroad and trying to eat less meat, I'll share different meals throughout all of my journeys.
This post may contain affiliate links as a way to support the costs of this website (at no additional cost to you); however, I won't recommend products I don't believe in. View my full disclosure at the bottom of the page.
Weekly Meal Plan For 1,200 Calories
A weekly meal plan is a great way to save money. I don't know about you, but every time I go shopping without a list, I end up picking up things that I don't need and might even end up spoiling. Even if you are eating more calories than this, having a plan will help you avoid spending excessively.
You can have specific meals for every day of the week, or plan certain meals and have it any day you feel like it. I also love to make bulk batches and freeze them for lazy days.
Note: I will add what I know, but I don't remember the calories for all of these meals. However, they are all under 500 calories.
Disclaimer: This is the amount of calories that I eat and I recommend speaking with a nutritionist to find the amount appropriate for body. However, once you know what to eat on as little as 1,200 calories, it's easy to up serving sizes to adjust calories.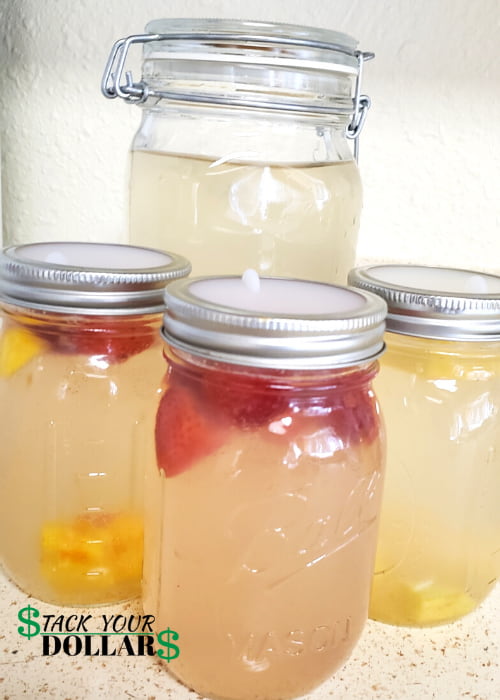 First of all, I made a huge change by switching to water and making water kefir (probiotic drink). It ferments and can become fizzy like soda. Juice and soda have a surprising amount of calories!
Related Reading: Here's an example of a whole day of eating for less than $5.
Breakfast
Breakfast is usually my smallest meal for the day along with a large mug of tea.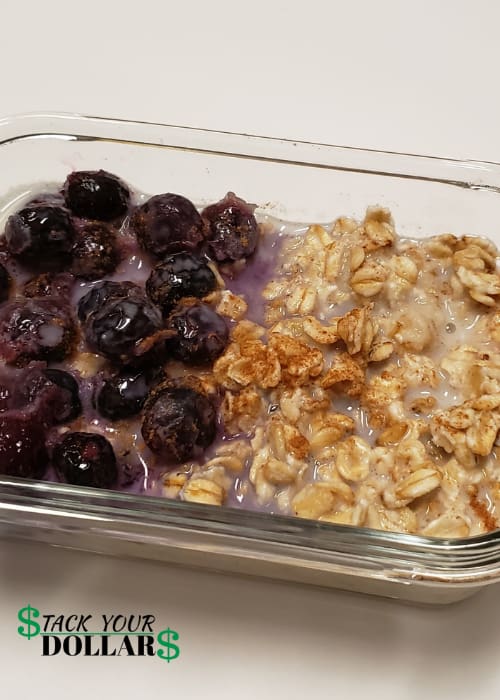 Oatmeal with blueberries and sprinkled with cinnamon in almond milk. About 220 Cal.
Yogurt mixed with chia seeds and topped with bananas and cinnamon. About 167 Cal.
Yogurt mixed with chia seeds and topped with strawberries, bananas, and granola. About 242 Cal.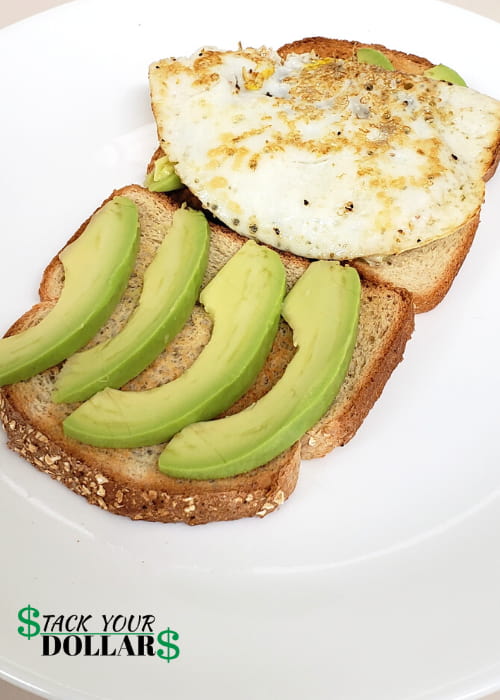 Toast with avocado and egg whites. About 179 Cal.
Spinach wrap with scrambled eggs, turkey bacon, spinach, and bell peppers.
Egg muffins baked in a hash brown crust. It's filled with turkey bacon and veggies. Yum!
Egg whites, turkey bacon, and a waffle with maple syrup. About 242 Cal.
Breakfast wrap with egg whites and turkey bacon. About 177 Cal.
English muffin egg sandwich and tea. The sandwich has a turkey patty and egg whites. 218 Cal. (without tea).
Lunch
Many of my lunches are meals that I have for dinner as well.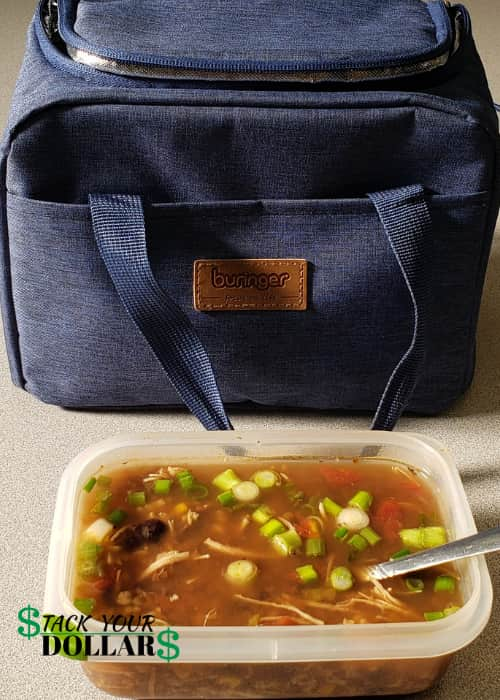 Chicken tortilla soup topped with scallion. This is an image of my lunch at work, isn't that a cute lunch bag? I love these snap lid containers so the soup doesn't leak. I make large batches on this in the crock pot and freeze it all for easy lunches. They're usually around 275 calories per bowl.
I also have a bulk batch of guacamole that my husband makes and freezes.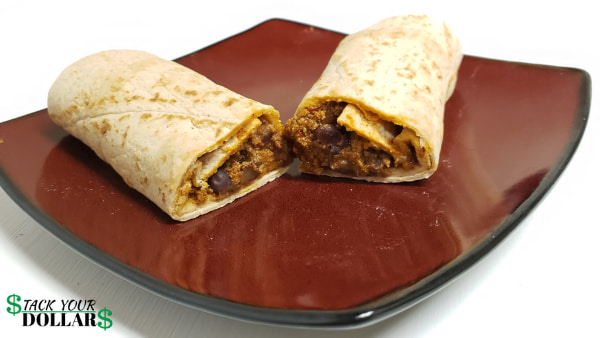 I make these homemade burritos in a large batch and freeze them. They're delicious and come up to about 192 calories each.
BLT with a salad on the side.
Shredded chicken in pita bread with baby spinach and tomatoes.
Veggie wrap with avocado, mayonnaise, mustard, baby spinach, onions, and tomatoes.
Dinner
These are some of my favorite healthy meals for weight loss while being on a budget.
Burger on low-calorie bread topped with turkey bacon, guacamole (the one I freeze), onions and bell peppers. On the side is some delicious blueberry water kefir.
Pizza with bell peppers, onions, turkey pepperoni, and cheese. My half is the one without cheese. I bought the premade crust at Costco.
Vegetarian chilli made with kidney beans, diced tomatoes, and corn. Toppings include sour cream and scallion. This was 297 calories before the toppings.
I love this Thai red curry with mixed vegetables, bamboo shoots, and rice. It's made with this red curry paste and tweaked to taste even more delicious! This meal is 340 calories.
I meal prepped a few plates of the red curry and added them to the freezer for days I don't feel like cooking.
Vegetable sushi roll with avocado, carrots, bell pepper, and celery. These are two rolls and about 322 calories.
When I don't feel like rolling them, I put all the ingredients together in a bowl instead. It tastes delicious as well!
Meatloaf with broccoli and carrots.
Pasta salad with carrots, tomatoes, onions, and cucumbers. Every pasta salad I make is different because I just add whatever produce I have in the fridge. The pasta and salad dressing alone are usually about 260 calories.
Snacks
Like I said earlier, I still like to have my treats here and there. I feel that fitting in these things where I can helps me to keep eating healthy and make it a long-term change.
Rice krispies treats (mini squares): 45 calories
Fruit cups
Pretzels
Mini chip bags (the 50 cent ones)
I found these popped chips at the dollar store and fell in love.
Candy (be careful with this one!)
What do you think about these cheap meals for weight loss? Are there any you'd like to share?