Congratulations on becoming a homeowner, or preparing to be one! In preparation, it's good to become familiar with all the common bills for a house that you'll have to pay. These hidden costs of homeownership have the potential of breaking your budget if you're not aware of them.
After purchasing your new home, some of these expenses can unexpectedly come along at any time. That's why it is good to have some money set aside at the beginning after paying your down payment and closing costs.
Here are some yearly and monthly expenses to budget for with your new home: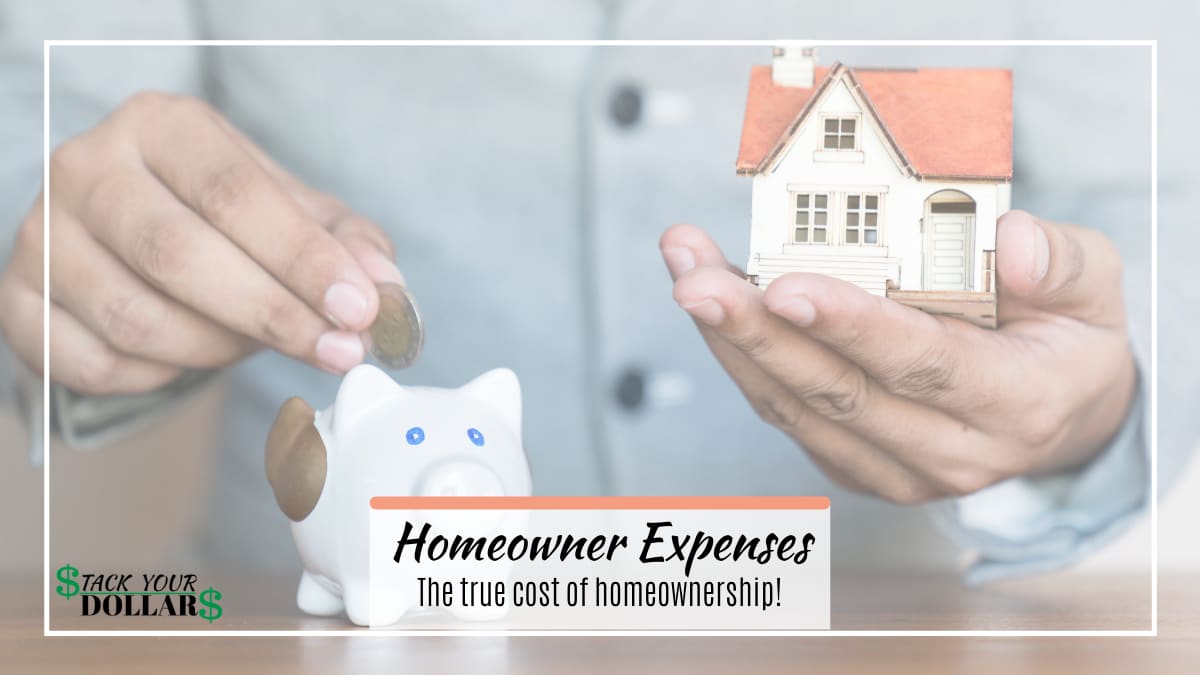 Homeowner Expenses List
This is a list of bills to pay when owning a house that have the potential to break your budget. While you're making plans, these are the expenses not to forget when buying a home:
1. Mortgage
I know you're already aware of the home loan for your new place, but we'll just add this one first to make it a complete list.
Unless you're able to pay completely out of pocket, these monthly payments are typically spread over a 30-year or 15-year loan. The amount due is made up of principal and interest payments. The principal is the amount borrowed, while the interest is the amount that your lender charged for borrowing the money.
TIP: Paying extra money towards your principal every month will lower the interest paid and shorten your loan payoff time. But, make sure to specify where you want those extra payments applied!
2. Property Tax
Depending on where you live, property taxes can be .3% to 2.5% of the assessed value of your home per year. It is an ad valorem tax that has the potential to go up or down every year when your home's value is reassessed.
3. Private mortgage insurance (PMI)
A PMI is usually required by your lender when you make less than a 20% down payment towards the home's purchase price. It protects the lender's investment in the case that you default on the loan. PMIs can range from 0.5% to 2% of your mortgage amount or more.
NOTE: If you qualify for a VA home loan, it does not require a down payment and will not include a PMI.
4. Home Insurance
This is typically required in order to buy a home and protects your investment (and your lender's) from theft, damage, fire, etc.
5. Flood Insurance
Most homeowner's insurances do not cover damage caused by a flood. Additional flood insurance may be required by your lender if you live in a flood zone. It may also be a smart investment in case of natural disasters.
6. Home Warranty
One downside to owning a home is that you can't call your landlord and threaten to move out anymore when something breaks! Everything falls upon you to get fixed now.
A home warranty may cover most of your home systems (HVAC, heating, plumbing) and appliances. If anything happens, these repairs (or replacements) can be quite expensive. It is also good to have an emergency fund for these unexpected expenses.
Typical price: $400 – $700 per year
NOTE: It is possible to negotiate and have the seller pay for the first year.
7. Home Security
Feeling safe in your home is important and I recommend that everyone have home security. You can either purchase a home security system for a monthly cost or set up your own DIY home security system.
8. Homeowner's association (HOA) fees
If you live in an HOA community, you'll have to pay these fees towards the maintenance of common areas and it may cover some utilities as well. These fees vary widely by area and can be as low as $50 to costing thousands.
9. Utilities
If you've been a renter, utility costs are already expected; however, the utilities for a home can cost more with the extra space.
Typical utilities include:
Electricity
Gas
Water
Garbage/ Sanitation
Cable, Internet, & Telephone: Other than the monthly fee, your home may need the initial set-up costs to be wired for them.
10. Regular Maintenance
As a homeowner, you will also have to cover the maintenance of your home. These include things like:
Lawn and Garden care
HVAC system maintenance and filter replacement
Pest control (see my DIY pest control guide to save money!)
Replacing light bulbs and alarm batteries
Bottom Line
Homeownership is an amazing experience, but it can turn into a tremendous burden if you're not prepared for the associated costs. Before settling on a home purchase price, take into account some of these expenses as well.
It may turn out that you'll have to adjust your budget or purchase a smaller home. Also, here is another list of monthly expenses that includes all your costs of living to budget for.