I don't want to work anymore. I am tired!
I'm tired of getting up every day. I'm tired of struggling through the tedious workday. I'm so tired of working!
These, and more, were my thoughts when I decided to quit my job. I just didn't want to work anymore!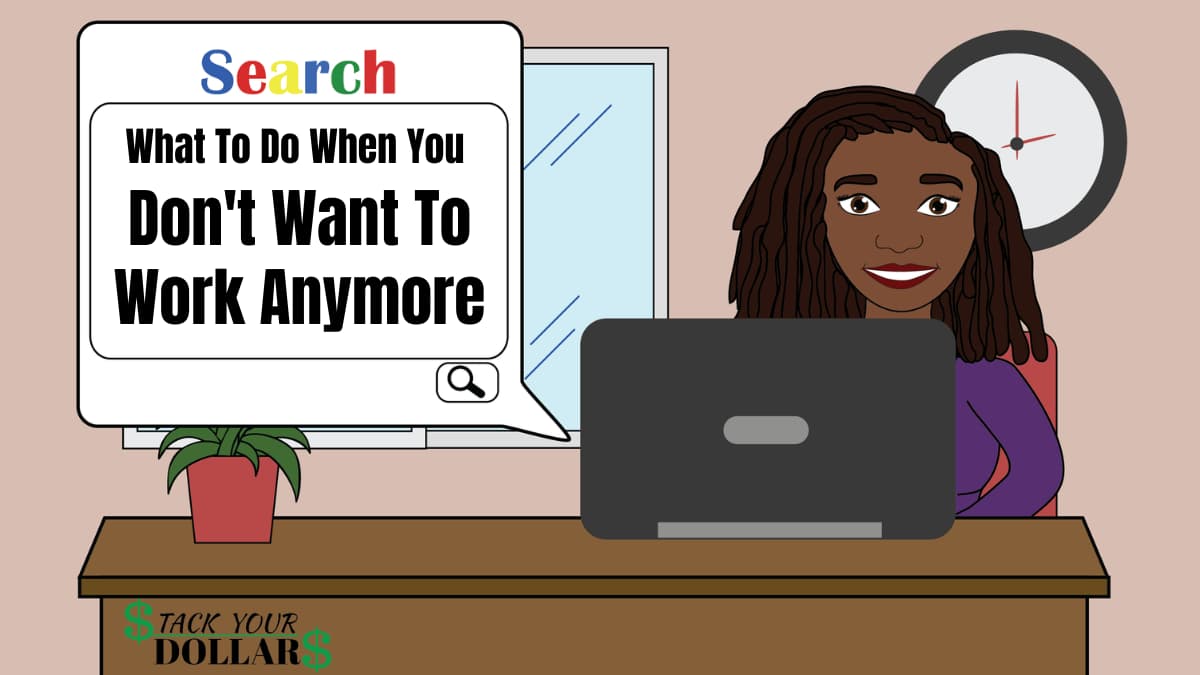 Why I decided to make the change
I'm a military spouse and was living thousands of miles away from my family and friends. I hadn't made any new friends yet, my husband was on deployment, and the deployment curse was coming in FULL FORCE that year.
The atmosphere in the company I worked at also changed when people started getting laid off by the handful. Due to that and other circumstances, I was physically, emotionally, and mentally EXHAUSTED.
After a long email-chain of communicating with my husband, I decided to quit my job and put in my two weeks notice. I am no quitter and rarely even take days off, so this was an agonizing decision for me!
Things didn't immediately get better, but it allowed me the time I needed to focus on my well-being. Eventually, I found a job that I LOVED.
This is how we got to a place where I didn't have to work:
1. We live frugally on one income.
Quitting your job without a plan is a bit reckless. But, we keep our expenses so low that we can easily manage them with just one income.
If you have decided you don't want to work anymore, start by making a budget and cutting back on your spending.
These are a few ways that you can easily cut everyday costs.
2. We have an emergency fund
Even without having low expenses, we also have prioritized saving over the years. We've built an emergency fund to cover any unexpected circumstances, such as unemployment.
Before deciding you don't want to go back to work tomorrow, start by saving 3 to 6 months of money. You might even need more depending on the difficulty of securing a new position in your field. This is a better option to have some money to tide you over if you don't have someone to help cover the bills.
RELATED: Learn how to financially prepare to quit your job with these 9 steps.
How to get over work apathy:
It's normal to not want to work anymore. It's exhausting to keep working when you don't feel like it. But I understand that not everyone is in a position where they can wake up and decide to quit their job.
It may also just be a temporary feeling and you need help getting out of a rut. The reasons why you don't feel like working anymore can include:
A toxic work environment
Bad management
Poor work/life balance
Health issues
Problems at home
Stress
Long commute
Start by figuring out why you're starting to hate your job, and work towards making your situation better. Here are some suggestions:
1. Talk to your boss
Some things can be solved simply by talking to your boss/ manager. You would be surprised at the lengths some companies will go to so they can accommodate and retain good employees.
Your employer may be willing to let you work at home to avoid a long commute, work a more flexible schedule to balance home life, etc. You will never know until you take the step and ask.
2. Take a break
I've always tried to be a great employee. I never called out or took a vacation. I took extra shifts if I was a called in and I worked longer hours if it was needed.
This just leads to employee burnout. "All work and no play makes Jack a dull boy."
Sometimes you may just need to take a sick day, and relax.
Go on a vacation and enjoy yourself.
Take a stay-cation and do absolutely nothing.
Or, just make it a point to enjoy your weekends by having fun and enjoying new experiences. Gaining a more positive outlook on life may be the answer to your problems.
3. Start working part-time
It's a tendency to increase our spending as our income increases. I mean… if you have it, why not spend it?
But doing this only increases your expenses every month, which means you have to keep working to keep up that lifestyle. It's a vicious cycle!
If you are tired of working 9 to 5 and 40-hours every week, you could probably just cut back on your cost of living. Budget in a way that you can live from working fewer hours and start enjoying your extra free time.
Other than working part-time, you could find a job with a more flexible schedule. Maybe you would prefer working longer shifts, and less days per week.
There is also plenty of work from home positions that you could apply for.
Related: Over 100 Companies That Allow Remote Work
4. Find a different job
This job just may not be for you. The worst thing you can do is stay in a job that you hate going to every day.
If you don't want to work anymore but need the money, find a position that you can do work you find meaningful. Don't waste your life being miserable! Instead of quitting right away, start applying for a new job first.
Or maybe you just don't want to work for anyone again? You could start a side hustle that earns enough to replace your full-time income.
Many people find it lucrative to drive for ride-share companies, do freelance work, or start their own small business.
This blog is just one of multiple streams of income I have been working on to be my own boss. Because if I am honest… I don't want to work. But since I have to (plus I get bored easily), I will find a way to do it on my own terms.
Related: How to Make Money by Blogging
Change is never easy, but don't continue down the same path that is bringing you unhappiness. Figure out the problem, and find the best solution for you.