Some of the biggest budget-busters are things that we don't realize we're spending so much money on. There are numerous things to stop buying to save money and get your savings under control.
I have always been a frugal spender, but there have been things I didn't realize I was spending more money than needed on.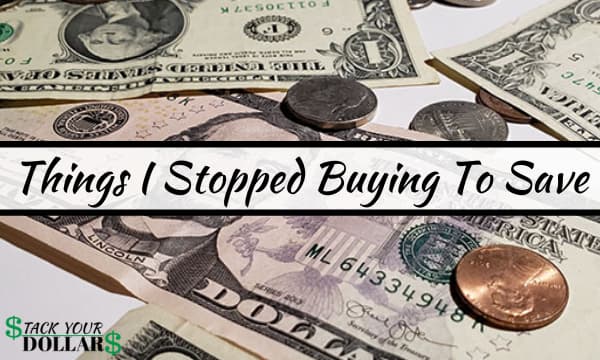 These are the things I quit buying to save money:
This post may contain affiliate links as a way to support the costs of this website (at no additional cost to you); however, I won't recommend products I don't believe in. View my full disclosure at the bottom of the page.
1. Buying In Bulk -> Buying What's Needed
Buying in bulk to save money makes sense, and I always recommend it.
Buy More = Save More
But that's not always the case. Sometimes buying in bulk makes you waste money.
Take into consideration how much of something you will actually use, and if you'll do that before it expires.
In my family, it's just my husband and I. We used to buy fresh produce in bulk, but some of it would end up spoiling all the time.
2. Random Grocery Buying -> Meal Planning
As a matter of fact, buying groceries in general without meal planning made us waste money.
I used to go shopping every week, and sometimes multiple times per week.
There was always something needed for the meal I wanted to make, and I always ended up making impulse purchases as well.
Our budget was set at $300/ month, but this way of shopping made it hard to stick to that!
Since we started planning out our meals for the month, we've been able to stick to shopping only twice per month. Once for the majority of the list, and a mid-month trip to get fresh produce.
3. Expensive Glasses -> Online Shopping
As if being blind as a bat wasn't bad enough, it's also expensive.
Between the eye exams, frames, lenses, and contact lenses, things get VERY EXPENSIVE quickly.
On average, I used to pay around $200 for the frames + lens, and maybe less if I could find a cheap pair.
Then came the glorious day I learned that you could buy prescription glasses online cheaply. I bought a basic pair to try out that came up to only $19.85, and they are great!
A few months later, I went back to the website to buy my husband prescription sunglasses for $38.80.
There's a better selection of low-cost glasses to choose from than in the stores, and there is also a virtual "try on" option.
There are several sites you can choose from:
Glasses as low as $6.95
Price includes the frame and basic prescription lenses
Standard shipping is $4.95
If you have bad vision like myself, the total cost with high-index frames was cheaper for me with Zenni. I purchased these two glasses for a total of $44.42 (plus a 10% military discount). The glasses on the right includes a blue-light blocking lenses which cost extra and came with a light to test it.
Glasses as low as $6
The lenses cost about $7
The lenses for higher prescriptions cost extra
Shipping is $5.95 and free for orders over $99
Frames for $39
My lens did not cost extra
Shipping is $4.95 and free for orders over $99
Look at both websites and go through the motion to purchase the glasses. For my prescription, the total with $39 glasses was cheaper for me.
4. Buying Books -> Library Checkouts
For the past 3 years, I've gone through an average of 100 books per year.
Yes, I AM A BOOKWORM! I can't help myself! Reading for hours could be the reason I need glasses.
I just love flipping through the pages and getting lost in different stories. Audiobooks have also been an awesome way to multitask while working.
Imagine how much all those books would cost though! The most expensive one I've ever bought is around $17.
But, now I pay… absolutely NOTHING.
How? By making use of my local library.
They have an online digital collection called Overdrive where you can instantly download ebooks, audiobooks, and videos (mostly of children's books). The only thing is, there might be a waitlist for the title you want.
But that is why I love Hoopla! If your library is connected with them, you can sign up to checkout 5 titles per month without a wait. They have audiobooks, ebooks, music, movies, comics, and television shows.
5. Bottled Water -> Filtered Water
According to the Beverage Marketing Corporation, Americans bought almost 14.4 billion gallons of bottled water in 2019 for over 19.4 billion dollars. Of that, about 10.1 billion gallons are single-serve sizes.
That's a lot of plastic waste! Instead of continuing to contribute to that, we chose to buy a water filter pitcher.
Filtering water saved us over 80% per gallon than buying bottled water.
Then I switched to using the Big Berkey water filter system, which saves even more.
I purchased the Big Berkey for $220, but now it will only cost 2 cents per gallon of water.
There are several different sized Berkey systems to choose from and each filter purifies 3,000 gallons of water! My sibling bought the system my family has been using for about 10 YEARS!
6. Paper Towels -> Dish Towels
I initially switched from using paper towels in order to help the environment. My family used to use several rolls of paper towels every month.
But then I added it up and that was about $17 per month and over $200 per year.
WOW!
Now I don't have dishtowels just for decoration, we use them to dry our hands as well.
I will usually buy a single roll every month from the dollar store that we may or may not use all of. So that turns into at most, $12 per year!
7. Coffee Shop -> Coffee Maker
I prefer tea, but my husband loves to drink coffee in the morning.
While he didn't go to expensive coffee shops, or even get it every day, it still can cost quite a bit of money at the end of the month.
If you love coffee, one of the things to buy to save money is your own coffee maker.
We buy a $12 bag of coffee that lasts about 1-2 months of drinking coffee every workday. In comparison, a $2 cup of coffee every day for a month would be $40.
A regular coffee machine is much cheaper than the popular Keurig, but we bought ours at an open box store for a great discount.
PRO TIP: To be even more frugal, buy reusable k-cups instead of coffee pods!
We also have insulated Contigo travel mugs that keep our drinks hot for HOURS.
8. Vending Machine -> Stocking Up In Stores
Buying vending machine snacks is another one of the sneaky ways you can end up going over budget every month.
It was especially a problem when my husband was on deployment!
We realized quickly that we needed to start stocking up on snacks at the store instead. I also periodically sent more in care packages.
Related Topic: 10 Strategies For Saving Money On Deployment
9. Overeating -> Serving Sizes
In an effort to get healthier and lose weight, we started to count calories and watch our food intake.
It worked, and we started to lose weight quickly!
What we didn't expect was how much it also saves money!
Overconsumption of food made us spend more money on groceries than needed. We also drastically cut our dining out expenses since we were making all of our own food.
Related Topic: Cheap Foods To Lose Weight Fast
10. Clutter -> Minimalism
Buying things you don't need is another way that we waste money. To save money, you have to stop shopping.
After moving several times in the past few years, I started to realize just how much STUFF we were accumulating.
Since then, we've started taking time to think about every purchase. Is this item necessary? Is it worth the cost? Will it still be used in a few months?
Thinking this way has allowed us to cut out the clutter and save money. In contrast, here are some things to buy that I haven't regretted.