"I'm late, I'm late! For a very important date! No time to say 'hello, goodbye,' I'm late, I'm late, I'm late!"
What date do you say? The date with your budget of course! It's past time to take control of your finances and get your budget under control. And to help you with that, I've made some free budget printables and worksheets just for you!
What is a printable? Oh, it's just a cute name for a digital file that you can easily print out.
Don't put it off anymore. All you need to get started is a printer, paper, and something to write with!
Print out all the budget worksheets that you need and create a budget binder. It's a great way to stay organized and keep track of your spending, savings, and overall finances.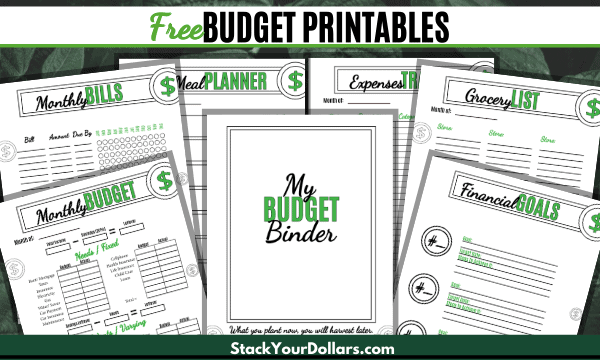 Free Budget Binder Printables
If the pen and paper method works best for you, these free budget worksheets will certainly help. In order to get these free budget printables in pdf form, sign up for my mailing list and click here to access the pdfs once you get the welcome email with the password.
2024 Savings Challenge
Increase your funds by saving $2024 in the year 2024 with this money savings challenge.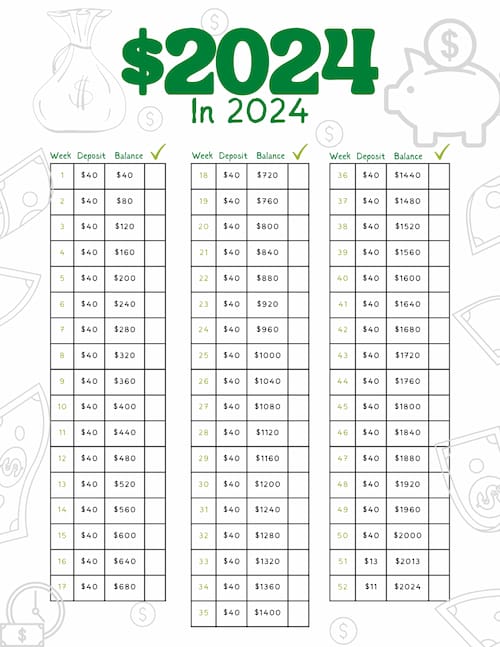 Monthly Budget Printable
When you create a budget, you'll be able to see exactly where your money is going every month. This is the first step to getting your finances in order!
It will help you see where you need to adjust your monthly expenses to reach your goals.
Related Reading: How To Live On A Budget: 17 TIps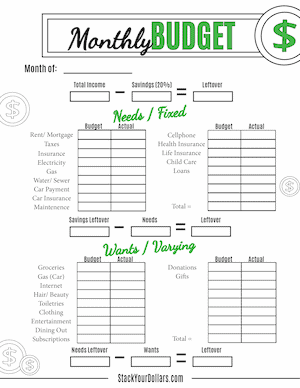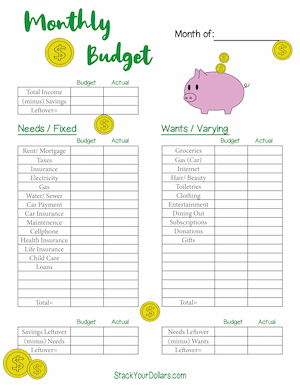 Expenses Tracker Printable
Have you ever blinked and your money is just GONE? Where in the world did it go so fast?
The truth is, those little purchases that we make here and there add up and can make a significant impact on our wallets. It's one of the reasons why some people find it so hard to save money and budget!
Use this expense tracker worksheet in order to keep track of how much money you're spending every month. It will help you know where your money is going so you can adjust and stick to your budget.
Related Reading: Ways to Lower Your Monthly Spending
Monthly Bill Chart Printable
Having trouble keeping up with your bill payments? This chart will help you stay organized and pay your bills on time each month. Simply check of each month as you make your payments.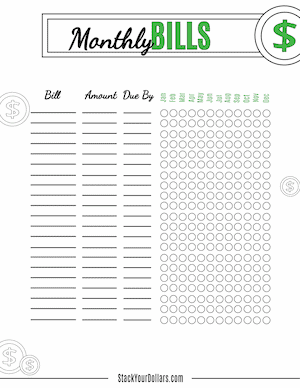 Grocery List Printable
If you're like me, you always forget something you need while grocery shopping. What's worse is that I tend to pick up things that I didn't go for. This is what helps my family to only go shopping once per month. Using a shopping list, you'll be able to stay more organized and stick to your budget.
Related Reading:
Meal Planner Printable
A great way to stick to your grocery budget is to plan out your meals. Without this, we used to have a lot of food that went to waste. That's money going straight into the garbage! Now, we only buy what is going to be used.
Related Reading: Cheap meals Under $10 For 6 Servings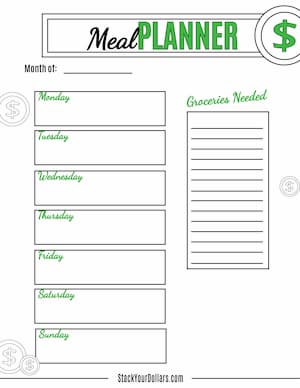 Financial Goals Chart
"Life is about, every single day, getting up to manifest your truth." – Cory Booker
Everyone has dreams, but they don't always achieve them. To reach your goals, you have to build your path towards it. With this chart, you'll be able to take the steps needed to manifest your owns goals.
Visual Savings Tracker Printables
Are you a visual person? Well, these visual savings tracker printables will help motivate you to stay on track with your savings goals.
You'll be able to set goals for each week and keep track of how much you're saving. Jumpstart your savings today with these fun money-saving challenges. If there are any other ones you'd like to help you with your goals, let me know in the comments below!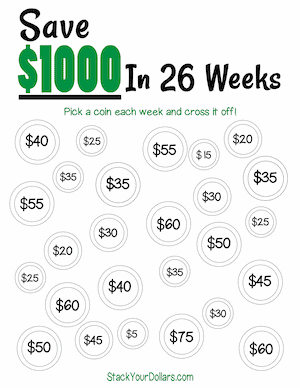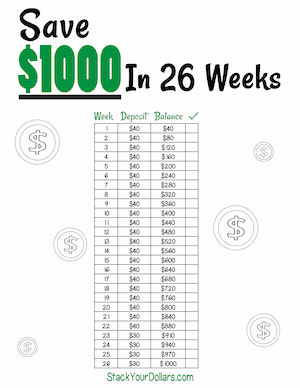 Are You Ready?
Now that you have all the free budget printables you need, it's time to get started! No more excuses! We are going to work together and make our future financially secure!
Get more for FREE: Awesome Money Saving Challenges To Start Today!
As we get started in our journey, here are some other posts that might help you: