Can you pass this financial literacy test? We could all stand to learn more about how to manage our personal finances. I am not excluded, and there are still many things that I do not know.
According to the Council of Economic Education (CEE), only 23 states require high school students to take a course in personal finance. 
It's absolutely crazy that Americans are not being equipped with the proper tools needed. Most of the things I've learned has been through watching others and figuring out myself.
I created this website so that everyone could learn the basics of money management. I don't want to see anyone struggling financially.
So, I've made this quick little financial literacy quiz to test your financial IQ. It will help you know what you need to improve on.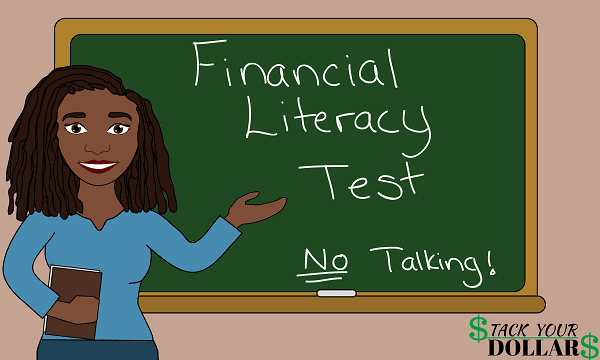 What are financial literacy skills?
Per Wikipedia, "Financial literacy is the possession of the set of skills and knowledge that allows an individual to make informed and effective decisions with all of their financial resources."
With good financial education, you'll be able to make smart decisions when handling money.
Financial literacy skills include the ability to:
Plan finances well
Manage debt
Understand interest rates
Know the basics of different loans
Understand how investments work
Financial Literacy Test Review
This financial literacy test is for middle school students to adults. It will cover topics such as:
Writing a check
Budgeting:
Credit cards
Credit scores
Emergency funds
and more!
The Test
How can I improve my financial literacy?
The only way to improve your financial literacy is to take the initiative and start studying.
Aside from what I write about, you could:
Look up other posts by other people the write about personal finance.
Use the free resources at a library. You can check out books and you can also download e-books and audio books to your device at home.
Take courses online or at a college. Some colleges offer free courses online.
Listen to financial podcasts.
Join a social media group. You'll be able to get advice and share tips with a wide variety of people.
Talk to a financial professional. Some banks and credit unions offer free financial advisors.
Relevant posts:
Why Is A Budget Important And How To Create One?
7 Emergency Fund Examples You Should Prepare For
10 Best Ways To Pay Off Debt Fast
How to Live Cheap: Lower Your Monthly Spending
How To Live On A Budget: 17 Tips to Start Now!
Free Budget Printables And Worksheets To Control Your Finances!
How Does A Credit Card Work? A Simple Guide
How To Improve Your Credit Score Quickly
How To Check Your Bank Account Balance: 6 Ways
The Parts of a Check and How to Write One
Additional Resources
MyMoney.gov: The national financial education website
Economics & Personal Finance Resources for K-12 (EconEdLink): Free personal finance and economic lesson plans.
Gen i Revolution: An online game for middle school and high school students.