As a couple, $5,000 per month is more than enough to live on. I'll break down my budget to show you exactly how that is possible in one of the most expensive cities in America.
Years ago, I shared my budget for how to live on $2,500 a month in San Diego. Now I am back to share my updated budget breakdown.
I am currently living in another one of the most expensive cities in the U.S., Seattle, Washington. Upon arriving in this city after living overseas for about a year, I had an insane sticker shock.
It's been hard coping with inflation and these insane prices, but this is how I'm surviving and keeping costs down.
This post may contain affiliate links as a way to support the costs of this website (at no additional cost to you); however, I won't recommend products I don't believe in. View my full disclosure at the bottom of the page.
$5000 A Month = $60,000 Per Year
Earning $5,000 a month would mean $60,000 a year and $28.85 hourly. However, $5,000 a month is only $44,800 – $49,000 per year after taxes depending on the state you live in.
That would mean working with a take-home paycheck of $3,733.33 to $4,083.33. Some states like Washington do not tax wages, so this would leave you with the higher end of that range to work with.
Savings: $820
Before making my budget, I like to prioritize savings first by setting aside 20% of my income.
Try to save as much as you can every month to provide yourself with a financial security blanket.
Rent: $1,900
Though working in Seattle, we chose to live about 30 minutes outside of it in a quieter and safer area.
Our apartment is maybe a little cheaper than what you could find downtown, but the commute and gas prices make up for that!
Pet Rent: $40
Many apartment complexes in this area charge an average of $50 per pet and sometimes more! Despite that, many people have fur babies in their homes.
Water/ Sewage/ Trash: $120
I'm used to cheap water bills in Florida, so these costs are always a huge surprise to me. We're very conservative with water and the bill is still double what I used to pay with way more water usage.
Electricity: $160
We try to keep our electricity use to a minimum, but this state is freezing and we are warm-weather humans! The apartment we rent only uses electricity.
To stay warm, we also wear big furry robes and warm socks. Running your ceiling fans clockwise also pulls the warm air down and helps to lower heating costs.
Here are more ways to live cheaper and lower bills.
Car Insurance: $100.18
Our car insurance is coupled with about $13 of the renter's insurance.
This bill used to be over $150 per month for us. However, we lowered the bill by raising the deductible and sharing with the insurance company that we put low miles on it per year.
Now that the car is fully paid off, we pay even less than before. It also helps that we share a car.
Cellphone: $84.08
We pay $80/mo. for 2 lines on T-mobile ($90 without auto-pay) with a military discount. There is an added $4.08 for a Netflix account.
This same plan would be about $120 without a military discount, but only $20 to add extra lines after that. It would save money to get a family plan with others.
Internet: $40
These days, I only get a small internet package and skip the tv package.
Related: Save money and cut the cord with these cable TV alternatives.
We have a 200Mbps plan for $40 and it works fine for gaming, streaming, and running our security cameras. We also bought our modem and router rather than paying monthly to borrow one.
Dental: $11.94
My husband and I get free health insurance through his job, and we just have to pay $11.94 for my dental.
Life Insurance: $29.50
It's best to be prepared for anything that can happen.
Groceries: $300
Every time I move, I budget the same amount of money but change around exactly what I buy to fit it. For example, my $200/mo. grocery budget for 2 has different items than what I buy currently.
I also try to stick to buying mostly organic foods (especially for the Dirty Dozen), so this increases prices a bit.
Gas: $160
Gas prices have risen exponentially! The average prices in my area are $3.90/ gallon to $4.70 per gallon.
Some gas stations closer to Seattle and in busier areas are even set at $5 per gallon. We will be working on finding people to carpool with to reduce this cost.
Misc: $200
This is our budget category for miscellaneous purchases such as cleaning supplies, toiletries, oil changes, etc. I honestly don't track this well, but we most likely spend way less by trying to keep our costs to a minimum.
The extra money saved from this can be used for occasional purchases such as holiday gifts.
Going Out: $120
My husband and I are both homebodies, so this budget category isn't always used. However, we are also huge thrill seekers and like to occasionally do fun things such as amusement parks or even sky-diving!
Washington is also a beautiful state with many free things to do. There are many scenic hikes around to go adventuring on.
$5,000 A Month Lifestyle
That wraps up our lifestyle of budgeting under $5000 per month! You may not be able to replicate this budget exactly, but it's a good place to start with building your own.
As you've seen, I spent more in some categories than needed, so those could be allocated to other expenses. There was also $39.07 left over at the end!
One major money-saving strategy for us has been to live on one income despite how much money we make. Living frugally and sticking to a budget has allowed us to have fun and take vacations without the stress of financial issues.
Check out my tips for vacationing on a budget in Paris, Italy, and Japan!
Sample Budget For 5000 A Month
A breakdown of our budget:
How To Stay On Track
In the past, we kept two bank accounts to help stick to our budget. I explain this in my budget for beginners.
If you look at the image of my spreadsheet above, the expenses in the needs category all went into a second bank account. We separate this because they are (mostly) fixed amounts that we have to pay each month and don't want to mistakenly use the money for.
So, I would set up a transfer of $2,484 and the $820 savings each month into another account and set all of these bills on auto-pay. It's wise to keep checking them to make sure you're not overcharged though!
The budgeted amount for the needs ($740) and leftover money all go into a second account that can be used for daily purchases. The other amounts all go into a second account which we also use for our other daily purchases.
For more help getting started, check out these posts: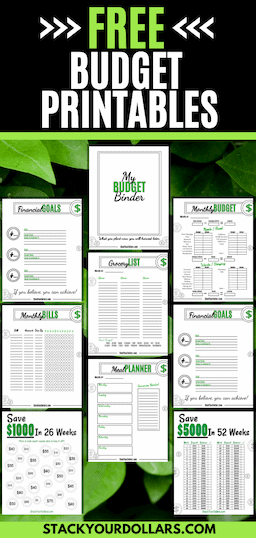 I also have a bunch of free budget printables and savings challenges to try!